Representatives from ten various left-leaning "women's" groups (see list below) lined up support the bill and viciously attack those opposed to it. If anyone doubted their radical nature, those doubts were certainly put to rest.
One of the strangest parts of it was that virtually no press showed up. It was a slick propaganda review to a nearly empty house. Besides the homosexual newspaper reporter, we only saw a State House News reporter. A WGBH camera crew showed up after it was over (and interviewed MassResistance), but that was about it.
It's not hard to see why even the left-leaning Boston media wasn't too interested. Although it was a little unusual to see groups like these in this fight, it was a lot of illogical arguments and failure to address the real issues of this bill -- which we've documented at great length -- that the left is known for.
Fighting alleged "climate of hatred and oppression"
In front of the backdrop of a crowd of women there were five speakers. None of the speakers denied that men would be using women's restrooms under this bill, or that it would terrify women. It was mainly an attack against anyone who disagrees with the bill, with a dose of radical politics and non-existent logic. (Read the quotes and see for yourself.)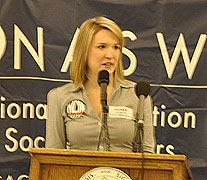 Christina Knowles, lobbyist for National Organization of Women (Mass. chapter) railed on about "opponents of transgender equality" and pushed the assumption that your "gender" is whatever you say it is.
"This is a simple matter of fairness and the time for this legislation is now. . . No person deserves to be fired, refused work, denied housing, education or credit, or to live in fear of violence because of his or her gender. . . We reject the use of fear-mongering in our name as a political tool, and urge all legislators who truly care about women and gender-based violence to support "An Act Relative to Gender-Based Discrimination and Hate Crimes."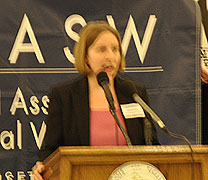 Victoria Steinberg, President of National Organization of Women (Mass. chapter) continued from there.
"The bill we are here to support today will make women and men safer in their homes, in their workplaces, and in all public spaces . . .
Without the passage of this bill we are missing an essential tool to keep all women safe and secure."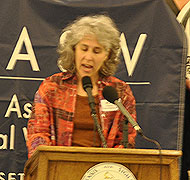 Toni Troop of Jane Doe, Inc. (a group dealing with violence against women) She started cranking up the "hate" rhetoric.
"Thank you for standing up for what is right and just. Thank you for standing up against the fearmongers and haters. . . The very foundation of the movement against violence against women is based on the understanding and experience manifested against racism, sexism, and homophobia . . . Jane Doe Inc supports this legislation because of our shared philosophical belief that outdated stereotypes and prejudices limit an individual's ability to live a full and productive life. . . We will not be fooled by the transparent transphobia..."
She added that calling it a bathroom bill "fosters a climate of hatred and oppression that inflames violence" and "limits civil rights."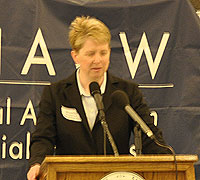 Nancy Scannel of the Massachusetts Society for the Prevention of Cruelty to Children (a group like the ACLU that one assumes is normal until you get to know them). She makes a lame and absurd attempt to explain why her group, which involves children, is involved with this bill.
"I have never been more proud than I am standing here today. . . to stand here in support of an act relative to discrimination against gender-based discrimination and hate crimes. One might ask, and reasonably so, why a child-service agency would see this bill as a priority concern, and the answer is simple. Our mission is to ensure that kids have what they need to thrive."
She added that the "positive message this bill sends" is that "there's no safe harbor of hate in Massachusetts."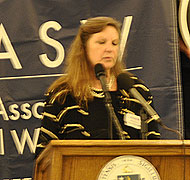 Marie Turley, executive director of City of Boston Women's Commission talked about "working to create allies."
"This is the kind of dialogue we need. We don't need to worry about what's going on in bathrooms." She added that the Mayor of Boston will file a letter supporting this legislation.
She added, "We need to go out and educate the community." (With taxpayer dollars, of course.)
Some legitimate reaction?
To be fair, these groups were also reacting to video ads by a certain pro-family group that depicted a shifty-looking man (not dressed as a woman) following a young girl into a public women's restroom, apparently to attack her in some way. We agree that those kinds of ads are misleading and dishonest.

The real problem is men dressed as women using the women's restrooms and locker rooms, etc., and women using the men's restrooms and locker rooms. It's a privacy issue. And there should be concern when mentally unbalanced individuals enter areas where their presence will obviously create tension, and may in fact create a safety issue (whether for the confused individual, or those rightly using the facility). And it's the whole absurd notion that an individual can claim his or her true "gender identity" is actually that of the opposite biological sex.
But like all the other rhetoric we've heard supporting this bill, the activists at this press conference went overboard with vicious name-calling and twisted logic.
Faces in the crowd . . .

| | |
| --- | --- |
| | Carrying the flag: Sen. Jamie Eldridge (D-Acton) (left) and uber-gay Rep. Carl Sciortino (D-Medford) |
| | |
| --- | --- |
| | Rep. Katherine Clark (D-Melrose) shows herself to be another empty-headed sycophant to this absurd agenda. |
| | |
| --- | --- |
| | Homosexual lobbyist Arline Isaacson (left) shares a text message with transgender activist Gunner Scott, a female with a beard and sideburns. |
| | |
| --- | --- |
| | Hardcore: Activist at press conference with "Women United for Trans Rights Now" sticker. |

List of groups in "pro-transgender coalition"
(Can any of these groups be taken seriously after this? We don't think so.)
Mass. NOW

Jane Doe, Inc.

Massachusetts Society for the Prevention of Cruelty to Children

City of Boston Women's Commission

City of Cambridge Women's Commission

League of Women Voters

National Association of Social Workers (NASW) Massachusetts

National Council of Jewish Women

Victim Rights Law Center

Women's Bar Association