Mass. General Election 2012
Voter Guide

and results

Governot's Council

POSTED: Nov. 7, 2012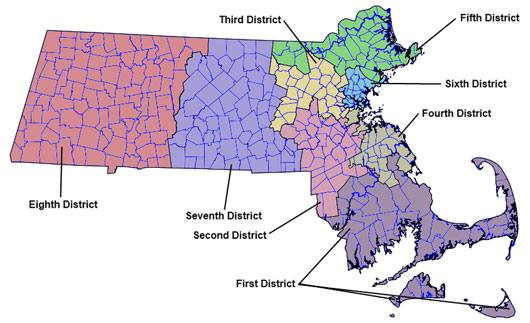 What is the Governor's Council? The Governor's Council votes to approve all judges (and certain other officers) nominated by the Governor, before they can be sworn in. It is a body of eight people elected every two years from eight districts across the state (shown above). The Governor's Council is chaired by the Governor (who doesn't vote), and also includes the Lt. Governor. It usually meets weekly in the Governor's office suite in the State House. They generally also hold public hearings for each judicial nominee, before voting on them.
The biggest problem over the past few decades has been the willingness of the Council members to cater to the political establishment, and approve of blatantly activist or biased judges, unqualified judges, and unabashed political appointments without regard to how this will affect the court system or society.
Governor's Council endorsements:
FIRST DISTRICT
55% D - OLIVER CIPOLLINI, Barnstable
45% R - *CHARLES CIPOLLINI, Fall River
SECOND DISTRICT
60% D - ROBERT JUBINVILLE, Milton
40% R - EARL SHOLLEY, Norfolk [MCFL]
THIRD DISTRICT
74% D - *MARILYN M. PETITTO DEVANEY, Watertown
26% U - TOM SHEFF, Newton
FOURTH DISTRICT
D - *CHRISTOPHER IANNELLA Jr., Boston
FIFTH DISTRICT
57% D - EILEEN DUFF, Gloucester [MEQ]
43% R - MAURA CIARDIELLO, Haverhill
SIXTH DISTRICT
D - *TERRENCE KENNEDY, Lynnfield
SEVENTH DISTRICT
R - *JENNIE CAISSIE, Oxford
EIGHTH DISTRICT
69% D - MICHAEL ALBANO, Longmeadow
31% R - MIKE FRANCO, Holyoke [MCFL]