Mass. General Election
Voter Guide 2014 & Results

Governor's Council

POSTED: Oct 30, 2014
UPDATED: Nov 5, 2014

The Governor's Council is a little known but very important group. They approve -- or deny -- all judicial appointments. A lot of bad judges are on the bench because the Governor's Council just rubber-stamps bad appointments by corrupt Governors, and doesn't do its job of scrutinizing candidates properly.
The Governor's Council is made up of 8 people elected from 8 districts, and is usually chaired by the Lt. Governor, who also votes. (Officially, it's chaired by the Governor, but Governors almost never attendthe meetings unless they're needed to break a tie.) It meets every Wednesday in the Governor's chambers at the State House. The meetings are open to the public.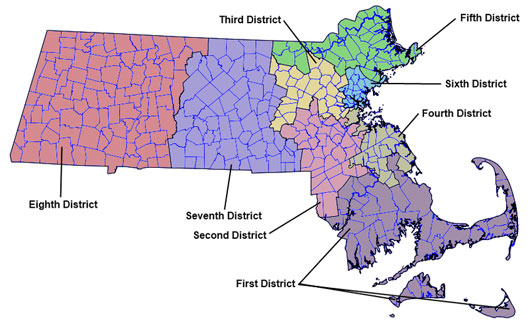 FIRST DISTRICT
D - JOSEPH FERREIRA, Somerset
SECOND DISTRICT
D - *ROBERT JUBINVILLE, Milton
THIRD DISTRICT
65% D -*MARILYN PETITTO DEVANEY, Watertown
35% I - THOMAS SHEFF, Newton
FOURTH DISTRICT
69% D - *CHRISTOPHER IANNELLA, Boston
25% I - JASON CROSBY, Abington
6% I - JOE URENECK, Boston
FIFTH DISTRICT
55% D - *EILEEN DUFF, Gloucester
45% R - MAURA RYAN-CIARDIELLO, Haverhill
SIXTH DISTRICT
71% D - TERRENCE KENNEDY, Lynnfield
29% R - VINCENT DIXON, Winchester
SEVENTH DISTRICT
R - JENNIE CAISSIE, Oxford
EIGHTH DISTRICT
D - *MICHAEL ALBANO, Longmeadow