Normally, a judicial nominee gets a sentence or two in a compendium of the day's events. But this is the liberal media ...

COUNCIL VETS APPEALS COURT NOMINEE VICKIE HENRY
By Colin A. Young
STATE HOUSE NEWS SERVICE
STATE HOUSE, BOSTON, DEC. 2, 2015.....As a teenager in Michigan, Vickie Henry developed an appreciation for hard work and accountability by spending her summer vacations de-tassling corn in the fields near her grandparents's country store.
Henry, now nominated by Gov. Charlie Baker to serve as a judge on the state Appeals Court, told the Governor's Council on Wednesday that those values have stuck with her into adulthood, and continue to guide her legal career.
A resident of Jamaica Plain, Henry works for Gay & Lesbian Advocates & Defenders in Boston as its youth initiative director and senior staff attorney. Prior to joining GLAD in 2011, Henry worked for about nine years at Foley Hoag -- where she later became a partner -- focused on intellectual property disputes, commercial litigation and product liability.
After graduating cum laude from Wellesley College and summa cum laude from Boston University School of Law, Henry worked as a clerk for a justice on the Vermont Supreme Court, which solidified her desire to someday become a judge, she said.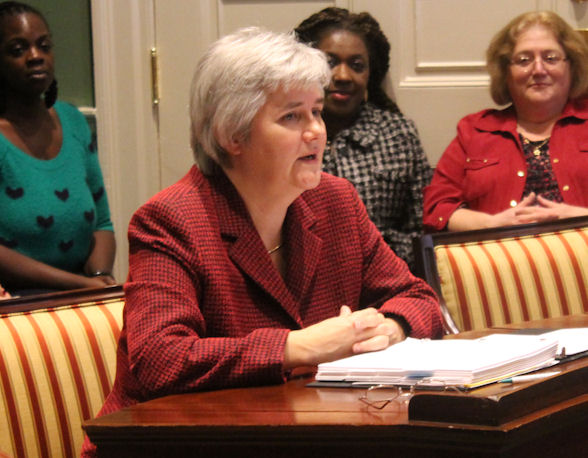 "I've always wanted to be a state appellate court judge ever since that clerkship. I recognize every case is important to every party and therefore important, period," she said. "I also believe it is important for all the parties to feel they were treated fairly and the process was fair, and I'm very committed to that. I also think the work is intellectually challenging and I enjoy the variety of subject matters."
When asked by Councilor Terrence Kennedy why she wanted to be nominated to the Appeals Court and not the Superior Court, Henry said she applied for a nomination to either court, but thought she would be a better fit for the Appeals Court.
"I stepped back and took an objective look at my career and thought that the Judicial Nominating Commission would probably think that I was more suited to the Appeals Court," she said.
Supreme Judicial Court Associate Justice Barbara Lenk, who was an Appeals Court judge for 16 years, told the council that Henry is "a superb lawyer" who has "across-the-board legal experience" that would serve the Appeals Court well.
"She argued before me while I was on the Appeals Court and while she was at Foley Hoag, so I knew firsthand what a fine writer, legal thinker and oral advocate she is," Lenk said. "It was clear to me that Vickie Henry was going to be a standout in our legal community."
Retired Chief Justice of the District Court Lynda Connolly also supported Henry, telling councilors that Henry worked for a few months in Dedham District Court as part of a program run by the Norfolk District Attorney's office and left a lasting impression on her.
"It was very clear when this young attorney, Vickie Henry, appeared in the Dedham District Court that she was head and shoulders above the usual rookie attorneys that we would sometimes see in the district court," Connolly said. "Other attorneys came and went, but none were as impressive as Vickie."
The Governor's Council, the eight-member elected body that vets and approves judicial nominees, is expected to vote on Henry's confirmation next Wednesday. If confirmed, Henry will join her BU School of Law classmate, Eric Neyman, on the bench. Neyman was confirmed by the council on Wednesday.
END
12/02/2015
Serving the working press since 1910
http://www.statehousenews.com