PREVIOUS POSTINGS: 2013 - 2014
December 2014
Major corporations funding 'gay' indoctrination in elementary schools. Help us stop it!12/28/2014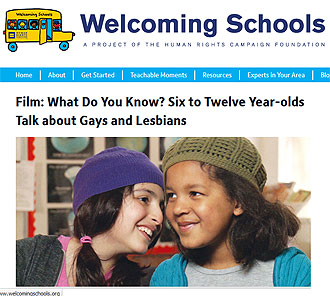 South Boston St. Patrick's Day Parade committee votes to allow "gay" groups to march. Deceitful and dishonest tactics used, says prominent committee member.
Committee resignations and parade cancellations already beginning. 12/19/2014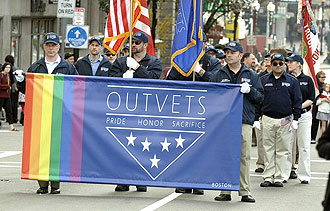 The "new look" of the parade has sparked huge outrage.
Homosexual lobby pushes "gay marriage" law through final votes in Finnish Parliament at lightning speed.
Opponents vow to overturn it next year after national elections with new Parliament. 12/17/2014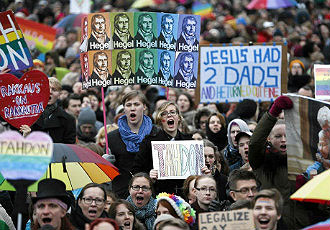 Homosexual activists yelling outside Parliament had signs in
both Finnish and English, presumably for the foreign press.
Finnish Parliament narrowly votes for "gay marriage". But still more hurdles before final passage. Big push to stop it.
12,000 Finns resign from Luthern Church after pro-gay marriage remarks by Archbishop! 12/8/2014
Reacting to LGBT 'gala banquet' in Boston:
Citizens confront corporate America's funding of national homosexual movement.12/5/2014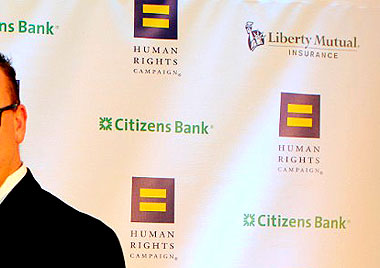 Corporate sponsors of "gala fundraising banquet"
for the homosexual movement.
November 2014
Finnish Parliament to vote on "gay marriage" Friday, Nov. 28. MassResistance materials being used nationwide.
Pro-family religious coalition fighting hard. Close vote predicted. Scott Lively video being broadcast nationally. 11/26/2014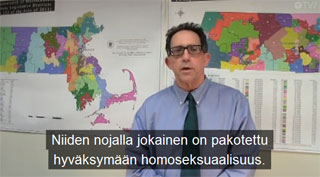 MassResistance video "What 'gay marriage' did to
Massachusetts" with Finnish subtitles was
broadcast on national TV in Finland.
The Real Story of Thanksgiving
Not the multiculturalism and socialism revisionist history the Left has been pushing in public schools. 11/26/2014
Pressure on corporations funding national LGBT activist group -- after founder arrested for seducing boy.
Had major fundraising banquet in Boston on Saturday. 11/21/2014

Terrance Bean, Founder and current Board member
of the LGBT group "Human Rights Campaign," was
arrested Thursday for seducing a 15-year-old boy.
Fight back this week against major corporations funding 'gay' attacks on children, families, & society.
You can take action now! Also . . . Sign our PETITION to fight back! 11/16/2014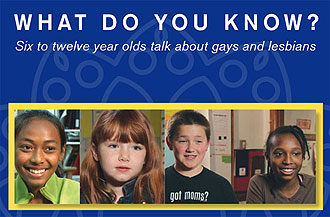 Here's an example of what major corporations are
funding in elementary schools across the country!
High school students fight back against culture of death. Bold challenge at abortion clinic!
These kids are the real thing - an inspiration to all of us! See their powerful 5 1/2 minute video. 11/10/2014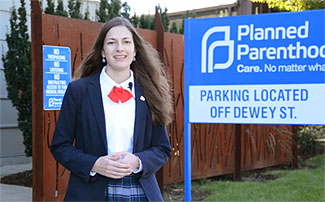 These students are on the front lines.
Mass. general election guide (and RESULTS) for Nov. 4
What the "non-partisan" voter guides didn't tell you. 10/30/2014 and 11/5/2014 Updated
October 2014
Pastor Scott Lively stirs up the Mass. Governor debates with his uncensored pro-family views!
Disliked by the media and political establishment. But conservatives love it! 10/26/2014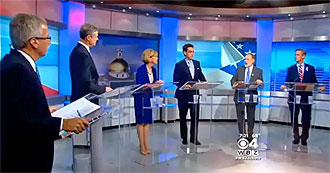 Pastor Scott Lively (second from right) at Oct 7 TV debate.
Analysis: How activists can stop the "gay marriage" steamroller
The New Movement 10/22/2014
Analysis of the Oct. 6 Supreme Court announcement:
How the pro-family movement helped spread "gay marriage" across America10/10/2014
| | |
| --- | --- |
| | The "gay marriage" steamroller is in the news again. It's about time we started being honest with ourselves. |
The must-read book that explains the homosexual movement in America
"Making Gay Okay" by Robert Reilly is well-written, thorough, and does not pull any punches. (It even footnotes MassResistance web pages!) 10/10/2014
September 2014
Major LGBT group "Human Rights Campaign" targeting pro-family leaders with vicious attacks.
Reaction to pro-family successes stopping 'gay marriage' and LGBT agenda overseas.
Pastor Scott Lively and Brian Camenker of MassResistance among targets. 9/26/2014
Major US corporations funding vicious attacks on pro-family leaders by "Human Rights Campaign"
National homosexual-transgender group stops at nothing to push agenda in US and overseas 9/26/2014


Homosexual group demands that US State Dept hire special "gay" czar to push LGBT agenda harder around the world!
To combat US pro-family groups helping other countries fight back! 9/26/2014
Sept. 9 GOP primary races fall to the Establishment
Anti-conservative push by party. Stark comparison to Democrat tactics. 9/19/2014
Since "Don't Ask Don't Tell" repealed, male-on-male rape has become epidemic in the U.S. Military.
Bryan Fischer has written a devastating article revealing what the politicians in both parties are afraid to talk about. Very disturbing. 9/19/2014
LGBT movement organizing to mandate "gay history" in schools across America.
In California already. Starting now in Massachusetts. Their goal is to force it into schools nationwide. 9/18/2014
| | |
| --- | --- |
| | This video is now a mandatory part of the curriculum at Lowell High School in Lowell, Mass. |
Pastor Scott Lively officially makes ballot for Governor of Mass. Speaking out on pro-family issues other candidates won't touch.
Submits over 12,500 valid signatures from 250 towns across the state! 9/3/2014
August 2014
How the Mass. GOP establishment worked tirelessly to try to destroy the campaign of Mark Fisher, conservative candidate for Governor.
Beyond outrageous. But as Sept. 5 primary nears, Tea Party activists are fighting back! 8/31/2014
How left-wing & anti-family is Charlie Baker, the Mass GOP establishment's push for Governor?
Answer: Even more than when he ran four years ago! 8/31/2014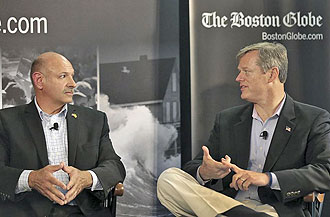 Mark Fisher (left) and Charlie Baker debate at
Boston Globe office -- hostile territory
for Fisher! [Boston Globe photo]
At "LGBT" Teachers Conference in Boston
Schools steering kids to outside adult/youth "LGBT clubs" in communities.
A dangerous intro to "gay" sexual behavior. 8/21/2014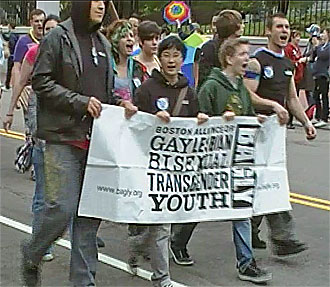 Men and children from Boston LGBT club
marching in Youth Pride Parade.
'Gay marriage' battle brewing in US Virgin Islands. Pastors fearlessly organizing to stop it. MassResistance called on to help. 8/11/2014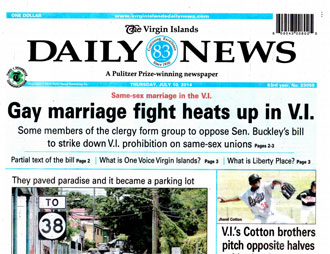 The front page of the major newspaper in the
Virgin Islands on July 10 tells it all.
Understanding the left: The Left isn't pro-gay. It's pro-power. Part 3 in our series. 8/11/2014
As deadline passes, ALL radical bills stopped in Mass. Legislature! Huge victory for pro-family citizens. 8/1/2014
July 2014
Goal of "gay" programs in schools: Persuade kids to "come out" early as homosexuals. Here's how they do it. At GLSEN LGBT Teachers Conference in Boston. 7/31/2014
New buffer zone bill passed House by 119 to 33 despite passionate debate from pro-family Reps. Quickly signed into law by Governor. Constitutional issues ignored. Court challenge very likely. 7/30/2014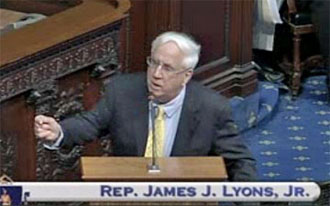 Rep. Jim Lyons led the charge against
this tyrannical legislation.
Homosexual movemen't and Planned Parenthood making final push this week in Mass. to pass radical, harmful bills targeting children. 7/29/2014
Public hearing on new Mass. "buffer zone" bill a disgraceful sham. Rushed through Senate. Battle in full House on Wed. 7/23! See our full report: It's a stunning preview of what we can expect from the iron-fist politics of the Left in the age of Obama. Long-time State House observers we've talked to cannot recall anything like this. 7/22/2014
South Africa pro-family activists thank Mass­Resistance for help in fight against limits on pro-family expression! MassResistance was first contacted a year ago by pro-family activists in South Africa. 7/21/2014
Must-read article: "Ten reasons why I am no longer a leftist" We all know what it's like to be on the receiving end of uncontrollable abuse from liberals. Unfortunately, most of us don't "get it." 7/21/2014
Public hearing on new "buffer zone" bill July 16, 10:00 am -- at Mass. State House! Life in the banana republic known as Massachusetts . . . 7/16/2014
Uncomfortable truth: The real violence & harass­ment outside abortion clinics is against pro-lifers. It's the opposite of what you're being told. 7/16/2014
ANALYSIS: New buffer zone bill is outrageously oppressive and clearly unconstitutional. What you need to know about this terrible legislation, including text of bill. 7/15/2014
Disinformation campaign begins as Mass. Governor and Attorney General announce they're filing another "buffer zone" bill after Supreme Court 9-0 defeat! Lies and hysteria at State House press conference. 7/14/2014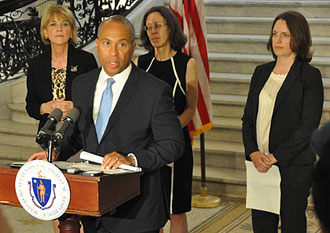 Gov. Deval Patrick addresses reporters while Attorney
General Martha Coakley (left) and state abortion group
leaders look on. [MassResistance photo]
Head of Operation Rescue Boston sets record straight in powerful Boston Globe opinion article! Bill Cotter's article, "Buffer zone rhetoric belies facts about pro-life demonstrators" confronts the disinformation and hysteria from the Left. 7/14/2014
Marriage victory in Finland! Parlia­men­tary committee votes down "gay marriage." Help from MassResistance. 7/3/2014
June 2014
Analysis: US Supreme Court unanimously strikes down Mass. abortion clinic Buffer Zone law Pro-family lawyers bring big defeat to abortion movement. 6/26/2014
"Gay Pride Week" in Boston reveals what the media doesn't tell you about the homosexual movement. Also: MassResistance protest at Gay Pride Parade draws anger & vitriol! 6/24/2014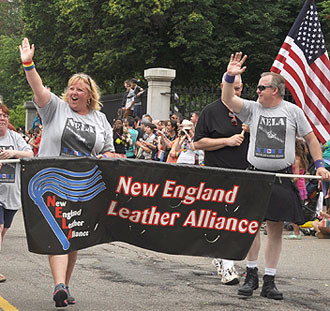 The "New England Leather Alliance," a sado-masochist
group, had a prominent presence in Boston Gay Pride.
Note the logo on their banner includes a whip.
Justina Pelletier is finally released! Shows the power of citizen outrage against government force. But is this nightmare our future? Can we stop it? 6/18/2014
Answering the lie of "gay marriage and the wrong side of history" Great Boston Globe column by Jeff Jacoby. 6/14/2014
Obscene anti-Catholic group leading 'Gay Pride Parade' in Boston this weekend Despite the group's long history of extreme bigotry, politicians and corporations are marching in it and funding it. 6/11/2014
LGBT Teachers Conference in Boston, Part III
How schools are pushing transgenderism to children. More radical and aggressive than ever. This doesn't happen by accident. 6/6/2014
Bill in Massachusetts to ban counseling on homosexuality for youth -- derailed after MassResistance lobbying push! National effort by homosexual movement to ban counseling. Bills filed in state legislatures across America. Being stopped by pro-family outrage. 6/3/2014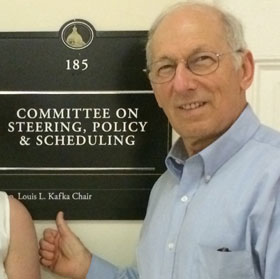 Taking it to the State House leadership!
Major homosexual activist in Mass. Legislature resigns to lead AIDS group. Reveals he has HIV. Carl Sciortino disrupted a Catholic Mass in 2003 over Church's marriage stand. 6/3/2014
May 2014
MassResistance and the marriage fight around the world - UPDATE Spain, Finland, Hong Kong, and more. 5/28/2014
The latest push: "Gay" clubs for kids in middle schools! Here's how they get them in -- and what comes with them. 5/23/2014
"GLBT" teachers conference in Boston reveals latest plans to push homosexuality even further into schools. Well organized, fueled with taxpayer dollars. Exclusive report from MassResistance. Coming to your school soon. 5/13/2014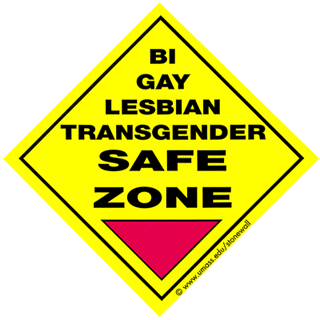 This is just the beginning!
MassResistance helping fight "gay marriage" around the world. Battles in Hong Kong, Finland, and more. Show your solidarity with pro-family forces everywhere . . . 5/6/2014
April 2014
Battle to free Justina Pelletier continues in Massachusetts -- on the streets and in the State House! 04-29-14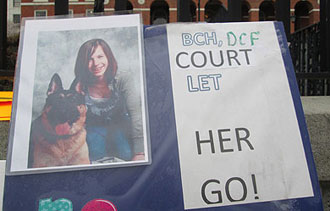 One of many Justina signs outside the Mass. State House
MassResistance confronts City of Boston's proposed sex-change city insurance requirement. A destructive measure to please a radical special interest. 4-17-2014
Bill to free Justina Pelletier making waves in Massachusetts Legislature. Some shameful hostility among GOP Reps. Your help is making a difference! 4-11-2014
Bill to immediately free Justina Pelletier from state custody filed in Mass. Legislature, despite reluctance among politicians. 4-6-2014
March 2014
Candidate Scott Lively upends Mass. LGBT gubernatorial debate. Doesn't flinch from truth about the behaviors! A lesson for the pro-family movement around the country. 3-31-2014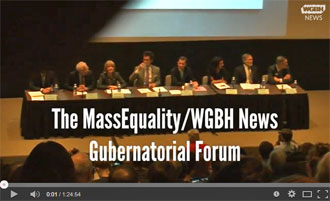 Huge victory in Boston St. Patrick's Day Parade. Organizers stand up to pressure by politicians and media to include hardcore homosexual group. Key politicians, labor unions, others join parade! 3-20-2014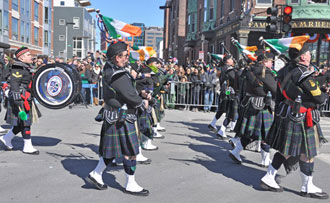 Boston St. Patrick's Day Parade fighting political and financial pressure to include hardcore homosexual group. But not giving in! 3-14-2014
"Gay" lobby pushing radical changes to Mass. school "anti-bullying" laws To silence opposing opinions, force diversity training, and more. Passed House, now in Senate! 3-11-2014
'Kangaroo court' convicts pro-life activist Peter D'Attilio on 3 charges - for holding sign on public sidewalk 3-4-2014
February 2014
Mainstream media in Mass. starts campaign to normalize transgenderism and sex-changes for schoolchildren! MassResistance fights back on national radio. 2-25-2014
| | |
| --- | --- |
| A boy marching in state-supported "Youth Pride" parade in Boston. | |
MassResistance announces fight to stop the "war against children" in Massachusetts 2-8-2014
| | |
| --- | --- |
| | This infamous book, Queering Elementary Education has been widely used by school staff across the state.. |
January 2014
Homosexual legal group forcing Catholic school to hire man who's "married" to another man Despite school's refusal 1-31-2014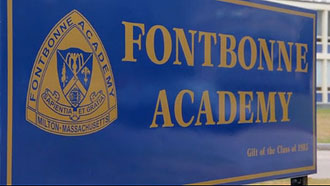 Update: Pro-family Jamaicans continue their bold fight against repealing law banning open homosexuality in their country 1-23-2014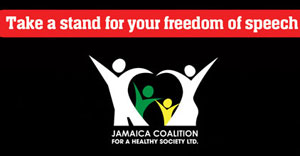 Abortion clinic 'buffer zone' law before US Supreme court; exposing the 'big lie' behind it. National implications. 1-23-2014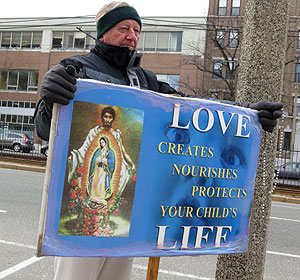 Holding a sign outside of a Massachusetts abortion clinic.
Utah fighting federal judge's ruling overturning state's Marriage AmendmentMassResistance working closely with activists. 1-14-2014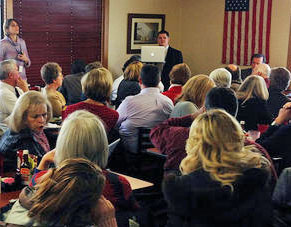 Utah activists meet to confront "gay marriage" crisis.
December 2013
In Jamaica: MassResistance helps citizens confront 'gay' agenda. Speech at pro-family rally broadcast on national radio. 12-29-2013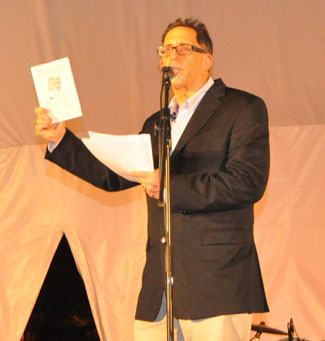 Brian Camenker of MassResistance address Jamaicans
Federal judge who ruled against Pastor Scott Lively did not disclose outrageous background Should have been disqualified from case 12-20-2013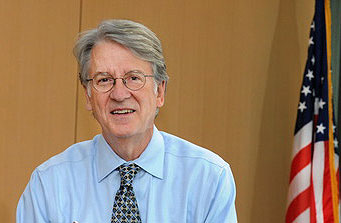 Federal Judge Michael Posner
Croatia votes overwhelmingly to ban 'gay marriage' despite intimidation tacticsVoters ignore pressure from government, media, activists (and even US State Dept).
12-9-2013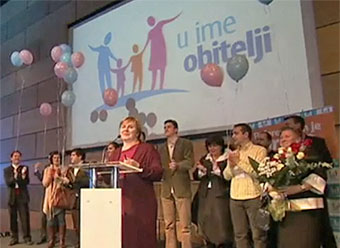 Marriage supporters celebrate victory in Croatia vote.
Special MA election for Congress Tuesday Dec. 10. Pro-family Republican being snubbed by GOP (a disturbing trend). Up against radical anti-family pro-LGBT Democrat. 12-3-2013
November 2013
As 2013 draws to a close . . .
What can you do to help fight back?
At MassResistance we believe that good people must stand and fight back without compromise and without fear. 11-29-2013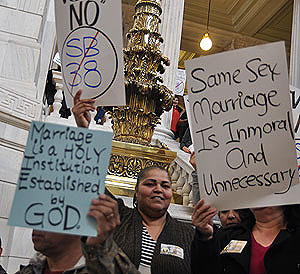 Lessons learned from the Hawaii "gay marriage" fight Moving the pro-family movement forward . . . 11-24-2013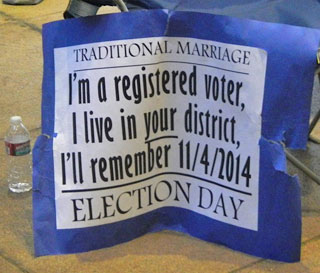 Hawaiian citizens confront legislators on gay marriage in State House hearing. Are ignored & insulted. House committee, and full House, ignore five days of powerful testimony against bill from across Hawaii 11-12-2013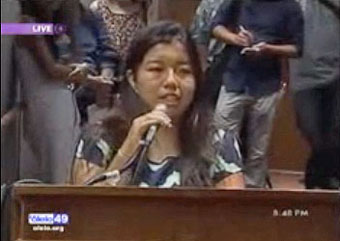 October 2013
Ten thousand Hawaii citizens rally against 'gay marriage' outside of State HouseArrogant Senate cuts off public hearing to pass bill. Battle moves to the House.
10-31-2013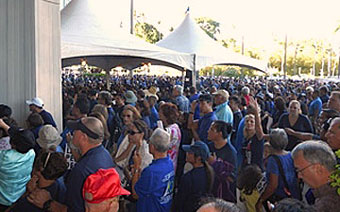 Huge 'gay marriage' battle in Hawaii Legislature starts Monday. Pro-family groups out in force to stop it! Special session called by governor to push bill through House and Senate. 10-24-2013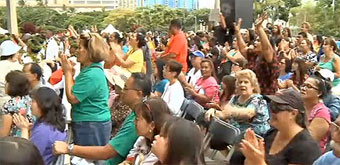 Angry mother confronts Mass. Legislature over school referring son to 'gay' club Files bill in Mass. Legislature after son was referred to outside "gay" club by school. Gives powerful testimony at public hearing. 10-11-2013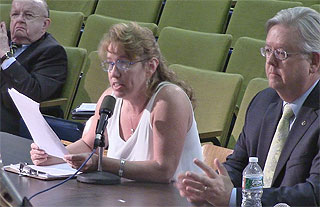 September 2013
MassResistance creates powerful 28-minute video on what 'gay marriage' did to Massachusetts Responding to requests: A tool for individuals, groups, and churches.
10-9-2013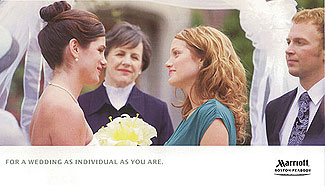 Australia facing same-sex "marriage" legislative threat this month! Threat returns after being stopped last year. MassResistance helping activists. 10-9-2013
Hawaii governor calling special session of legislature on Oct. 28 to pass "gay marriage." Churches mobilizing to stop it. MassResistance working with pro-family activists. 9-17-2013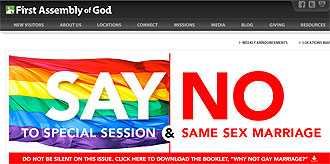 Website of First Assembly of God churches in Hawaii.
Plans to disrupt Olympics revealed at 'gay' journalists convention in BostonMassResistance Exclusive: Media, athletes, and even Olympic teams working with LGBT activists 9-6-2013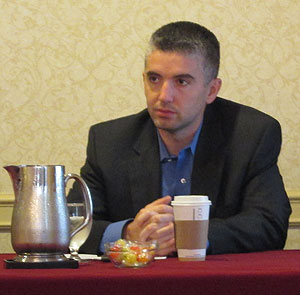 Pro-LGBT activist Patrick Burke reveals outrageous
plans he "can't talk about publicly" at session of gay
journalists conference
August 2013
Have some fun countering the "gay" agenda 8-30-2013
| | |
| --- | --- |
| | Tired of having the homosexual "equal" sign always thrown in your face? Stick it back at them -- and counter the gay agenda -- with MassResistance's stickers! |
Federal judge's outrageous ruling against Pastor Scott Lively -- could have terrrible international consequences for pro-family movement! 8-23-2013
| | |
| --- | --- |
| | Pastor Scott Lively refuses to back down and is being bitterly attacked by the homosexual movement. |
Slanting the news: Huge national LGBT journalist conference in Boston this week ALSO: See shocking 92-page report on Fox News' support of the homosexual agenda. 8-23-2013

Radical ay activists converge at public hearing in Mass. State House -- pushing bill to ban counseling on homosexuality for youth Part of national push in state legislatures 8-12-2013
| | |
| --- | --- |
| "Out gay" Mass. state rep Carl Sciortino (D-Medford) is the national homosexual movement's point man in the Mass. Legislature, and is leading the charge. | |
July 2013
Special report:
How government traps young men in the transgender subculture
From schools into the streets. Crime, prostitution, and AIDS 7-24-2013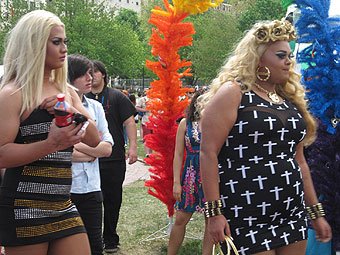 Two young men at "Youth Pride Day" in Boston 2013.
Hearing July 16: Bill to ban children from receiving vital therapy to help deal with homosexual issues or abuse. Full report coming up! 7-14-2014
The public hearing from hell in Mass. State House How a third-world country treats its pro-family citizens 7-14-2013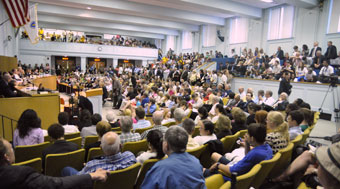 As the hearing began, Gardner Auditorium was packed
from floor to ceiling. But most of the people there never
actually got to testify
Major public hearing on radical bills to change society - Mass. State House, Tues. July 9. A preview of what may be coming across the country. 7-8-2014
June 2013
Boston Gay Pride - Part 2: Attacking traditional religion and the Catholic Church
6-29-2013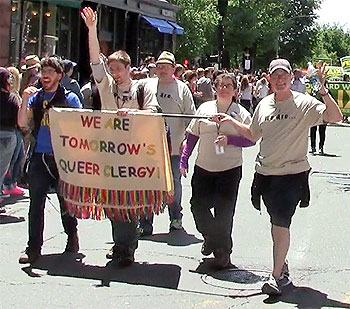 Analysis of DOMA and Prop 8 Supreme Court rulings: What happened and why -- and what's next Also: How the pro-family movement botched these cases 6-27-2013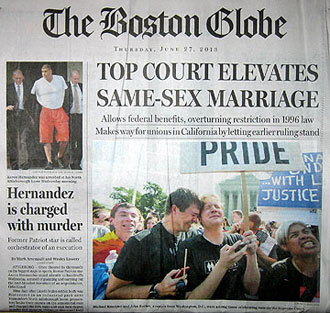 The mainstream media reacted predictably.
What Boston "Gay Pride" reveals about the LGBT movement in America. Multi-part series begins. 6-29-2013
Boston Gay Pride. Part 1: Pushing the "transgender" agenda See photos, handouts, and more. 6-19-2013

GOP US Senate candidate Gabriel Gomez campaigns at raunchy Gay Pride Week event Claims to be a "new kind of Republican." See photos. 6-13-2013
"Transgender rights" madness continues:
Lawsuit forces Boston Police Dept. to implement outrageous transgender policy regarding arrests & searches 6-13-2013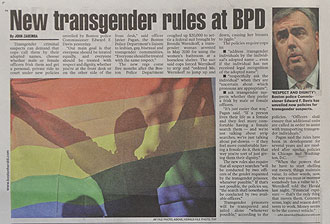 Boston Herald article on Wednesday.
Russian parliament bill by 436-0 that bans giving homosexual information to minors or holding gay-pride rallies passes Violence erupts as gays stage "kiss-in" nearby before vote. 6-13-2013
More Gay Pride Week in Boston:
Raising rainbow flag over Boston City Hall - state & local officials gather for ceremony Attorney General says: I'll help change laws to push gay agenda. 6-7-2013
| | |
| --- | --- |
| Mass. Attorney General Martha Coakley tells homosexual activists she'll help mold "our laws, our opinions, and our cullture" for the LGBT community. | |
Pride Week in Boston: A week of public homosexuality -- with new focus on kids 6-7-2013
Major Boston hospital holds "LGBT Achievement Award Ceremony" -- invites doctors & staff But telling the truth can be a firing offense! 6-7-2013
Boston Red Sox having "Gay Pride Day" at Fenway Park this Thursday, June 6! Take action. "Gay" basketball player Jason Collins throwing out first pitch. 6-4-2013

Fighting back:
Legislature in Nigeria passes bill outlawing gay marriage, gay activism, and public gay behavior. 6-4-2013
Cross-dressing "transgender" boy becomes prom queen at Mass. high school!Celebrated by school officials and local news media. 6-4-2013
VICTORY: Pro-family forces stop "gay marriage" in Illinois legislature as session ends for summer Defeated homosexual lobby despite overwhelming odds 6-2-2013
| | |
| --- | --- |
| | Lead sponsor of "gay marriage" bill concedes defeat on the Illinois House floor. |
May 2013
Catholic activists stage effective pro-life protest at Boston College. Cardinal changes plans; international newspaper coverage; Boston liberal media inflamed! This is the way the pro-family movement ought to be working! 5-29-2013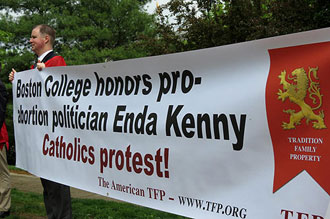 Public hearing Thursday, May 30 in Mass. State House on school billsHomosexual lobby trying to "update" anti-bullying law; MassResistance bill to confront intrusive sex surveys pushed on kids 5-29-2013
Ground Zero this week in Illinois: Will there be a "gay marriage" vote in Legislature before session recess on Friday? 5-29-2013
Powerful pro-family coalition poised to stop "gay marriage" from passing in Illinois legislature! They are leading in House & keeping up pressure. Session ends in two weeks. 5-19-2013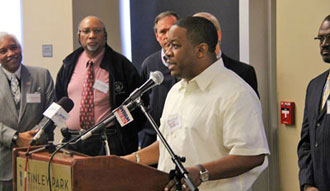 Pastors fighting "gay marriage" in IL hold press conference
Parents' rights vs. sex-ed bills in MA Legislature - public hearing! Expect Planned Parenthood come out in force. 5-12-2-2013
MassResistance submits strong testimony on important school bill, despite attempts to derail pro-family voice
At Judiciary Committee hearing in Massachusetts State House. 5-12-2013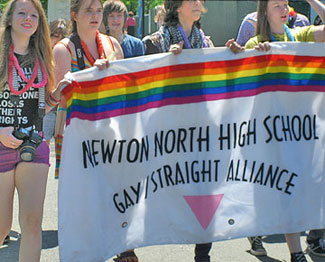 Vulnerable kids are persuaded to join "gay" groups at school.
And parents have no power to intervene or even be informed.
Delaware Legislature votes on 'gay marriage' this Tuesday. It's down to one vote in Senate! Pro-family forces fighting hard. 5-3-2013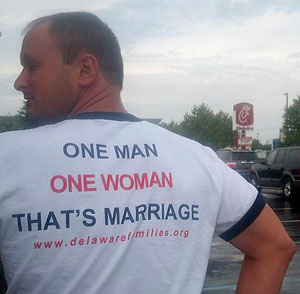 The Delaware Family Policy Council brought people
out in force for traditional marriage.
Mass. US Senate primary results: A pro-family opportunity that went south. Sullivan gets 36 percent of GOP vote. Bloomberg News quotes MassResistance 5-3-2013
April 2013
Rhode Island Legislature votes for "gay marriage" after two "pro-family" Senators cave during Judiciary Committee vote. 4-25-2013
Analysis: What really happened -- how the marriage battle in Rhode Island was lost 4-25-13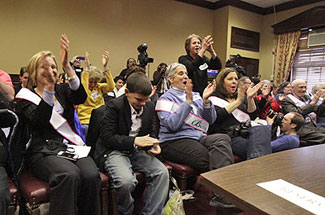 Homosexual activists filled the hearing room for the Judiciary
Committee vote on Wednesday. [Photo: Providence Journal]
Pro-family guide to next Tuesday's US Senate primary election in MassachusettsIs Sullivan a conservative we can trust? 4-25-2013
"Day of Silence" -- annual homosexual assault on children in schools -- taking place this Friday, April 19. Parents can fight back! Also: "Day of Silence" organizers produce absurd video to attack pro-family activist Linda Harvey. 4-18-2013

Special: When the Tea Party loses its way by appeasing the Left. Rally on Boston Common this weekend illustrates huge split in movement. 4-10-2013
Analysis of the Prop 8 and DOMA "gay marriages" cases before the US Supreme Court What's going on and what could happen. 4-8-2013
Homosexual activist taunts Christians gathered near US
Supreme Court building during "gay marriage" arguments. Expect to see more of this if any of these cases wins
March 2013
Hispanic pro-family rally overwhelms Rhode Island State House at "gay marriage" hearing Followed by 12-hours of testimony. Committee vote pending. 3-28-2013
| | |
| --- | --- |
| | When you entered the Rhode Island State House, this is the first thing you saw! |
Public hearing in RI State House on gay marriage bill -- plus outrageous pro-gay Constitutional Amendment Hearing will determine future. 3-21-2013
VICTORY: Radical transgender bill stopped in Maryland! 3-21-2013
Pro-family protesters stand tall against vile gay-themed anti-Bible school playUndeterred by counter-protest by homosexual activists 3-19-2013
| | |
| --- | --- |
| | Local parents protesting |
Hateful school play mocking Bible & religion with blatant homosexual themes attracting national attention. Being performed this weekend in South Hadley, Massachusetts. 3-13-2013
| | | |
| --- | --- | --- |
| | | School play retells stories from the Bible using homosexual characters in a pornographic and mocking fashion. |
Huge "gay marriage" battle in Illinois legislature. Pro-family forces winning! Currently stalled in House as fight for votes continues. 3-8-2013
Pro-family citizens filled the hallways of the Illinois State
House demanding legislators not change the marriage law.
FIGHTING BACK: MassResistance addresses State Board of Education meeting over directive to force transgenderism in schools We did not pull punches! (See photos, video.). 3-1-2013
Did State Board of Education use radical transgender group's document to draft their directive for state's schools? 3-1-2013
February 2013
The State House event from hell: Homosexual and trans lobby celebrate "transgender law" with Mass. Governor and top politicians Vocal anger & hostility toward pro-family citizens. (See photos & videos.) Coming to other states soon. 2-25-2013
| | |
| --- | --- |
| | Massachusetts Governor Deval Patrick and Attorney General Martha Coakley (front row, center and right) pose with a woman dressed as a man and several men dressed as women. |
Mass. state education officials release directive to force transgenderism into all schools "Transgender" boys playing on girls' sports teams, using girls' locker rooms, name & pronoun changes, etc .2-19-2013
State support. Rep. Martin Walsh and Rep. Liz Malia
proudly pose with "female-to-male" transgender girl at
state-run home in 2004.
MassResistance files strong pro-family bills in Mass. Legislature to protect parents & citizens Taking proactive action. Bipartisan support among state legislators! 2-5-2-13
Gay marriage bill stalling in RI Senate after pro-family pressure MassResistance booklet cited in State House debate. 2-1-2013
Legislator holds up copy of MassResistance booklet on
same-sex "marriage" during debate on "gay marriage"
bill in Rhode Island House of Representatives.
January 2013
Powerful Rhode Island marriage rally at State House public hearing! Hundreds fill State House to make a statement against "gay marriage" bill. MassResistance speaks at rally. 1-22-2013
Battle over same-sex "marriage" in Rhode Island Legislature begins with public hearing. Pro-family rally & press conference by religious coalition, with MassResistance. 1-15-2013
| | |
| --- | --- |
| | Web page of statewide religious coalition! |
Federal Judge hears arguments on motion to dismiss "crimes against humanity" lawsuit against pro-family Pastor Scott Lively. Lively's lawyer dismantles plaintiff's points, despite unusual process by judge. 1-13-2013
| | |
| --- | --- |
| | Homosexual activists hold rally outside Federal Courthouse |
Huge gay lawsuit vs pro-family pastor in Federal Court. Soros-funded group suing Pastor Scott Lively for "crimes against humanity" in Federal Court. Punishing him for Christian, pro-family position on homosexuality. Oral arguments begin Monday morning! 1-4-2013