PREVIOUS POSTINGS: 2015
December 2015
Here's what we expose – see chilling 3-minute video of state-sponsored 'youth pride' event
MassResistance does what no other pro-family groups do. 12/29/2015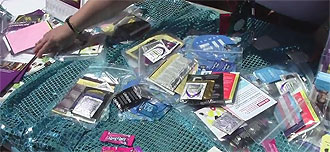 At the "Youth Pride" event -- a table with sexual paraphernalia.
New York City begins most oppressive "transgender rights" enforcement in US. Up to $250K fine for using the wrong name in workplace -- and worse.
It's where the "transgender non-discrimination" laws are taking us. Coming to your state? 12/28/2015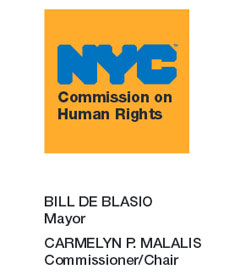 Camenker of MassResistance named #1 national Pro-Family Hero for 2015
Over 30 prominent pro-family figures recognized in third annual list by Scott Lively's Abiding Truth Ministries. 12/20/2015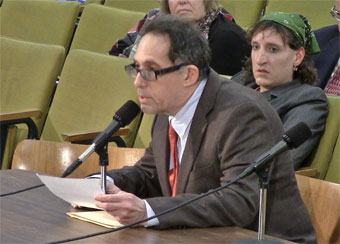 Brian Camenker of MassResistance gives strong testimony against the transgender "bathroom bill" at Massachusetts State House public hearing on 10/6/15.
Coming to your child's school: The new "Transgender Awareness Month"
The "gender identity" movement's next conquest -- using the "transgender anti-discrimination" laws as a stepping stone. 12/12/2015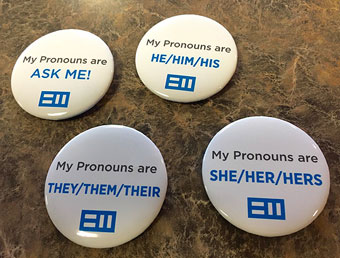 Helping to break down down a child's sense of male/female identity. [Photo: Fenway Health]
Mass. Governor's Council approves radical LGBT nominee for Appeals Court Judge by 7-1 vote
Thanks to a GOP governor, the legal landscape for pro-family people just got much, much worse 12/12/2015
Mass. GOP Governor appoints radical LGBT activist as Appeals Court Judge.
We've been saying it for years: This is what voting for "the lesser of two evils" brings. 12/8/2015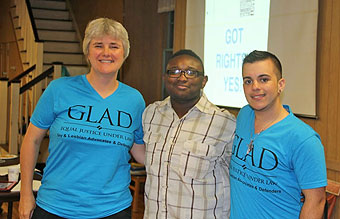 Judicial nominee and LGBT activist Vickie Henry (left) poses with "gay" youth. Photo: Gay & Lesbian Advocates & Defenders
Catholic Archbishop in Australia facing fines, punishment over pro-marriage pamphlet in Catholic schools!
LGBT movt claims pamphlet is "insulting." Demanding "gay" diversity training in Catholic schools as remedy. This is what is coming to the US! 12/5/2015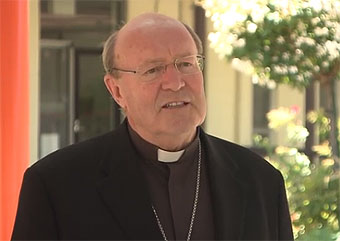 Archbishop Julian Porteous speaks to the press about the complaint against him and the Church. He is conciliatory but not backing down.
Dec 1: "World AIDS Day" means different things to different people.
Dec. 1, 2015, was designated as #GivingTuesday for non-profits around the country. But that's not all . . . 12/1/2015

November 2015
Analysis: What really happened in Houston – How the transgender "bathroom bill" was defeated against overwhelming odds
A lesson for the rest of us. 11/24/2015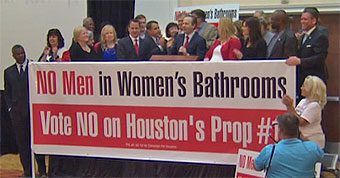 An impressive army of pastors, community activists, and politicians came out fighting!
Planned Parenthood sex-ed school bill passed by Mass. Senate, despite stiff battle. Goes to House. A lesson about politicians.
Debate of bill shows outrageous elitism and disdain for parental rights by many politicians. (See video!) Shows the necessity of aggressive lobbying by our side to prevail. 11/21/2015
Radical Planned Parenthood school bill before Mass. Senate this Wednesday Nov. 18!
Pushing their sexuality / homosexuality / abortion agenda into the schools grades K-12. Take action now! 11/17/2015


Planned Parenthood considers passing this bill a major goal to push their agenda further into the schools.
Videos now posted: Stand4Truth national conference on "Understanding homosexuality"
The conference that the pro-family "moderates" tried to stop. 11/11/2015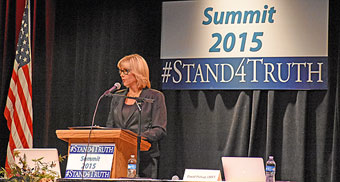 Sandy Rios of American Family Association served as moderator & host
Help us meet the Veterans Day MassResistance Matching $5K Chellenge -- and help us keep fighting!
Since the banks were closed on Wednesday, the donors are giving us one more day to match their amounts! 11/11/2015
| | |
| --- | --- |
| | "I'm so thankful that MassResistance is here to stand up and fight. . . Please support the Veterans Day $5K Challenge!" - US Army veteran who also donated $200. |
Dr. Church continues to wait for decision from hospital Board of Directors. Outrage continues around the world.
On his appeal -- challenging his firing for telling the truth! Big topic of concern at rnational pro-family conferences. 11/9/2015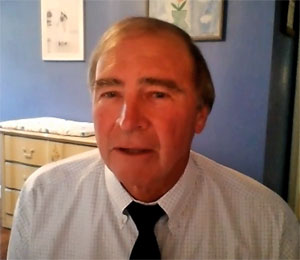 Dr. Paul Church addresses the national Stand 4 Truth conference in Salt Lake City via Skype on Oct. 26.
National conference on "Understanding Homosexuality - the politically incorrect truth" a big success!
Seen around the world! Despite efforts by pro-family "moderates" to stop it. 11/5/2015


An All-Star group came from all over the country.
October 2015
Pro-family "moderates" attempting to suppress next week's conference exposing LGBT lies.
Threats from LGBT lobby also expected. Huge battle coming up in Salt Lake City starting this week! 10/22/2015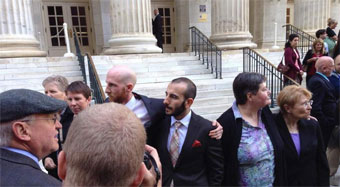 The radical homosexual group "Human Rights Campaign" is also in Salt Lake City this week to harrass and intimidate our side -- and the pro-family "moderates" are backing down.
Powerful pro-family conference on "Understanding Homosexuality – the politically incorrect truth." Oct 26 in Salt Lake City, or via streaming video.
Learn how to deal with the radical agendas! Sponsored by major US pro-family groups (including MassResistance). Nationally known experts presenting. 10/17/2015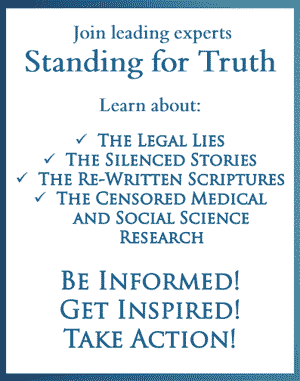 Tickets available to attend – or watch at home via streaming video!
MassResistance testifies at "transgender non-discrimination bill" hearing in Mass. Legislature. Confronts politicians' acceptance of absurd concept.
Shows big difference in tactics within the pro-family community. 10/14/2015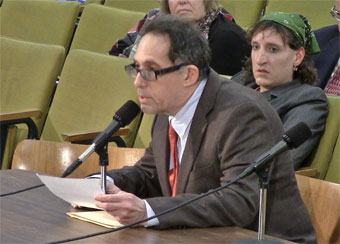 Brian Camenker of MassResistance testifies.

Dr. Church gets 15 minutes to speak in final appeal before Board of Directors. Outrage continues around the world!
New petition now over 8000 signatures! National doctors' group: "Sham peer review" by hospital. 10/12/2015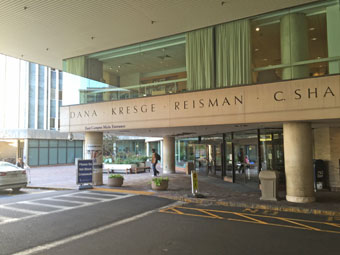 The executive suite where the Beth Israel Deaconess Medical Center Board of Directors meets.
Battle to stop outrageous transgender bill on "public accommodations" now in Mass. Legislature
Part of renewed nationwide push by LGBT movement. With no religious exemptions. 10/5/2015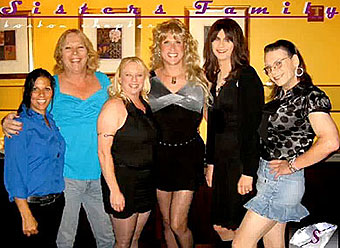 Yes, these are all men. They tried to get a restaurant punished when management tossed them out anter the customers became uncomfortable.
Board of Directors to judge Dr. Church's claim that firing was blatantly biased and violated hospital rules
Dr. Church goes before hospital's Board of Directors on Oct 7. Last possible appeal of physician's expulsion for telling the (politically incorrect) truth about homosexual behavior. You still need to get involved – NEW petition to sign! 10/2/2015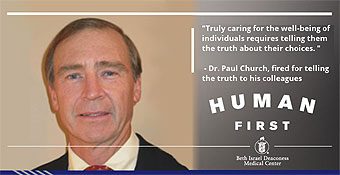 "Truly caring for the well-being of individuals requires telling them the truth about their choices."
Despite general "mainstream media" blackout, Dr. Church issue is getting coverage
The word is getting out, fueled by conservative media. And people are shocked! 10/2/2015
September 2015
Rich Gregoire - the most fearless activist we knew
He was an inspiration to us all. And he worked in a public school! 9/25/2015
| | |
| --- | --- |
| Rich Gregoire was a guidance counselor at an elementary school in Worcester, Mass. Massachusetts public schools are among the most aggressively radical in the country. Such a situation would be a nightmare for most of us. But Rich had no problems at all. | |
Dr. Church officially appeals to hospital Board over firing. Thousands of petitions delivered to president's office.
People signed from all 50 states and 77 foreign countries! 9/22/2015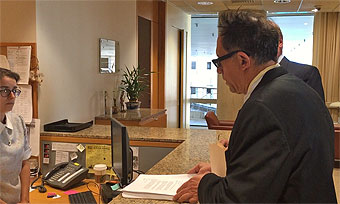 MassResistance presents petition with stack of 4100 names of petition signers to hospital president's office.
The Kim Davis standoff: Religious freedom argument is not enough
Can there be religious freedom without a cultural counter-revolution? She's out of jail -- for now. 9/20/2015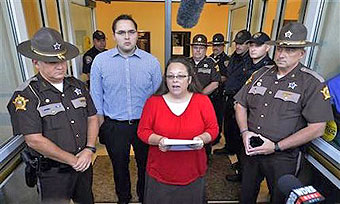 Just to make sure: After the judge let Kim Davis return to work, the State Police made their presence known at her office.
Hospital appeal panel pronounces Dr. Church "guilty" of telling the truth. More yet to come.
Chilling implications for society. Expelled from major Boston hospital for warning about medical dangers of LGBT behavior. 9/12/2015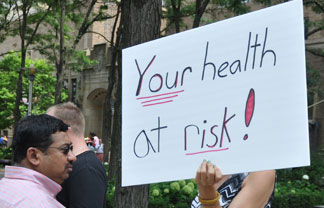 Supporting Dr. Church -- and telling the truth -- outside of Beth Israel Deaconess Medical Center.
Kentucky County Clerk Kim Davis jailed -- as the post-'gay marriage' revolution ratchets up!
Article in pro-"gay" magazine outlines what's in store for America. 9/4/2015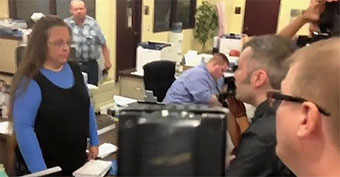 County Clerk Kim Davis turns down homosexual couple seeking marriage license. From NY Times video.
Still no word from hospital on result of Dr. Church's appeal hearing, two weeks after deadline.
Dr. Paul Church has not been informed of the result of his appeal hearing, even though the deadline for making the decision was two weeks ago. 9/4/2015
August 2015
LGBT lobby rebutted by pro-family medical experts & ex-gays at Mass. State House public hearing.
On destructive bill to ban "sexual orientation" counseling for youth. SEE our VIDEO! 8/28/2015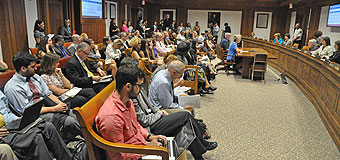 The hearing room was completely full, and people were standing along the walls.
Movement in Finland to repeal "gay marriage" law ignites across country -- using MassResistance materials!
With a new pro-family government elected this year, the battle is gearing up across Finland with more energy than ever. 8/21/2015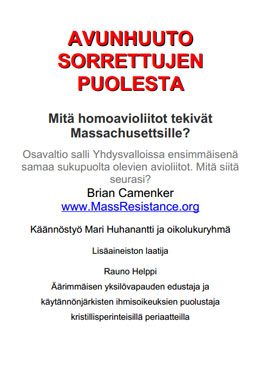 Finnish version of MassResistance booklet "What same-sex 'marriage' has done to Massachusetts" is being passed out across the country.
Protests by MassResistance at hospital in Boston continue over expulsion of Dr. Church.
Hundreds of flyers (per hour) having an effect among staff. Keeping up the pressure. Awaiting verdict on appeal hearing. 8/18/2015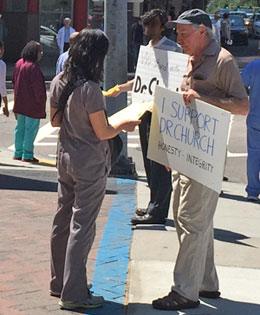 MassResistance takes to the streets for Dr. Church -- physician expelled from hospital staff for telling the truth about homosexual behavior!
Signs and flyers at busy entrance to hospital in Boston. SEE VIDEO. 8/4/2015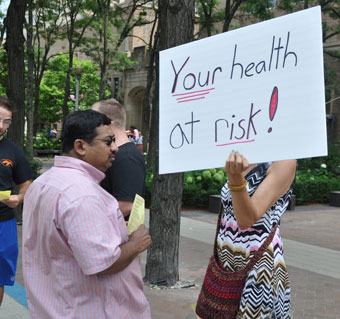 Getting the word out outside of Beth Israel Deaconess
Medical Center in Boston.
Dr. Church finishes two-day appeal hearing before hospital panel.
Verdict to come within twenty days. 8/4/2015
July 2015
Sign the CitizenGo petition for Dr. Church!
Take action! 7/27/2015
Dr. Church's appeal to take place this Wednesday and Thursday.
Prominent physician fired from major Boston hospital for discussing dangers of homosexual behavior! A frightening state of affairs. 7/27/2015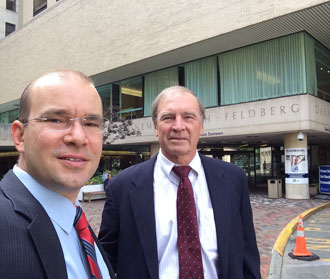 Dr. Paul Church (right) with his attorney, Richard
Mast of Liberty Counsel, outside of the hospital after
attending a pre-hearing meeting on July 15.
Public hearing Tuesday on hateful bill to ban needed counseling for youth on "sexual orientation" issues.
Huge push by national LGBT movement. Rejected by 20 state legislatures, the big target is now Massachusetts. 7/23/2015
| | |
| --- | --- |
| | "Reparative therapy saved my life. I was one of those 5-year-old boys who was sexually abused." |
State AGs refuse to file for a re-hearing on Supreme Court same-sex "marriage." Ignore federal laws broken by Justices, and pleas by citizens.
The big retreat continues. Permanent split coming in pro-family movement? 7/23/2015
With five days left to file for SCOTUS marriage re-hearing, the GOP & conservative cave-in spreads
July 21 deadline to file. Big pro-family meeting in Ohio AG's office. 7/16/2015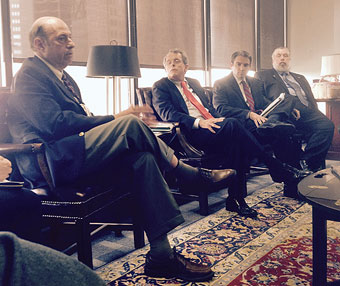 Last Friday nearly 50 pro-family activists, pastors, and
others met with Ohio Attorney General Mike DeWine
(second from left) to try to persuade him to do the right thing.
SCOTUS re-trial on marriage issue? It's possible if GOP doesn't cave in.
It's not completely over yet. But a group of treacherous and cowardly Republican politicians are standing in the way. 7/9/2015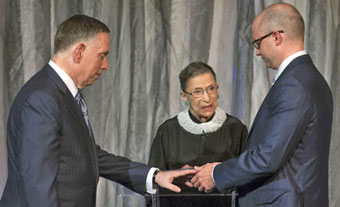 Impartial? Supreme Court Justice Ruth Bader Ginsburg
performs a same-sex "marriage" on August 31, 2013.
The Turning Point: Lawless "Gay Marriage" in Massachusetts
By Amy Contrada. The rule of law was killed in Massachusetts in 2004. The judges and Governor got away with its murder. 7/7/2015
An Independence Day message about fear.
Let's be honest. Being called nasty names or boycotted, etc., is small potatoes in the context of things. Also: see video. 7/4/2015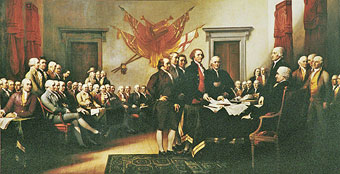 We can learn a lot from the 56 Founding Fathers who
signed the Declaration of Independence.
US Supreme Court marriage ruling: How we got to this & what to do now
A candid analysis from the trenches. 7/1/2015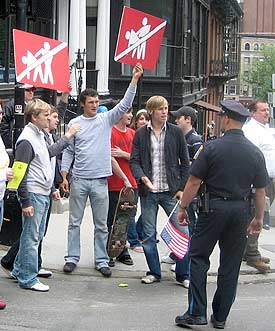 Russian immigrants holding signs outside the
Massachusetts State House during Marriage
Amendment Constitutional Convention
demonstrations in 2007.
June 2015
Boston hospital fires prominent physician for telling the truth about homosexual behavior and criticizing involvement in "Gay Pride" events!
Says that discussion of medical facts of homosexual behavior constitutes "unprofessional conduct." Unbelievable! 6/21/2015
See timeline of events - physician warned, threatened and fired.
Hospital reacts to physician's concerns with hostility, intimidation and threats; finally expels him from staff. 6/21/2015
| | |
| --- | --- |
| | Beth Israel Deaconess Medical Center is a major Harvard-affiliated hospital in Boston. One principled physician stood up to the destructive politically-correct group-think. |
Start of "Gay Pride Week" in Boston: Politicians raise rainbow flag over City Hall and honor virulent anti-Christian group.
Elected officials celebrate 10-day period of perversion and lunacy. (See our video!) 6/19/2015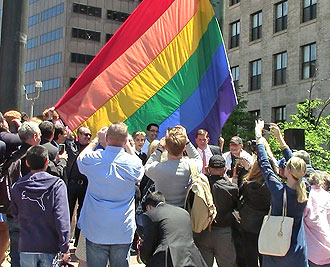 Boston Mayor Marty Walsh and other politicians
raise the "gay" flag over City Hall.
May 2015
Analysis: What REALLY happened in Ireland's election: Massive US-funded "gay marriage" blitzkrieg as never seen before.
Nationwide vote would have surely failed otherwise. Are other countries next? This should be a wake-up call around the world. 5/28/2015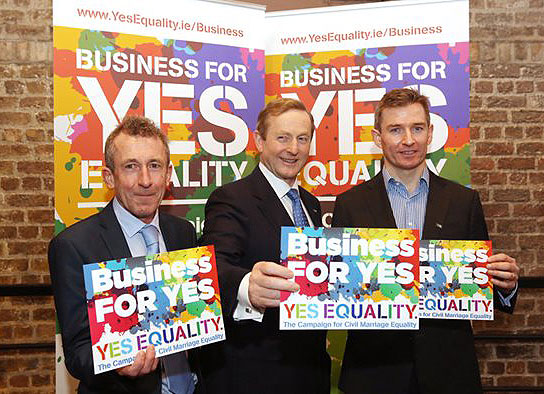 The well-funded propaganda blitz in full swing.
Ireland national vote on "gay marriage" on May 22. Pro-family activists used MassResistance info to warn voters of consequences.
Up against millions of US "gay" dollars and overwhelming support by politicians, media, business, and liberal elite. 5/21/2015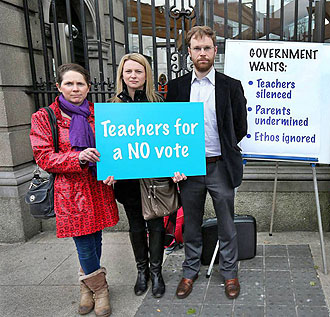 Despite the massive propaganda and intimidation
campaign by the LGBT forces for a "Yes" vote, there
is a large undercurrent of regular Irish people
who aren't buying it.
The crisis in pro-family activism - and what we're doing about it
There's never been a bigger need to confront the radical agendas being forced on families, children, and religious believers. 5/13/2015
Parents hammer Education Committee legislators at State House public hearing on "student survey" bill
Outrageous issue reported on Boston TV, radio, & across the Internet. 5/13/2015
Mother of two children in public schools tells
legislators about graphic details of school survey
Unbelievable surveys given to children in Mass. - and schools across America
On sexuality, suicide, drug use, criminal activity, personal and family life. Wait until you see the questions! 5/5/2015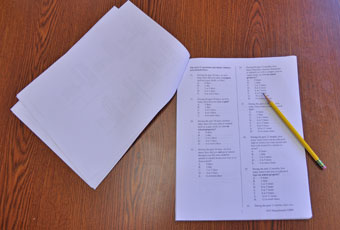 Most parents have no idea what the
schools are asking their kids to reveal.
Analysis: Pro-family arguments at Supreme Court "gay marriage" hearing very frustrating, non-aggressive.
Playing to "conventional wisdom" that has not worked so far. Entire case lacks legal legitimacy. 5/1/2015
Orthodox rabbis tell it like it is outside Supreme Court hearing.
Set an example for other pro-family clergy. 5/1/2015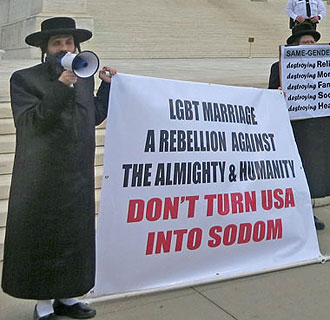 They came from New York and New Jersey and aren't
afraid of the liberal media or the mushy pro-family
establishment.
April 2015
Ten things you need to know about the US Supreme Court "gay marriage" case being heard April 28, 2015
What was once a fringe, unthinkable idea could be imposed on the entire nation. 4/26/2015
Read our report: Why Justice Elena Kagan must disqualify herself from Supreme Court 'gay marriage' case.
Kagan's outrageous record as Dean of Harvard Law School -- aggressively pushed the LGBT agenda over period of years. 4/20/2015
Strong "culture war" bills filed in Mass. Legislature – good and bad Bills filed by MassResistance, LGBT lobby, Planned Parenthood, & others. 4/17/2015
Analysis: What went wrong in the "Religious Freedom" fight in Indiana and Arkansas?
Failure by pro-family leaders to see roots of problem. 4/10/2015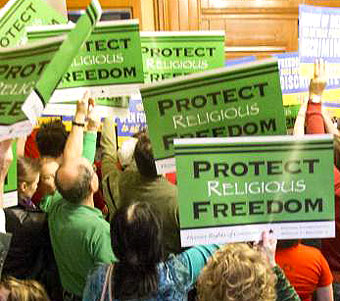 At the Indiana State House - before the politicians caved in.
March 2015
MassResistance and Catholic Action League pressure on Knights of Columbus leads to media fireworks!
Normally, a contingent deciding not to march in a parade would not be the least bit newsworthy. But liberals hate to lose. 3/31/2015
Boston St. Patrick's Parade, with "gay" groups marching and Catholic groups absent, loses luster of past years.
More politicians but fewer spectators and participants (see photos). 3/30/2015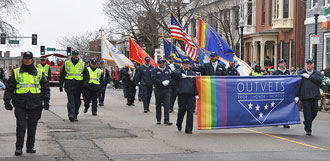 For some reason the LGBT "veterans" contingent
was flanked by police as they marched.
After the St. Pat's parade: Organizer claims he "didn't know" he'd approved a second LGBT group to march.
Catholic Action League calls it "beyond disingenuous." Prominent homosexual activist group well known in Boston. 3/30/2015
VICTORY: Knights of Columbus drop out of "pro-gay" Boston St. Patrick's Parade after massive outrage from traditional Catholics
Today we saw the triumph of resolute religious believers over the homosexual lobby. 3/13/2015
Traditional Catholics outraged that Knights of Columbus to march in "pro-gay" Boston St. Patrick's Day Parade.
To fill gap after faithful groups drop out. 3/12/2015
MassResistance addresses defiant rally for marriage at South Carolina State House
Legislators, pastors, doctors, and others ignite the crowd for bill to bypass federal court ruling forcing "gay marriage" on state. See VIDEO! 3/8/2015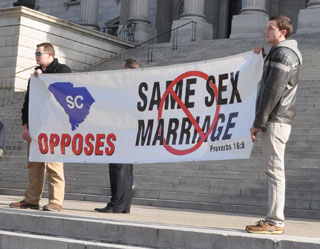 They were not ambiguous about their position on the issue!
February 2015
Missouri becomes fourth state to file bill . . .
Four states file bills to circumvent 'gay marriage' rulings by federal courts
Stopping the juggernaut of madness. MassResistance working with activists in all three states, and key legislators. 2/22/2015 and 3/17/2015 Updated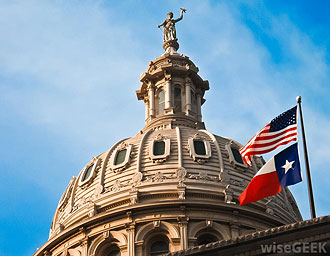 The Texas State Capitol. Bills have been filed in
Texas, Oklahoma and South Carolina.
MassResistance taking it into the churches!
Camenker speaks at Sunday service, rallies Pentecostal Church in Rhode Island on fighting the "culture wars." 2/6/2015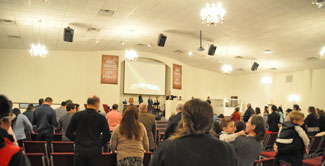 The congregation came from Massachusetts
and Rhode Island.
January 2015
Virginia-MassResistance becomes first state chapter of MassResistance!
Already fighting hard on several fronts. Wait till you see the amazing things they're doing! 1/30/2015


They're not shy, that's for sure.
Middle school tries to hide 'gay' assembly from parents
But MassResistance intervenes. 1/16/2015
| | |
| --- | --- |
| The LGBT movement's big push is to bring its destructive agenda to younger and younger children. | |
You did it: MassResistance supporters stepped up for year-end $10,000.00 matching donation - in just 3 days!
Over $12,000 in all. 1/3/2015