Mass. House Speaker Sal DiMasi conducted fundraiser for state's most powerful homosexual lobbying group Thursday evening, July 27.
Mass. Gay and Lesbian Political Caucus brags that DiMasi "helped us change no's to yes's" on re-vote for new Commission for Gay and Lesbian Youth.


Lobby's email to supporters bragged that Speaker would "celebrate how far we have come" (read it below).

[See gay group's email below]
I guess we know now why it only took 15 minutes to get nine reps to switch their votes on the crucial Commission for Gay and Lesbian Youth vote -- even after we had shown them the gory pictures of what's happening to kids in their programs. The Speaker flexed his muscles and made them cowards, according to what we're now hearing.
The Speaker of the Massachusetts House of Representatives, Sal DiMasi, conducted a lavish fundraising event for the most powerful homosexual lobbying group in the state Thursday evening, July 27, 2006. DiMasi was to "celebrate" recent pro-gay legislative victories in the House as well as "share his views on what lies ahead," according to an email from the group.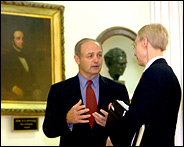 Speaker Sal DiMasi, left, with
(recently arrested) MGLPC
Lobbyist William Conley.
The Massachusetts Gay and Lesbian Political Caucus (MGLPC), which leads the statewide lobbying efforts for pro-homosexual legislation in the State House and works with other gay groups to coordinate millions of dollars raised for lobbying and affecting state political races, will be hosting the fundraiser with DiMasi at the residence of a wealthy Back Bay supporter.
The MGLPC is as bad as it gets. They coordinate the lobbying aimed at elected officials in the Legislature -- including the disinformation campaigns and intimidation-tactics -- for the various homosexual constituencies in the state, such as MassEquality (promoting same-sex "Marriage"), GLSEN (promoting homosexuality among children in the public schools), BAGLY (transsexualism among kids), the Religious Coalition for the Freedom to Marry (wacky churches for same-sex "marriage"), Boston Youth Pride (more homosexuality for kids) and several others. They help decide which pro-family reps will get targeted in the primaries and direct the funding.
They specialize in stacking public hearings with activists and "experts" to snow the legislators (unless WE'RE there to balance it out). Remember the hearings for the Parents Notification Bill and the Bill 1641 hearings where the gay activists and "psychologists" and lesbians with babies and even physicians were there to testify? It doesn't happen by accident.
At the Constitutional Convention earlier this month, they were the ones who worked with the leadership and negotiated the sham "postponement" vote.
During the previous week, the MGLPC made sure the override votes were there to overturn the Governor's vetoes of hundreds of thousands of dollars for gay programs in the public schools.
We never thought we'd see the Speaker of the House raising money to help push homosexuality in the schools against parents' wishes, and to defeat legislators who don't agree with his agenda, and then bragging about it.
Read for yourself . . . (And then call DiMasi's office at 617-722-2500. Fax: 617-722-2313 Email: Rep.SalvatoreDiMasi@hou.state.ma.us )
Below is email from Mass. Gay and Lesbian Political Caucus to their supporters:



---

From :

Mass Gay & Lesbian Political Caucus <lobbyist@mglpc.org>

Reply-To :

lobbyist@mglpc.org

Sent :

Friday, July 21, 2006 1:04 PM

To :

bobstjoe@netscape.net

Subject :

Success - Romney Anti-gay Vetoes Overridden

---
Please forward to friends and family
(use the link below)
MASSACHUSETTS GAY & LESBIAN POLITICAL CAUCUS
Your Professional State House Lobbyists
SUCCESS - anti-gay vetoes overridden

Gay Youth, Seniors and Domestic Violence Victims Protected
Ending an intense two days of debate, votes and re-votes, the legislature restored over $450,000 in LGBT program funding. Some of the votes were very close since it requires 2/3 majority to override a veto. In fact, we lost one vote until House Speaker Sal DiMasi helped us change NO's to YES's on the re-vote. In the end, the legislature restored every lgbt-cut that Romney made.
Commission on Gay & Lesbian Youth
- Departments of Education and Public Health funding for suicide and violence prevention was restored.
- An independent Commission on Gay & Lesbian Youth is now written into state law, no longer at the mercy of an anti-gay governor.
LGBT Aging Project funding for training aging service providers was restored.
Gay Men's Domestic Violence Project funding and program description were restored.
Mass Family Institute and MassResistance had combined forces to lobby heavily for Romney's vetoes. And they almost succeeded. Your calls and emails, combined with our lobbying and that of our allies, and the outstanding support of House Speaker DiMasi made the difference.
Time to Celebrate!
Sponsor & Attend MGLPC's Annual Fundraiser: Thursday, July 27th
Join us at the home of MGLPC patron Harry Collings in Boston's Back Bay for our most important fundraising event of the year. Our special guest Speaker of the House Sal DiMasi will be attending to celebrate how far we have come in this struggle and to share his views on what lies ahead.
Come Celebrate our override Victories and Thank Sal for his outstanding leadership on lgbt issues.
Please consider sponsorship of $2500, $1000, $500, $250, or $150 to support MGLPC.
You can sponsor by contributing on-line Contribute to MGLPC, or making a pledge by phone at (617) 522-2038.
Thank you for your support - it makes a difference!
Arline Isaacson & Gary Daffin
Co-Chairs
Massachusetts Gay & Lesbian Political Caucus
---
Please forward this email - use the Forward Email link below to forward to Friends and Family.
---
The Massachusetts Gay and Lesbian Political Caucus, popularly known as "The Caucus", is the oldest statewide gay and lesbian political organization in Massachusetts with activists in every region of the state. We are the only GLBT organization with two full time lobbyists on Beacon Hill. The Caucus focuses on lobbying the state legislature and activating grassroots lobbyists to work on a variety of issues important to the gay and lesbian community. Our goal is to win equal protection and equal treatment under the law for all GLBTs in Massachusetts.

www.mglpc.org
---
lobbyist@mglpc.org
---