What's "Gay Pride Week" in Boston really all about?
What is Macy's Department store promoting here?
Take a look . . .

On the program for this year. . .
A few of Boston Pride's more colorful listed sponsors & parade participants:
New England Leather Alliance ("Serving the Leather/Fetish/SM community for over 10 years" - "Marching to celebrate our kinky PRIDE". They'll also have a tent on the Common.)


Independent Pagans of New England ("The Witches' Voice: Witches, Wiccans, Druids, solitaries, mages")


PolyBoston (group promoting polyamory: group sex/relationships)


Ramrod ("leather & Denim cruise bar") & Machine Nightclub (boasts "Largest gay club foam party - hot men dancing - gogo boys cruise bar - backroom dancers - xxx video theater")


Good Vibrations (sex toy, XXX video store)


Gay Men's Domestic Violence Project (gets huge government money - because it's a huge problem)



Fenway Community Health (distributed Little Black Book to teens at GLSEN)


The Tiffany Club (transsexuals/transgenders)


All the King's Men (calls itself "an all female performance art troupe dedicated to challenging the confines of gender identity and stereotypes")


Boston Dyke March (see below) As they describe themselves: "The Boston Dyke March is for everyone! lesbians - dykes - bi-women - boychicks - tomboys - grrrls - lesbian moms - lesbianas femmes - butches - transwomen - androgs - queer women - gay girls - womanists - sororitygirls with pearls who are sleeping together - dykes on bikes - lesbian crones - african american lesbians - rural dykes - goddesses - poly girls - amazons - hippy chicks lipstick lesbians - asian dykes - lesbian avengers - dykes in wheelchairs - wise old lesbians - leather dykes - babydykes" "Join thousands of dykes, lesbians, bisexuals, queers, genderqueers, transwomen, transmen, and their allies marching for political and cultural change."


Pride Party for "Alternative Dyke/Queer/Trans Party People"


Trans Pride event ("Mass.Transgender Political Coalition is dedicated to ending discrimination on the basis of gender identity and gender expression")


Star performer at Festival = Hedda Lettuce, the six-time Drag Queen of the Year Award-winner HX Magazine


"Will Loves Steve" Cabaret Show



From past years. . .

A parade of women who have had operations to become men (?)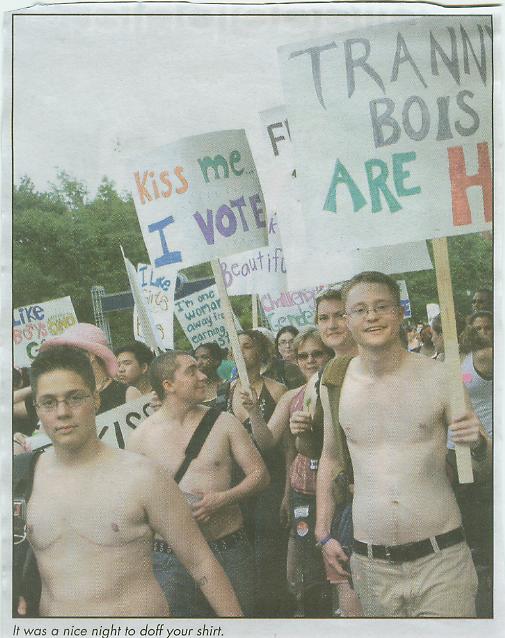 (From Bay Windows homosexual newspaper, 2004) Here's a photo from the Boston Pride
Parade of (we're not kidding) women who have had their breasts surgically removed, and
are marching as bare-chested "men." This is what Macy's is celebrating!