Tea Party activists & MassResistance have breakfast with Scott Brown in South Boston
Sitting down with "his base"
POSTED: Feb 25, 2010
US Senator Scott Brown held an impromptu breakfast Feb. 20 in South Boston to connect with representatives of his grassroots activist supporters. It included key Republican activists, Tea Party activists, and others (even some Democrats). South Boston activists invited MassResistance to join the event as the major pro-family action group.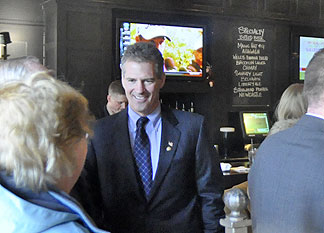 Sen. Scott Brown chats with activists.
The Brown people seem well aware who his base is, and he genuinely wants to stay connected with them. And among his base, it goes without saying that Scott Brown represents more than just a politician, but an entire movement. You can still feel the excitement over his victory.
Brown won South Boston by 55 percent -- the only neighborhood in the City of Boston that he won decisively -- despite the fact that it's traditionally been a huge Democrat stronghold. But there is a common-sense conservatism that runs deep in Southie, and one can feel that it's definitely Brown territory these days. And there's a strong sense that all of the Democrats who represent South Boston, from Congress to State Rep, are in trouble this November.

The meeting was at the Playwright Restaurant and Bar on West Broadway. Brown strolled in a few minutes early with just an aide.

Sen. Brown mingled and spoke individually with people for quite a while. He talked about a range of topics. And he wanted us to feel comfortable contacting his office if we needed to, and said that he would represent the average person's interests. Then everyone sat down and had breakfast. Later, he gave a short speech and left for his next appointment.
| | |
| --- | --- |
| Sen. Brown with Susan Long, organizer of the South Boston Tea Party movement. | |
| | |
| --- | --- |
| | With Brian Camenker of MassRessitance |
| | |
| --- | --- |
| Sitting down to breakfast. Across from Sen. Brown (at left, in blue shirt) is Jason Healey, Ward 7 Republican chairman and Brown's point man in South Boston during the campaign. | |
Unheard of in Massachusetts
A meeting like this in Massachusetts is really quite astonishing. Although the liberals get this kind of meeting all the time (e.g., the current governor regularly meeting with MassEquality), the idea of a U.S. Senator (or any major politician) sitting down with real conservative activists is simply unheard of. Certainly no recent Republican governor - Bill Weld, Paul Cellucci, Jane Swift, or Mitt Romney - would have ever done this. They often met with liberal activists, but they were uncomfortable around conservatives and kept them at a distance.
But Brown's message was that he's willing to listen to us and take us seriously. And despite years of politics and sudden national fame, he hasn't become elitist or condescending -- which also makes him an oddity among politicians here.
Undercurrent of uneasiness at meeting
And yet there was an undercurrent of uneasiness.
The general feeling of Brown's activist base can reasonably be summed up as: "You're the 41st vote to protect us from the frightening Obama-care bills, the money-wasting bailouts, the backroom pork deals, the social experiments, and the other hideous excesses of this runaway Congress. That's why everyone worked so hard and donated money. Please don't let us down."
When he stood up to make his speech, he started off railing against "business as usual" in Washington. But then he talked about his sudden friendly relationship with Harry Reid and John Kerry, being completely independent of the Republicans, his "positive meetings" with the Democratic leadership, and the preeminent importance of "cooperation" with the Senate Democrats so we can "solve our problems." And then he scooted out the door.
You could tell that people were thinking, "After everything that's happened this past year? I really hope he doesn't really mean that."
(Don't get us wrong here. We like scott Brown tremendously. Compared to every other major Massachusetts politician he's a breath of fresh air. But all politicians must be held accountable.)
Then on Monday - a perplexing vote on Jobs Stimulus Bill
As everyone knows by now, on Monday Scott Brown broke from the Republicans and voted with the Democrats to pass a $15 billion jobs stimulus bill. In his speech in South Boston, Brown said that Harry Reid had called him personally from church and asked him to consider voting for the jobs bill.
The bill would provide money for highway construction and tax breaks for certain employers who hire unemployed workers. The Republicans felt it was a bad bill, and were outraged that they were not allowed input on the drafting of it, nor were they allowed to offer any amendments. The vote was praised by Barack Obama and Harry Reid.
Later that day Brown told the press:
"This Senate jobs bill is not perfect. I wish the tax cuts were deeper and broader, but I voted for it because it contains measures that will help put people back to work. I was disappointed with the continuation of politics-as-usual in the drafting of this bill, as it was crafted behind closed doors, without transparency and accountability. I hope for improvements in that process going forward. All of us, Republicans and Democrats, have to work together to get our economy back on track. I hope my vote today is a strong step toward restoring bipartisanship in Washington."
On Tuesday morning there was wide range of reaction from Brown supporters, and it was the buzz of most of the talk shows. Did he do the right thing? We'll let you decide.