After the St. Pat's parade: Organizer claims he "didn't know" that Boston Pride was a homosexual group when he approved them to march.
Catholic Action League calls it "beyond disingenuous"
Prominent homosexual activist group well known in Boston
POSTED: March 30, 2015
One of the most outrageous – and prominent -- homosexual activist groups in the state was given permission at the last minute to march in the Boston St. Patrick's Day Parade. Later the parade organizer said he didn't know they were a "gay" group when he let them in. This preposterous alibi has only served to outrage faithful Catholics even more.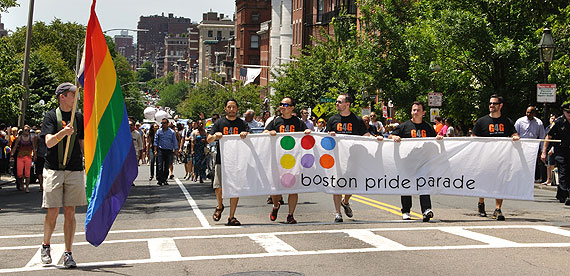 Every year Boston Pride organizes and leads the "Gay Pride Parade" in Boston.
[All photos by MassResistance except where noted.]
On Friday, March 13 (two days before the parade) the Boston media erupted with the story that a second homosexual group, Boston Pride, would be marching. Unlike OutVets, the other homosexual group given permission back in December, Boston Pride has no connection to the military (which was the excuse for allowing OutVets). Boston Pride is unabashedly one of the state's leading homosexual activist organizations. In particular, it is the sponsor of the infamous annual "Boston Gay Pride Week" events, as well as running Massachusetts Youth Pride.
The announcement made prominent coverage in all the major Boston print and TV media.
This additional capitulation to the liberal establishment caught everyone by surprise. Many members of the Allied War Veterans Council (the group which organizes the parade) were furious. One member we spoke with told us that the majority opposed allowing any homosexual groups in the parade, but they were still not being given the opportunity to vote on these matters by the pro-gay minority controlling the group.
And sure enough, Boston Pride marched with their "gay" regalia on March 15.
A few days after the parade, the Commander of the Allied War Veterans Council, Brian Mahoney, published a startling article in the local newspaper South Boston Today (which Mahoney owns and edits).
In his article, Mahoney claimed that there never was a ban against homosexual groups -- only against "political signage". This may be technically true, but it was simply a legalism they used to enforce the de facto ban that was publicly acknowledged by everyone.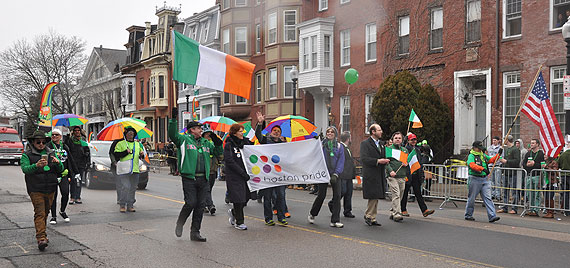 The Boston Pride contingent that marched in the St. Patrick's Day parade was basically there to make a point, not entertain anyone.
Then Mahoney also stated that he had no idea that Boston Pride was a homosexual group when he approved them. He said they told him they were a "social organization with volunteers of Irish descent". (Apparently he didn't bother to look at their website or their logo.) When he later was confronted with who they actually were, he persisted, deciding that their rainbow banners were acceptable because they also had leprechauns on them.
| | |
| --- | --- |
| | Despite what Mahoney says, the leprechaun banner and the umbrella sported by the Boston Pride marchers both look pretty "gay" to us. |
How absurd is this line of reasoning? C.J. Doyle of the Catholic Action League said it best in his press release about it:
The Catholic Action League of Massachusetts today is reacting with skepticism to claims by Brian Mahoney, Commander of the South Boston Allied War Veterans Council---the organizers of Boston's Saint Patrick's Day Parade---that the veterans, in approving the application to march of Boston Pride, were actually unaware that it was one of the state's leading homosexual advocacy organizations.
In a column in the March 19th SOUTHBOSTONTODAY, portions of which were quoted in yesterday's Boston Herald, Mahoney asserted that Boston Pride misrepresented themselves on their application as a "social organization with volunteers of Irish descent," and that the veterans "innocently believed they were an offshoot of Boston Strong," which was formed in response to the Marathon bombings.
The Catholic Action League called Mahoney's contention "beyond disingenuous, something more on the order of the-dog-ate-the-homework."
Catholic Action League Executive Director C. J. Doyle made the following comment: "Brian Mahoney, who seems to have a utilitarian view of telling the truth, is insulting the intelligence of the people of Boston with his meretricious disavowals. For twenty-three years, homosexual activists tried to force their way into the Saint Patrick's Day Parade. Last December, under pressure from Mayor Martin Walsh, Mahoney and four others threw away a 9 to 0 Supreme Court decision and let them in. Now, he would have us believe he didn't know that the organizers of Boston's gay pride parade were homosexuals."
"To accept Mahoney's absurdly improbable claims, one would have to believe that no one on the veterans council watched television, listened to the radio, read newspapers, or talked to anyone living in Massachusetts. While no one should discount the duplicity of the groups which tried to strong-arm their way into the parade---they reinvented themselves several times---Mahoney's claim is a bridge too far."
Clearly, the outrage by faithful Catholics in Boston is having its effects. And it shows no signs of subsiding any time soon. More and more people have had it with the homosexual movement forcing itself everywhere, and this may be where they stop backing down or compromising.