Dr. Church continues to wait for decision from hospital Board of Directors on his appeal -- challenging his firing for telling the truth. Outrage continues around the world.
Big topic of concern at recent national pro-family conferences.
POSTED: November 9 2015
It's been over a month since Dr. Paul Church personally made his appeal to a sub-committee of the Board of Directors of Beth Israel Deaconess Medical Center (BIDMC). It was the "final" appeal of his outrageous expulsion from the hospital staff because he made politically-incorrect (but medically accurate) comments about homosexual behavior. At this point, Dr. Church has heard nothing from the Board.
No mandated timeframe for action by Board
It's certainly been a stressful month for him, waiting to hear. But according to the hospital by-laws, there is no specific timeframe for the sub-committee to make a recommendation to the full Board. And it has wide discretion as to what it recommends – from full exoneration to complete agreement with the expulsion, or even tabling it to a later date. However, once the Board receives the sub-committee's recommendation, it has 20 days to make a final decision. Nothing at all has been revealed. (Maybe they are still trying to figure out how to handle this!)
Delivery of petition to Board Chairman
There's no question that the Board is aware of the serious nature of this controversy. On Tuesday, Oct. 27, Dr. Church delivered a package of nearly 10,000 petition signers from 77 countries (plus a letter from MassResistance) to the Chairman of the BIDMC Board of Directors, Daniel J. Jick.
Concern around the world
As we've been reporting, during the week of October 26-30, Salt Lake City was the epicenter of the pro-family movement. Monday was the national Stand4Truth conference on homosexuality (at which Dr. Church spoke via Skype), and Tuesday through Friday was the enormous World Conference of Families. We were there for all of it.
Throughout that week we talked to hundreds of people from countries around the world. It was quite a surprise that the number one thing people asked us about was: "What's happening with Dr. Church?" There was genuine concern about him. People are very upset.
You can still make YOUR voice heard!
You can still do something to help Dr. Church. The average person can still get involved. Make your own "Stand 4 Truth"!
(1) You can personally email members of the Board of Directors.
(2) If you haven't already signed, go to the CitizenGo petition– joining people from around the world -- and help us break the 10,000 mark!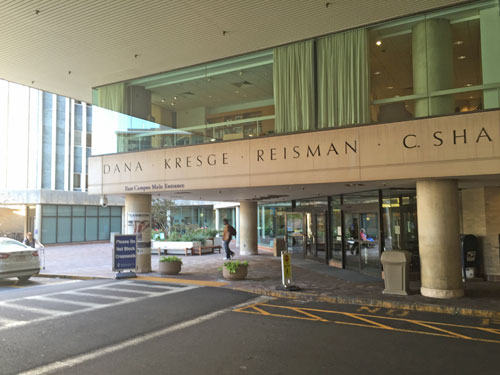 The executive suite where the Board of Directors meets.
Fired for telling the politically-incorrect truth
Dr. Paul Church has been a urologist on the BIDMC staff for nearly 30 years and is a member of the Harvard Medical School faculty. He has done research on diagnosing prostate and bladder cancer, and has spoken on the subject of high-risk sexual behaviors.
As MassResistance has reported, earlier this year, a BIDMC committee of high-ranking doctors and administrators decided that Dr. Church's statements to colleagues about the medical dangers of homosexual behavior, and moral issues surrounding it, were "offensive" and constituted "discrimination," "harassment," and "unprofessional conduct." Thus, they expelled Dr. Church from the BIDMC medical staff.
The hospital's expulsion of Dr. Church was based completely on non-medical reasons having nothing to do with patient care. A representative of the American Association of Physicians and Surgeons calls it a "sham peer review" which they describe as "a general term describing the misuse of hospital by-laws to intimidate and control physicians."
An appeals panel from that first BIDMS committee upheld the expulsion of Dr. Church after holding a two-day hearing in late July. Dr. Church then appealed to the hospital's Board of Directors, claiming that the process was extremely biased and arbitrary.
We will keep you informed on this!