The MassResistance December Challenge:
"World AIDS Day" means different things to different people.
... To parents, it has become a war on children! Help us stop it.
POSTED: Dec 1, 2015
Dec. 1, 2015, was designated as #GivingTuesday for non-profits around the country. We couldn't agree more with that concept!
December 1 is also the annual "World AIDS Day" by the international LGBT movement. It is unfortunately used as an opportunity for malicious propaganda and disinformation.


One of the "World AIDS Day" logos being used this year.
Today, approximately 136 people in the United States will contract HIV, the virus that causes AIDS. This year alone 50,000 people will become infected, and about 13,000 people will die because of it. (CDC) Even though HIV is treatable, it is costly and difficult to sustain the drug regimen, and victims still have their lives cut short. Even worse, 25% of new HIV infections are among youth, ages 13 to 24.
The tragic part of this is that AIDS is 100% avoidable. As everyone knows, AIDS is spread through destructive behaviors, particularly homosexual contact. These behaviors spread AIDS and a long list of other diseases, infections, and involve mental health dysfunction.
But instead of telling people to avoid these perilous behaviors, the LGBT movement (including the mainstream media) does the opposite. It tells people that homosexuality is perfectly normal and healthy, that homosexuals have a "right" to continue practicing these behaviors, and that any "intolerance" or "discrimination" cannot not be allowed.
Confronting the War on Children!
But worst of all is how the LGBT movement goes into the nation's schools and aggressively persuades children to accept, experiment with, and be comfortable with homosexual (and transgender) activity. MassResistance has been documenting this for many years. It is worse than most people can imagine.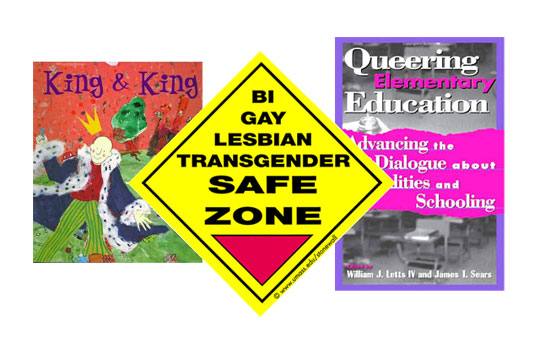 This year, there is an even bigger threat. Bills in the Massachusetts State House (and in other legislatures around the country) would (1) mandate more graphic homosexual and sexual topics in grades K-12; (2) ban needed counseling on "sexual orientation" issues for children who have been sexually molested; and (3) allow males who "decide" they are female to use restrooms, locker rooms, and showers with girls and women.
These bills all must be stopped. We are also fighting to pass critical bills to protect children, and give parents (not school officials) the power to make decisions about what their children are exposed to.
Stepping up to help us fight this war
This takes resources. But we have some good news. A generous donor has stepped up to the plate and offered to donate $10,000 to help us fight against this War on Children, if people will match that amount with their donations. The donation period started Dec. 1 -- #GivingTuesday -- and lasts until Dec. 31.
THE "WAR ON CHILDREN" MUST BE STOPPED. Bills filed by the LGBT lobby and Planned Parenthood targeting children must be blocked. Good laws must be passed in their stead.
THANK YOU for your support in this important $20,000 (total) MATCHING challenge!

PLEASE: DONATE

Donations can also be mailed to: MassResistance, PO Box 1612, Waltham, MA 02454
ALL donations are confidential. MassResistance does not sell or lend any of its lists.