The Meeting, Arrest, Jailing, and Court Appearance:
Deceitful tactics by school officials!
Near end of meeting school officials negotiated an agreement with parent, then Superintendent refused to sign it; had Parker arrested instead.
After the first hour, Tonia Parker left the meeting and went out and sat in her car. During this time, as the meeting continued, David continued to discuss the progress of the meeting with her via cell phone.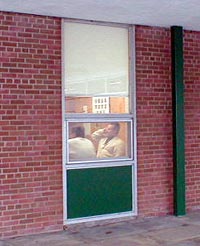 As the meeting seemed at a stalemate, the Principal and Director of Education seemed to changed course. Although they had claimed they "did not have the authority" to allow David Parker to be informed when his 6-year-old son was exposed to discussions of homosexuality, they suggested that the Superintendent did have the authority to agree -- at least until the full process of appealing to the School Committee went through.
So they had David hand-write an agreement, which they discussed with Superintendent William Hurley over the telephone, and then faxed to him. David was led to believe that Hurley was going to sign this - but instead he called back saying he rejected it, and they decided to have David arrested for trespassing.
The "agreement":
We, Tonia and David Parker, are once again requesting that we be notified when gay headed households/same sex union/transgender/bisexual issues are exposed to our child at Estabrook when teachers/staff/adults partake in these discussions.
The undersigned, Superintendent of the Lexington Public Schools, agrees that we will not only be notified when these discussions are planned but in addition agrees to an automatic opt out for our child when such discussions arise spontaneously to be enforced by those in authoritative control. Accordingly key teachers and staff must be notified (those that have authoritative control over our son at Estabrook) so that these accommodations may be implemented.

The whole thing appears to have been a strange tactic to break down David Parker's resolve and have him finally give up and leave.
-----------------------------
At the courthouse the next day, the incident definitely got people's attention: