Top lobbyist for most powerful homosexual State House lobbying group arrested for soliciting oral sex from UMass students.
Is also promiment member of Governor's Commission on Gay and Lesbian Youth and NEW "Commission on Gay and Lesbian Youth"!!


Lobbyist pushes for homosexual programs in public schools, same-sex "marriage", repeal of sodomy laws, etc.

Yes, this is the same group that Speaker of the House Sal DiMasi raised money for at event! Bragged in email how they overrode governor's veto for new "Commission" and huge funding.
[See photos below]
WALTHAM, MA (JULY 29, 2006) The most visible male homosexual lobbyist in the Massachusetts State House has been arrested for soliciting oral sex from college students at the University of Massachusetts, according to newspaper reports. William Conley works for the Massachusetts Gay & Lesbian Political Caucus and has been the point man for coordinating legislative support for funding homosexual programs (including the new "Commission on Gay and Lesbian Youth") in the public schools, as well as same-sex "marriage", repeal of the sodomy laws, and other homosexual-related legislation.
Active member of "Commission on Gay and Lesbian Youth". Conley has been a member of the "Governor's Commission on Gay and Lesbian Youth", and has now become a member of the new, super-charged, independent "Commission on Gay and Lesbian" just created by the Legislature. This new Commission has expanded powers to push homosexual programs in the public schools without normal governmental oversight. Also, Conley was instrumental in organizing legislative strong-arming to override the Governor's veto of that new Commission after the veto had been initially sustained.
Conley has spent years at the State House coordinating support and funding for homosexual programs aimed at youth. At the same time, the Governor's Commission, of which he has been a member, has used that money for pushing homosexuality, cross-dressing, and other behaviors in schools across the Commonwealth.
Here are the newspaper accounts of the incident:
Sex-solicit sting nets lobbyist for gay group
By Dave Wedge
Boston Herald
Saturday, July 29, 2006

A Springfield man busted in an alleged attempt to solicit sex from University of Massachusetts students in return for cash is a paid lobbyist for a pro-gay marriage advocacy group.

William G. Conley, a lobbyist for the Massachusetts Gay & Lesbian Political Caucus, was arrested by UMass police after allegedly posting a message on the Internet bulletin board Craigslist.com offering work to a college student.

Conley, 59, allegedly replied in an e-mail to an undercover cop posing as a student that he was willing to pay $50-$150 for "oral relief," according to a report in The Republican of Springfield.

Police arranged a meeting and arrested Conley on July 8. He was charged with paying for sexual conduct and was released after an arraignment in Eastern Hampshire District Court, the newspaper reported.

Also arrested in the sting was James Aspell, a clerk magistrate from Hartford.

State lobbying records show Conley was paid $31,560 this year by the Mass Gay & Lesbian Political Caucus. The group bills itself on its Web site "as the most experienced and respected lobbying operation on Beacon Hill working for lesbian, gay, bisexual and transgender equal rights."

http://news.bostonherald.com/localRegional/view.bg?articleid=150406

As the Springfield Republican newspaper reported:
Conley, 59, of 451 Trafton Road, Springfield, posted an ad seeking a college student to help with college expenses, according to the police report. When UMass Detective Michael J. Billiel, who was monitoring the Web site, responded to the ad posing as a college student, Conley replied that he was looking for "oral relief" and was willing to pay $50-$150 "depending on experience," the report said.
The Springfield Republican added that a police officer, posing as a college student, agreed to meet Conley at an Amity Street address in Springfield, where Conley was arrested on July 8. He was arraigned in Eastern Hampshire District Court where he pleaded innocent to paying for sexual conduct, a misdemeanor, and was released on his own recognizance.
Mass. Speaker of the House raising money for Conley's salary. As we reported in our previous email, Rep. Sal DiMasi, Speaker of the Massachusetts House of Representatives, conducted a fundraiser last Thursday for the Mass Gay & Lesbian Political Caucus (MGLPC). It's hard to believe that something as hideous as this could be happening. In an email to their supporters the MGLPC also bragged how DiMasi has worked with them to overturn Gov. Romney's veto of the new Commission by twisting arms, after WE had succeeded in getting the votes to sustaining the veto. Read report and gay lobby group email.

And here's some shots of Conley in action (at the State House, that is):

Here's Conley (far right) overseeing the Governor's Commission
annual "Youth Pride Parade" in May 2005. This parade included
teenaged boys dressed marching wearing women's clothes,
including fishnet stockings and high heels. How involved are
the men in this picture in the lives of those teenagers?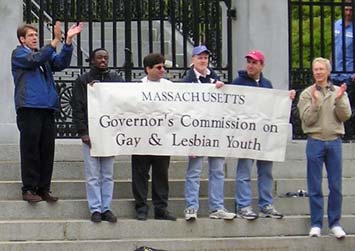 Here's Conley (right) conferring with a GLSEN organizer
at the State House, during the public hearing for H1641, which
would have mandated teaching homosexuality issues in K-12
as a requirement for graduation. (January 31, 2006)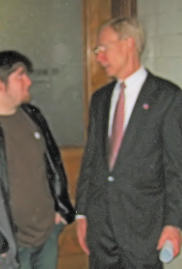 Here's Conley (middle, facing camera) giving
marching orders to pro-gay state reps, during
public hearing on Constitutional Amendment
on Marriage, April 11, 2006.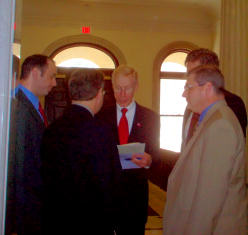 We think that this is just the tip of the iceberg. We've been seeing these people at the State House for years. They are focused and obsessed with getting at your children, one way or another, with homosexual programs of the most horrid nature. This latest incident, sadly, doesn't surprise us.
The MGLPC is as bad as it gets. They coordinate the lobbying aimed at elected officials in the Legislature -- including the disinformation campaigns and intimidation-tactics -- for the various homosexual constituencies in the state, such as MassEquality (promoting same-sex "Marriage"), GLSEN (promoting homosexuality among children in the public schools), BAGLY (transsexualism for kids), the Religious Coalition for the Freedom to Marry (wacky churches for same-sex "marriage"), Boston Youth Pride (more homosexuality for kids) and several others. They help decide which pro-family reps will get targeted in the primaries and work with other gay groups to coordinate millions of dollars to affect state political races.
They specialize in stacking public hearings with activists and "experts" to snow the legislators (unless WE'RE there to balance it out). They coordinated the hearings on the Parents' Notification Bill (H1050) and the mandatory sex/homosex ed bill (H1641) where the gay activists, "psychologists", lesbians with babies, and even physicians were there to testify. At the Constitutional Convention earlier this month, they were the ones who worked with the leadership and negotiated the sham "postponement" vote.

Is this going to wake anybody up at the State House?
---