Homosexual activists disrupt peaceful pro-marriage rally; Catholic activist Larry Cirignano targeted with charges of assault & battery, civil rights violations!
On the steps of Worcester City Hall, Worcester, Massachusetts, on Saturday morning, Dec. 16, 2006
Completely phony charges by ACLU Board Member; Larry could lose law license. Outrageous display of harassment and intimidation. This could happen to you!
See the videos and photos and videos below. (See VIDEO #4 for the actual incident.) VoteOnMarriage.org had scheduled a pro-marriage rally that morning in front of Worcester City Hall. But the homosexual community decided that free speech is only a one-way street, and came to stop them. And Sarah Loy, a Board Member of the ACLU who participated in that activity that day is charging Catholic Activist Larry Cirignano with assault and other "crimes" over a very questionable incident. Read on . . .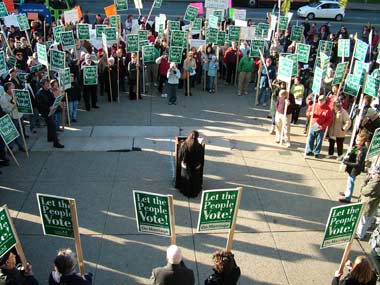 As rally began on steps of Worcester city hall, homosexual activists gathered along street (top of photo, with brightly colored signs) and began to work their way toward the center of the crowd, although police kept telling them to stay away from rally. (Photo by Indymedia.)
The rally organizers had an official permit to use the area of the City Hall steps for their pro-marriage rally. When the homosexual activists began to show up there, the police told them that they had to leave that area, and could demonstrate on the nearby sidewalk, but only if they kept moving. So the homosexuals went to the sidewalk but after a short time stopped moving and simply stood there shouting at the pro-marriage people. The police told them to stay away from the rally, but did not enforce that. And rather than stay on the sidewalk, the homosexual activists walked back into the rally. They bumped, jostled, and heckled the audience and the speakers, and banged on drums, etc

VIDEO #1: Disrupting National Anthem at beginning of rally.
We've seen numerous connections between homosexual groups and virulent anti-America activity. This is just another example of how they feel about our country.
[NOTE: Videos may take several seconds to load on screen.]
VIDEO #2: Disrupting the opening prayer.
While Larry Cirignano is at the podium giving the invocation for the rally, homosexual activists scream "shame, shame" and other invectives. Their contempt for God and religion are, unfortunately, well known.
VIDEO #3: Hideous behavior by homosexual activists during rally, to disrupt it.
This is an example of the outrageous screaming and yelling (and obscene gestures) that went on throughout most of the rally. Notice that the police told them that they did not have a permit to be there and must "keep moving" and not block the sidewalk. They blatantly ignored the police, and nothing happened. (On the other hand, the police are always harshly strict with any pro-family demonstrators.)
Sample taunts: "You're nothing but bigots; Christ would be ashamed of all of you." "We won, go home, get over it."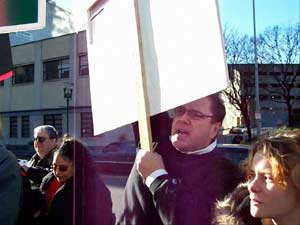 Tom Lang, leader of homosexual group "KnowThyNeighbor", shouts in video to drown out speakers. Is this the "dialogue" that KnowThyNeighbor keeps talking about?
Preparing? Here's Sarah Loy and her ACLU friends a few minutes before the incident. It would appear that they're talking about what she's planning to do. Loy is on the Board of Directors of the ACLU.

THE INCIDENT: According to six eyewitnesses we spoke to, Sarah Loy walked through the crowd, stood almost directly in front of the podium (see photo at top of page), held up a pro-homosexual marriage sign, and began yelling at the rally attendees, disrupting the event. Larry Cirignano looked around and could not see any police. Holding his clipboard in one hand, he walked up to Loy and led her away from the podium and towards the crowd, then turned around and came back. Some time later, Loy was laying on the ground, in the midst of the crowd, screaming.
VIDEO #4:
Here's the video taken within about ten feet of the incident from within the crowd, next to where Loy "fell" to the ground.

Judge for yourself.

Watch carefully from the beginning. Notice that no one seemed to observe anything unusual. One of Loy's companions is heard calling out about "that guy standing up there". But there's no crowd reaction to a woman being allegedly "pushed" to the ground. At least one police officer could be seen standing very near. After Loy cries out, a policeman standing right there tells Loy he didn't see anything. Man in beard and hat (friend of Loy) points to Larry, who is obviously far away. No one else seems aware of "assault."

When Loy lies on ground and screams, notice how the expressions on her face and mouth change. Immediate reaction from observer to policeman: "She's acting". Policeman tells Loy (as they've been saying all morning) to stay away from the rally area. Event continues as if nothing happened, tho observers continue to comment on the "fall".

After the "fall". Loy with her sign and her ACLU friends give their "report" to the Worcester police. Note: these are likely also the "witnesses" who spoke to the Worcester Telegram newspaper. (Photo by Indymedia.)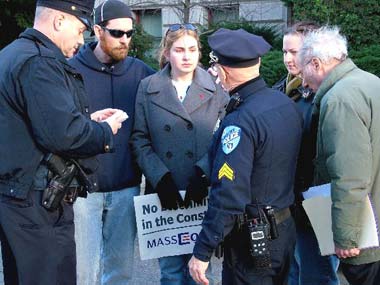 A lot of questions need answering . . .
Why was Loy not charged with disorderly conduct? Why was she not charged witn a Civil Rights violation -- interfering with the First Amendment rights of the rally participants? Why were the homosexual activists allowed to demonstrate and disrupt the event, in violation of the officers' own orders to them? When MassResistance called up the Worcester Police Department a few days after the incident, and asked them these questions, the police official we spoke to wouldn't answer. What we do know is that they have a history of cooperating with the homosexual "community". The Worcester Police Department owes all of us some serious answers.
The homosexual-activist demonstrators were told by the police several times to stay out of the rally area. The rally people had a permit and they did not. (Sarah Loy, being an official of the ACLU, would know this anyway.)
Larry Cirignano stands charged with assault and battery, and with a Civil Rights violation -- and they are still deciding whether to charge him with a hate crime! Larry could lose his license to practice law.
This is an outrage. It could happen to anyone. This must not happen in America.
Here's the latest on the case:

Larry was arraigned on April 11 in Central District Court in Worcester, and was formally charged with assault and battery, and a civil rights violation. The police are still deciding whether to also charge him with a hate crime. There was a hearing on May 1, and the case has been continued until June 8.

As an odd move, and an extra insult (it would appear), Judge Robert W. Gardner, Jr. formally ordered Larry to stay at least 100 yards away from Sarah Loy at all times. This is absurd; Larry has never had nor would intend to have any contact with Loy. Nor does Larry have any history of harrassing activity to anyone (or even raising his voice)!

Here's the Worcester Telegram article from April 12. It's unfortunately very slanted; it doesn't mention what the multitude of eyewitnesses on Larry's side say, just what the three "witnesses" who were with Loy (i.e., her friends, pictured above) told police.