Conservative Political Action Conference (CPAC) in Washington, DC draws thousands, CSPAN coverage, major media. A window to the conservative movement?
Major political figures converge, presidential candidates and others give speeches.
Also at CPAC:
Romney campaign buys victory in CPAC presidential straw poll

No soul: CPAC reflects how conservative movement is floundering.
WASHINGTON, DC (MARCH 1-3, 2007) The 34th annual Conservative Political Action Conference (CPAC) was held in Washington, DC, at the spacious Omni Shoreham Hotel. It's considered to be the largest gathering of conservatives in the county.
Five thousand attendees were there; over 60% were young people in their 20s. All the Republican candidates for President (except for McCain) gave speeches, a lot of big names in the conservative movement showed up, and there was an exhibit hall full of booths, many of them pretty interesting. The most popular speakers, though, were Ann Coulter (who gave them their money's worth) followed by Michelle Malkin. There was a straw poll for President, which Mitt Romney won, or bought, depending on how you look at it.
The list of speakers over the three days was quite impressive. A full list of the speakers & speeches can be found on the CPAC website. Vice-President Cheney even gave a speech. The presidential candidates generally gave reasonably decent speeches. The ones that stood out to us were Duncan Hunter and Mitt Romney, with Sam Brownback an honorable mention.
But strangely, representatives of social conservatism -- which probably make up the biggest bloc of conservative voters -- were noticeably absent. And all of the speakers avoided the "social issues" as much as they could. For example, they'd talk about the "marriage" issue but not the homosexual agenda behind it. This contrasts with the fact that social issues are a major controversy in America. Thus, the place had a rather sterile feeling. How do you get passionate over military spending or tax theory? Well, maybe a bit on immigration.
There were some flashes of the old YAF-style (Young Americans for Freedom) energy to be seen, (and we provided some of it) but not enough.
For activists, it was mainly an opportunity to network and hear the presidential candidates in person. For college kids, it was an opportunity to connect with the national "conservative" movement (or what passes for it these days), see celebrities, and, well, whatever else college students do. There was little "red-blooded" conservatism to be seen, unfortunately. Barry Goldwater or Ronald Reagan would have been bored.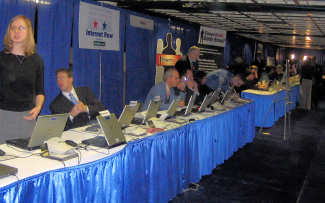 In the exhibit hall, "Internet Row", sponsored by Townhall.com, featured major conservative bloggers from around the country.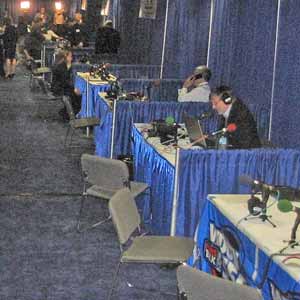 "Radio Row" had Sirius Radio, G.Gordon Liddy, Adam McManus, and others reporting live.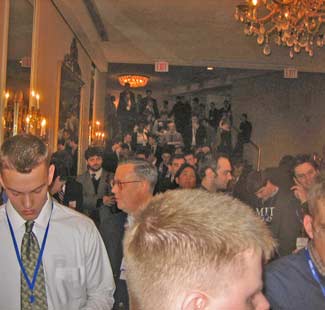 The line to get into Ann Coulter's speech went out the door, and filed the hallways for quite a distance. We didn't make it inside, unfortunately, but the audience sure got its money's worth, judging from the national media response.