Pandemonium at high school as Day of Defiance challenges pro-homosexual "Day of Silence"
Students storm and assault handful of demonstrators, screaming profanities, obscene gestures as faculty members stand and watch.
It definitely made a statement at this school, says pro-family student.
BROOKLINE, MA, Wednesday, April 25. Between 150-200 students converged on a handful of parents demonstrating outside Brookline High School to protest the pro-homosexual "Day of Silence" inside, screaming, swearing, throwing food, and other uncivilized behavior as several school faculty members and administrators looked on.
The group of about half a dozen parents attempted to engage in discussion with the kids about the event, and one parent brought flyers to hand out (which were taken from him and burned by some of the students). Food was thrown at several parents by students.
One of the fathers, Bruce C., told MassResistance:
"My arguments in my flyer seemed devastating to the gay agenda and totally captivated the students. . . At least one hundred kids were surrounding me like buzzing bees debating these arguments, some yelling degrading comments like "moron", "idiot", cursing, occasionally throwing food and wads of paper at me, burning my flyer, doing simulated homosexual sex acts, telling me they were going to sodomize me, boys were kissing and making out with other boys and girls were making out and fondling other girls to loud ecstatic cheering. I was amazed that none of these kids were even told to go to their classes! One boy walked past me several times over the course of a few hours eerily holding up two fingers clad in surgical gloves. It was like being in Sodom and Gomorrah! However, I couldn't help but feel compassion for these students who are indoctrinated and deceived beyond belief. A girl who had two mothers seemed to be especially interested and sincere in her questions about the arguments in my flyer. Several students and at least one teacher came over and shook my hand before I left."
Another parent, Roger S., sent the following to the Principal of Brookline High:
"I was at your school Wednesday April 25th and was shocked at your students' behavior in their closed-minded and childish defense of the Day of Silence and homosexuality in general. Vulgarity and obscene gestures are not a sign of intelligence. The state of our public schools is certainly in rapid decline. What is this world coming to when professionals such as you accept disgusting behavior, like your students portrayed, as 'normal' behavior?"
One student was detained for assault by Brookline police, which had several officers on the scene. The parent who was assaulted has declined to press charges. Police told MassResistance that even they were "pretty shocked" by the behavior of the students.
Even as the parents were leaving, one black girl yelled, "Good riddance, get your white ass out of here" to one of the mothers.
According to a student and a parent who was there, at least one of the faculty members there was encouraging the students to use vulgar language against the protesters, and even offered some "extra credit" for doing so.
Many other students were genuinely interested in the message from the parents, and engaged in serious conversation, but seemed uneasy about being too vocal about their questioning of the homosexual agenda. This climate of intimidation and completely one-sided propaganda at the school -- and the gullibility of students to believe it -- became very clear.
When informed of these incidents by MassResistance, Brookline High School Principal Robert Weinbraub replied, "It is disturbing. I will work to find out the truth. If our students were disrespectful, I am embarrassed and I apologize. We work very hard to develop young people who are engaged and respectful members of this community and beyond."
Definitely sent a strong message
Brookline High is one of the most thoroughly indoctrinated schools in the state. It's where the infamous Little Black Book was distributed in 2005, at an all-day homosexual GLSEN conference. There is a high percentage of militant pro-gay teachers there, and we've heard rumors of at least one cross-dressing teacher.
Many of the students were pleased that someone had the nerve to come and present the other side. Several thanked us for coming. A lot of kids are tired of the homosexual agenda and just want a normal school existence. They loved it that someone showed up to challenge it.
Throughout the rest of the day and the following day, reaction reverberated through the school, largely by angry pro-gay faculty members. One student told MassResistance that in two of his classes the teachers told the students that the protesters were from a hate group in Missouri named "God Hates Fags". (This, of course, is a complete lie - an absolute fabrication.) It was the talk of the entire school, he said. He added that he thought it was good that we came.
Two other schools
Day of Defiance protesters were also at Lexington High School and Newton North High. At both schools, the principal came out to talk to the protesters, but were polite and cordial. At Newton North, a few dozen students came out to get the flyers and talk, but there were no incidents. One pro-gay teacher confronted a protester with questions, then left.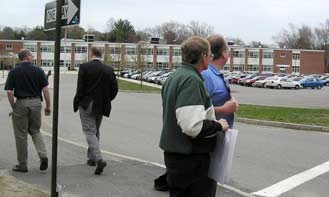 Lexington High School principal (in coat) walks back to
school building after talking with protesters. Below,
Lexington Police were on hand for any trouble!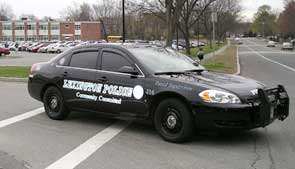 Big fear factor
To our surprise, none of the students who organized the Day of Defiance actually participated. They said were afraid of retribution by the school, particularly certain faculty members.
And most of the parents who had enthusiastically committed to protesting also chickened out at the last minute. For example, twenty parents had committed to be at Lexington (above), but only two showed up that day.
Bob Parks, former candidate for State Representative, who also ran for Chairman of the State Republican Party, went on the MassResistance radio show describing how he was going to make a speech at a high school as a Day of Defiance protester. He also agreed to send out press releases. But as the day approached, he suddenly backed out.
Conclusions
This was quite an experience for anyone who was there. Some interesting observations worth noting:
1. Students are only hearing one side of the homosexuality argument, and that's militantly enforced in the schools. They never hear the other side, particularly the enormous health risks connected homosexual sexual practices. As we saw here, even a little crack in the dyke can cause a big stir, but someone must be willing to do it
2. A percentage of kids have been so thoroughly brainwashed that they get angry and even violent if the homosexual party line is challenged.
3. A larger percentage of kids are genuinely interested in hearing the other side, and are skeptical of what they've been told in school, but are intimidated from publicly questioning anything.
4. The biggest force behind the homosexual agenda in schools is faculty members who seem to have such an emotional stake in this issue that they are willing to lie to the students about it.
5. Probably the most important: If parents and students continue to be afraid to speak up, nothing will change.
The Day of Defiance was a start. YOU CAN make a difference!