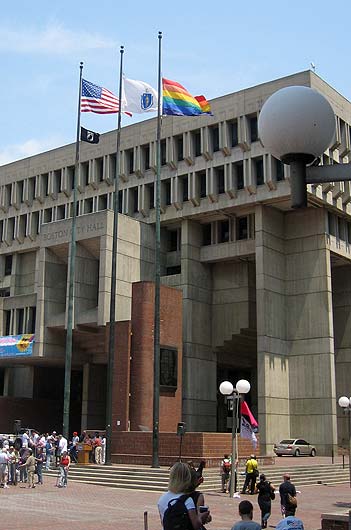 Boston Mayor insults citizens by raising 'gay flag" over City Hall – in honor of "Gay Pride Week."
However, mayor declines to show up personally, knowing video cameras will be there!
[More photos below]
BOSTON (JUNE 1, 2007) Boston Mayor Thomas Menino celebrated the beginning of "Gay Pride Week" by sponsoring an elaborate ceremony, complete with public officials, and having the homosexual "rainbow flag" fly over City Hall for the entire week.
The ceremony was fairly typical for a homosexual event. (1) One of the speeches was about sexually transmitted disease and the importance of being tested. (2) Another speech was about the homosexual movement getting into the public schools. (3) A well-known child molester was named as the official "honorary parade marshall" – the late Gerry Studds.
The Founding Fathers who fought the British for freedom in Boston would probably shoot themselves if they saw this.
It's not enough that every May the mayor allows Boston City Hall to be used for a perversion-filled "transgender prom" for kids and gay activists. Every June, he raises the rainbow flag over Boston City Hall and keep it there for an entire week to rub it in, and embarrass us all in front of all the tourists who come to Boston at this time of year. And he tops off the week by marching in the "gay pride parade" the following Saturday.
The ceremony started at 12 noon sharp:
| | |
| --- | --- |
| | Right behind the podium (with the official city seal) banner for Greater Boston PFLAG, which hosts an annual transgender conference ("Transcending Boundaries") promoting sexual sadism and polyamory (group sex). Big on pushing transgenderism on children. |
| | |
| --- | --- |
| | An interested (and interesting) crowd gathered in front of the podium. It was announced that the "honorary Grand Marshall" of the "Gay Pride Parade" this year is the late Gerry Studds. Studds was nationally known for seducing a teenage boy into a homosexual relationship. |
| | |
| --- | --- |
| | Paying their respects to perversion: On the stage are Boston City Councilors Michael Ross (left), Felix Arroyo, Michael Flaherty, and others. |
A motley crew of speakers:
| | | |
| --- | --- | --- |
| Mayor Menino's official liaison to the "GLBT Community". | Chairman of the Boston Pride Committee. | State Rep. Liz Malia - openly lesbian (of course). |
| | | | |
| --- | --- | --- | --- |
| This guy talked about about getting more homosexual programs into the schools. | | | The chairman of the Commission on Mass.Gay Lesbian Bisexual Transgender Youth talked about (what else?) people getting AIDS. |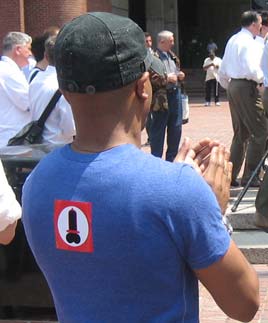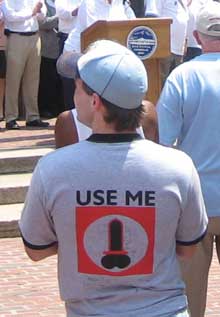 What kind of guy would wear a shirt like this around town?

| | | | |
| --- | --- | --- | --- |
| A man dressed as a woman (holding umbrella). | | | A family photo? Or just dating? |
| | |
| --- | --- |
| | Counter-demonstration? We found out these are the transsexual activists protesting the military theme of "Pride Week." What they don't understand is that "military" is just a fetish, not a sign of pro-Iraq war! |
| | |
| --- | --- |
| | We're not sure what kind of solidarity they have in mind. |
| | |
| --- | --- |
| | Up goes the flag, as the public officials clap their hands. |