Fighting back: Dozens demonstrate outside restaurant as traitorous Rep. Angelo Puppolo is honored by pro-homosexual legislators & activists.
Ran for office promising to support Marriage Amendment. Accepted money & support from pro-family citizens, then flipped after election and voted against amendment!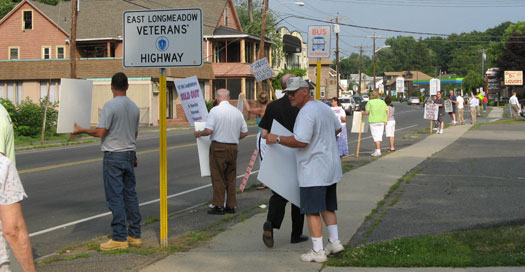 [SEE MORE PHOTOS BELOW]
EAST LONGMEADOW, MA (THURSDAY, JUNE 28, 2007) Approximately 45 people with signs turned out Thursday evening for a rally in front of the Villa Napoletana Restaurant in East Longmeadow, as party Democrats, legislators and homosexual activists hosted a "testimonial" for Rep. Angelo Puppolo (D-Springfield).
Both sides of the street were lined with pro-marriage activists for nearly two hours.
Inside the restaurant, Boston "heavy-weights" like House Speaker Sal DiMasi were allegedly in attendance to honor Puppolo for his less than six months service as a state legislator.
Puppolo, a freshman state representative, ran for the open seat last November when the incumbent, Gale Candaras, left to run successfully for the state Senate. Puppolo ran as a social conservative, promising pro-family groups that he would support the Marriage Amendment. In return, he got money and support from conservatives, despite running against a Republican. However, at the Constitutional Convention on June 14, Puppolo announced that he supports homosexual "marriage" and that voters do not have the right to decide for themselves on that issue.
"I felt that it would not be right to amend the state constitution to take away civil rights and to take action against friends and neighbors who are enjoying the benefits of marriage," Puppolo told the homosexual newspaper "Southern Voice."