Homosexual "Youth Pride Day" May 12, 2007

Transsexual prom at Boston City Hall

Starting in the evening was the "transsexual prom" at Boston City Hall, sponsored by Boston Mayor Tom Menino and run by a radical "transgender youth" group.

Weird adults, vulnerable kids, acting out "gayness", and more. No "outsiders" were allowed inside -- only kids and homosexual / transgender activist adults.

Youth Pride Day pages:

'Transgender' Prom
Above, view from outside Boston City Hall. Right, kids
lined up to get in.
| | |
| --- | --- |
| | Guarding the door: a man dressed as a woman (with sunglasses). This man is also the co-chair of the Mass Commission on Gay Lesbian Bisexual and Transgender Youth. |
The 'transgender' prom was run by the leading transgender youth group, naturally. What a horror show!

Note: BAGLY is an official member of the Massachusetts Commission on Gay Lesbian Bisexual and Transgender Youth.
| | |
| --- | --- |
| | This guy was everywhere! So naturally (no pun intended) he would be at a "transgender prom". |
As the day went on, there were a lot more kids acting out their "gay" identities.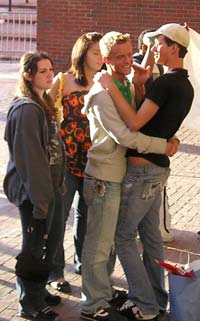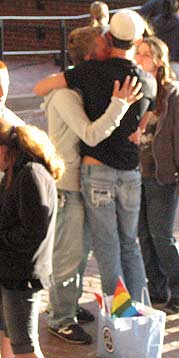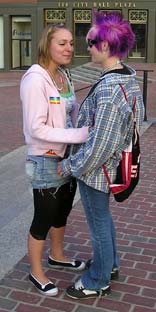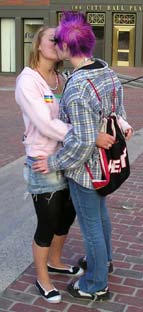 | | |
| --- | --- |
| | Note the nipple piercings.. |
| | |
| --- | --- |
| | And there were other health risks there, also. |
This is probably the weirdest thing we saw. The young man on the left, in a dress,
was being led around by the woman behind him who is wearing a dog collar. It was
very, very strange to watch. (We have a video of it we may release.)
| | |
| --- | --- |
| | Trevor Wright, the transgender activist who works for BAGLY, the transgender teen group. Currently dressed as a male, though that could change at any time. A very angry, disturbed kid. |
These three people below were the "security detail" for the transgender prom.
And, of course, there are the homosexual activist t-shirts!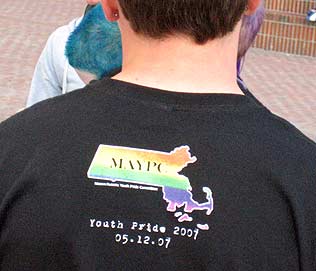 Fenway Health is the same group that handed out "The Little Black Book - Queer in the 21st Century" at Brookline High School.They also encourage homosexual "cruising" at the Fens by handing out condoms and lubricant.

"Project PrERare" recruits men who have sex men to test an experimental HIV drug. What kind of "youth" activity is that??
| | |
| --- | --- |
| | Here's a veteran from last year. |