(BOSTON, DEC. 6, 2007) As if you needed another reason not to subscribe to Boston's "flagship newspaper" or to trust anything they write on social-issue news stories.
It's also part of the propaganda war against traditional values -- to "mainstream" homosexuality. Is this "Bay Windows" or the Boston Globe? (Article here on Globe website, without photos.)
Where the boys are
The estate prospers with glamorous life's hip-hop dance party
By Christopher Muther, Globe Staff | December 6, 2007
It becomes apparent that 24-year-old Sam Hernandez is suffering from sleep deprivation only when the strobe hits his slightly puffy eyes, so he spends a good deal of time at the Estate on a recent Thursday ducking from its dastardly glow. The freelance technical consultant is operating on three hours sleep and two raspberry-vodka tonics. Despite the lack of slumber, Hernandez, attired in a too-small Hall & Oates T and A.P.C. jeans, refuses to miss a single Thursday night at the club.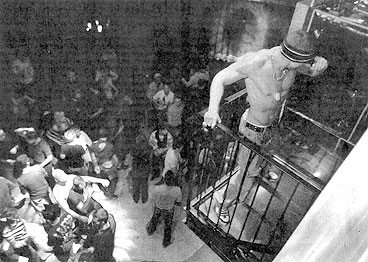 Photo from the article shows their version of a topless dancer.
"This is the one night of the week I always look forward to," he says, taking a break from dancing with his friends to Kanye West's "Stronger." "In Boston, there aren't really any places where you can hear hip-hop at a gay club, or find a crowd like this."
In less than three months, the Estate's weekly Thursday night party - called the Glamorous Life - has grown into one of the most frenzied and fizzy gay nights in the city. Glistening shirtless male dancers stationed on perches high over the dance floor thrust along to the beat. On the floor below, a racially diverse - by Boston standards, at least - mix of young professionals, collegians, and a smattering of men who probably should have gone to sleep after "Grey's Anatomy," flail along to the music.
The Glamorous Life has emerged as Boston's leading purveyor of gay hip-hop, a seismic shift from the days when a night at a gay dance club meant hearing a stream of house and trance music punctuated by moments of Whitney Houston wailing about unrequited love at 120 beats per minute.
"When you think about it, the most prevalent music in pop culture is hip-hop," says Joe Kane, director of operations at the Estate. "If that's what 21- to 25-year-olds want to hear, that's across the board. It doesn't matter if you're gay or straight. I love being around on Thursday night because I've meet so many cool guys. It's a whole different vibe."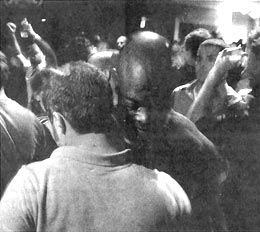 Photo from the article - dancing cheek to cheek.
"It's fun for me because there's no pretense to the night," says Rich LaDue, who provides the soundtrack for the night from a DJ booth with a bird's-eye view of the action. "You look out on the dance floor, and you'll see boys wearing some makeup and a lot of product in their hair. They're dancing to 50 Cent, and they're totally having it. For people my age - mid-to-late 30s - there was a time when we said 'This is not our music.' We were supposed to be listening to Mariah and Celine. But the guys here clearly don't feel that way."
The expansion of the Glamorous Life began when its previous home, Embassy, shuttered in September, and the weekly party moved from the 450-person capacity Lansdowne Street haunt to the 700-person capacity club in Boylston Alley. The larger club, with its central location, helped boost numbers. Boston's gay population was already predisposed to beginning its weekend on Thursday night thanks to Club Cafe, which has dominated that night for nearly two decades. But fickle nightclub patrons, always on the hunt for the latest and greatest, are now flocking to the Estate on Thursdays as well.
Meanwhile, in Cambridge, the alternative club ManRay closed its doors two years ago, ending its popular gay Thursday college night. More students are now traveling across the Charles looking for nightlife, and winding up at Estate. The night's growth runs contrary to the conventional wisdom that gay nightlife in Boston is now just a shadow of its former, glitzy self. The rise in Internet-based hookups is seen as one reason why gay clubs in the city are slumping.
LaDue confesses the success of the night is a bit of a happy accident. He initially felt guilty playing top 40 hip-hop and pop, thinking that he should be playing rare or cutting-edge grooves instead. But it didn't take long before LaDue realized that he was enjoying it as much as clubgoers.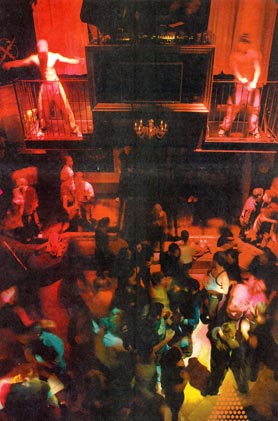 Photo from article - the action inside.
"I was spinning once a month [when the Glamorous Life was] at Embassy," he says. "I was there because the regular DJ for the night didn't want to play hip-hop all the time. The DJ in me was saying 'Playing this kind of music isn't cool. Don't get too used to it.' But secretly, I was loving it. It was like eating a Twinkie when no one was looking, you know? Totally fun and tasty."
By publicly coming to terms with his love of TRL, Britney Spears, and Jay-Z, LaDue helped birth a night for the young, well-groomed, and diverse crowd that is more concerned with partying than pretense. He is now the regular DJ for the night.
The Glamorous Life has emerged as the antithesis of gay Boston's long-running Thursday night see-and-be-seen scene at Club Cafe. Where the Glamorous Life is a full-on dance night, Club Cafe is a video bar - meaning there is no dancing. Club Cafe has been the place for the city's gay men to gather on Thursday nights for years, but it is also the place that some of its patrons love to hate.
"I was so sick of the attitude at Club Cafe," says 27-year-old financial consultant Michael Collins between sips of a deep blue martini at Estate. "Seriously, how many times can you stand around in a room looking at the same people listening to the same Beyoncé song? It was kind of a relief to come here and find people who wanted to just have some fun." After a few more sips of the preternatural-colored martini, which appears to be acting as some kind of vodka-based truth serum, Collins confesses that despite his ill-will toward Club Cafe, he is there nearly every Thursday.
"I've been hearing that for 10 years," says Club Cafe video manager and VJ Michael Cunningham. "Club Cafe got a reputation as being a place for snobs, and it just stuck. But you see the same of people in all the clubs around town."
Where Club Cafe was once the sole destination for many on Thursday, it has now become a pre-dance gathering spot for younger guys before they make their way to the Glamorous Life. By midnight, those smoother-faced patrons have departed Club Cafe, leaving behind retro music that includes tunes such as Bizarre Inc.'s 1993 hit "I'm Gonna Get You" and Crystal Waters's "100 Percent Pure Love" for more contemporary fare at Estate.
"Straight or gay, people like to go to the new hot spot," says South End resident Michael Barnum as he surveys the scene at Club Cafe. "I was at Estate a few weeks ago, and it was full by 12:30."
Several patrons at the Estate say they are now coming to the Glamorous Life because it is no longer happening in a Lansdowne Street club. Although gay club nights were weekly occurrences on Lansdowne Street for the past two decades, some clubbers say they were uncomfortable with the thought of facing inebriated sports fans in their travels.
"I'd rather go to the Alley than Lansdowne," says 23-year-old Nick Hanneman. "That area is sketchy, especially if drunk people are coming out of Fenway Park. It was a total culture clash over there."
Regardless of all the factors that have allowed this Thursday night scene to flourish, LaDue prefers to think that the music has something to do with it.
"Listen honey," LaDue says. "People love a house party, and that's basically what this is. For me, it feels like I'm in high school again. There's this cool, diverse mix of people. We do a little bit of everything - reggaeton, hip-hop, pop, I even throw in a little electro so the kids in mascara are happy. It's representative of everyone. Who doesn't love a cool party with a bunch of cute guys?"
Christopher Muther can be reached at [email protected]