Homosexual legal group holding public forum on homosexual sex, public bathrooms, gay "sexual liberation"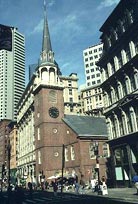 Old South Meeting House
Gay and Lesbian Advocates and Defenders (GLAD), an aggressive, publicly funded homosexual legal firm, is the group that won the Goodridge same-sex "marriage" ruling. It seems it IS all about the sex, after all. Look for a push to repeal the laws against public sex.
WEDNESDAY NIGHT, JAN. 23, 6-8 PM AT THE OLD SOUTH MEETING HOUSE, BOSTON
The Old South Meeting House in downtown Boston, built in 1729 as a Puritan place of worship, has a distinguished history. Samuel Adams spoke there. The Boston Tea Party was planned there. And now this!
From the latest issue of "Bay Windows", hardcore Boston homosexual newspaper . . .