After postponing the vote for a week in the wake of newspaper articles and public outcry questioning the nomination, the elected Governor's Council overwhelmingly confirmed longtime homosexual activist and former state senator Cheryl Jacques to a to be Massachusetts judge, at their noon meeting today.
Commission members had acknowledged that they had gotten "a lot of calls" from citizens upset about Jacques homosexual activism.
The vote was 6-1. Mary-Ellen Manning of Peabody cast the dissenting vote. The entire meeting lasted less than 15 minutes.
There was no debate. Councilor Marilyn Pettino Devaney of Watertown read a long statement supporting Jacques, insisting that Jacques' $500 contribution to Gov. Deval Patrick and her current $127,000 campaign fund are not a problem . Devaney added that Jacques promises to give the money to charity (although questions linger why she hadn't done that already). Immediately afterwards, the vote was taken and the meeting was adjourned.
A major homosexual activist
For many years, Cheryl Jacques has been one of the major lesbian activists in America. On her website, she describes herself as "A national leader in the gay civil rights movement." She was president of the hardcore national homosexual group Human Rights Campaign which pressures corporations to adopt a long series of demands from the homosexual movement, and lobbies Congress for pro-homosexual legislation. Before that, she was a Massachusetts state senator for a dozen years, where she introduced numerous pro-homosexual bills and helped fund the "Governor's Commission for Gay and Lesbian Youth."
As an apparent payback to the homosexual movement for its support, Gov. Deval Patrick nominated Jacques to be a judge.
Why this is particularly bad
Jacques will be an Industrial Accidents Board (IAB) judge, making $107,000 per year. The six-year term will put her past the 20 years of government service to collect a full pension.
The IAB court deals with unemployment and workman's compensation issues. With the coming recession and big layoff issues, having a hardcore political activist as a judge will make for a very fearful situation for both businesses and individuals. In the past, Jacques made no effort to conceal her disgust for the pro-family position.
The workman's comp court has a terrible reputation in Massachusetts for sleaziness and misappropriation of justice. Also, look to see a lot more "discrimination" cases come up.
One-week postponement of vote
Judicial nominations in Massachusetts must be approved by a vote of the Governor's Council, an 8-member elected body from across the state which is chaired by the Lt. Governor, an ex-officio member.
Last week the Governor's Council met to vote on Jacques. There were questions about Jacques' activism, and the fact that she still has an open campaign fund of $127,000. There's also the sleazy fact that after one term as judge would qualify Jacques for a huge government pension, given her previous years in various government jobs.
So last week, in a rare move, the Council voted to postpone the vote on Jacques a week.
The fix was in
After the meeting, Councilor Devaney told MassResistance that being an IAB judge (which deals with workman's comp issues) is different from a regular judge she will be "watching over" Jacques to see that she doesn't use her judgeship in a political way. We asked her if she could enforce that, and she acknowledged she couldn't.
The meeting was run by Lt. Gov. Tim Murray (an ex-officio member of the Governor's Council), who is the former mayor of Worcester and an active supporter of the homosexual movement. Murray would not talk to MassResistance, but discussed the nomination with reporters while we stood by. He talked about how Jacques and her supporters had been working hard with Council members and others to secure the vote, and he made it seem that the one-week postponement was only considered a temporary delay. The swiftness of the vote -- without debate -- made it apparent that something political had happened.
Councilor Mary-Ellen Manning was more jaded about the vote. "That's the way they do things here," she told us.
A quick meeting . . .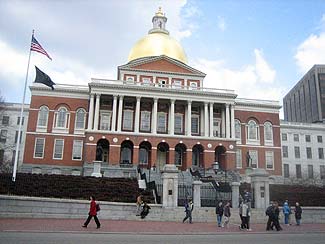 Outside the State House at noon it was pretty sunny. Unfortunately it was gloomy inside.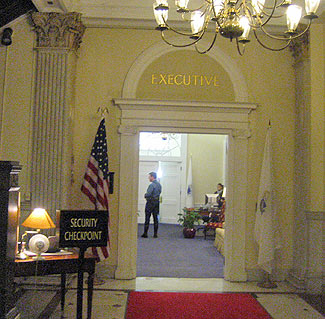 The Governor's Council meets in a meeting room in the Governor's office suite, with State Police guarding the entrance.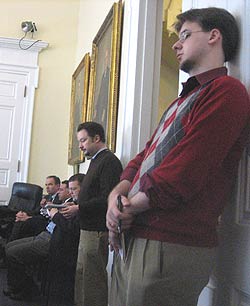 A group of State House reporters were lined up to see what would happen.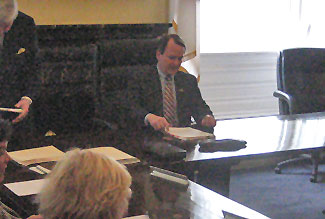 Lt. Governor Tim Murray called the meeting to order. Murray runs the Governor's Council but is "ex officio" and doesn't vote. (He seemed to recognize us and wouldn't talk to us after the meeting.)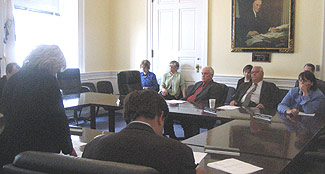 The only order of business was the Jacques vote. Immediately Councilor Marilyn Devaney of Watertown got up and read a long statement in favor of Jacques. Then they took the vote, and adjourned the meeting. Mary-Ellen Manning (left, in blue) was the one dissenting vote. The whole thing took less than 15 minutes. Democracy in action, as they say.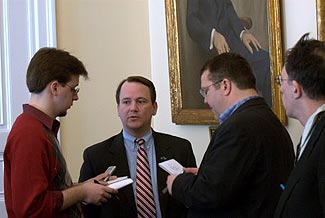 After the meeting, Lt. Gov. Tim Murray talks to reporters as MassResistance representative looks on.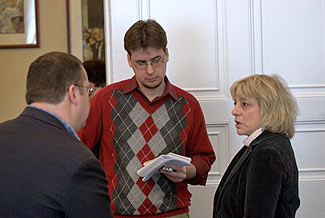 Councilor Marilyn Petitto Devaney defends her to reporters.