Homosexual lobby dominates public hearing, in collusion with legislators: Wave after wave of "panels" pushing radical "transgender" bill H1722.
"I am a female with a beard," began one speaker (below).
Testimony began at 1:00 pm. The Judicial Committee made pro-family citizens wait until 10:25 pm to speak -- while the well-orchestrated propaganda machine rolled on throughout the day and evening!
This wasn't a "public hearing" as much as a propaganda march by the homosexual lobby. Here's just a sample of what people who came to testify had to sit through all day. It was quite a mind-numbing experience, but calculated to push the agenda deep into the psychic of the Judicial Committee members.
Keep in mind: the Committee Chairman imposed no time limit on testimony -- simply ignoring the customary 3-minute rule. Some people spoke for nearly half an hour. This was clearly done purposefully to allow the homosexual lobby to further domnate the day.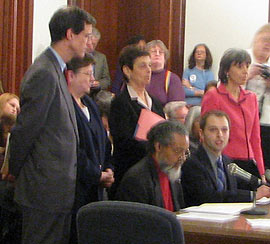 Legislative co-sponsors of 1722 -- the radical gang: (From left) Standing: Rep. William Brownsberger (D-Belmont), Rep. Liz Malia (D-Boston), Rep. Alice Wolf (D-Cambridge), Rep. Denise Provost (D-Somerville). Seated: Rep. Byron Rushing (D-Boston) and the lead sponsor, Rep. Carl Sciortino (D-Somerville). Sciortino is an interesting person to be sponsoring a "hate crime" bill, since he's most famous for the hate crime he committed in 2003, disrupting a Catholic Mass while kissing his boyfriend.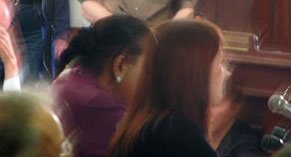 Suffolk County Sheriff Andrea J. Cabral (center) a former Republican who's now (conveniently) a darling of the Democrat left wing, popped in to give her support. She considers H1722 another tool to fight oppression.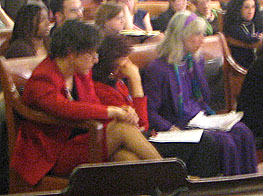 These are three men seated in the first row awaiting their turn to speak.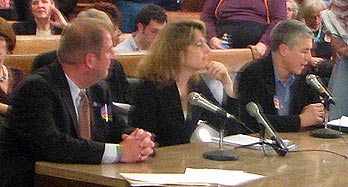 Bar Association Panel: We were told that the Massachusetts Bar Association "unanimously" supports H1722, and the Women's Bar Association also endorses it. At right, Jennifer Levi of the Lesbian & Gay Bar Association discusses her outrage of being treated like a man. "No one can determine what a person's gender identity or expression is," she said. She also promised strict enforcement if this law passes.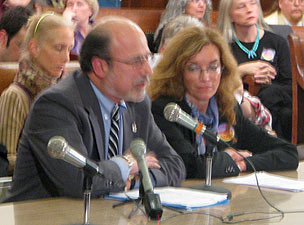 Frankenstein medical panel. Dr. Norman Spack (left), in our opinion, is one of the most dangerous people in America. He runs a "transgender clinic" for children at Childrens' Hospital in Boston. His "treatments" include giving hormones to young children to delay their puberty, to make it easier to give them body-mutilating sex-change surgeries as teenagers. He has also been connected to extremely radical groups, having recently spoken at a conference co-sponsored by the New England Leather Alliance, a group supporting sado-masochistic sex and bondage. Woman identified herself as transgender medical "expert" and also gave testimony supporting H1722, and discussed the fight for "neutral bathrooms" in schools.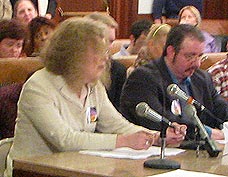 A man and a woman. Except, of course, that the woman is growing a mustache and sideburns and the man is wearing a dress.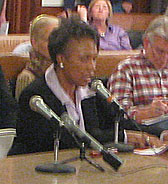 Naturally, the newly elected (and openly lesbian) Mayor of Cambridge wouldn't miss a chance to publicly support more "progressive" laws. Cambridge already does this, she said, and it's time everyone else did.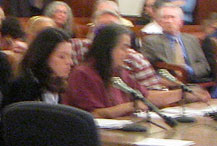 Panel from Suffolk Univ. Law School. A lot of legal blather on why we need H1722.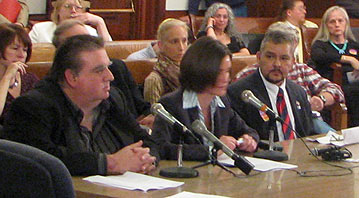 Labor panel. Representatives of AFL/CIO, which includes their Lavender Caucus, announces strong support for this bill. (Is it any wonder that labor unions are losing membership?) On right, in suit and goatee, is Diego Sanchez, a female activist (and employee of AIDS Action Committee) who read a statement from Cong. Barney Frank supporting H1722.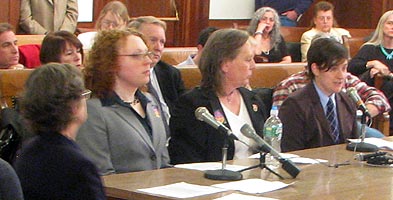 Employment panel. The three people facing front are, from left: two men dressed as women and a woman dressed as a man. One of the men discussed how he got a court to force his ex-wife to refer to him as a woman - and that H1722 would make that easier. The female (wearing man's suit, at right) told how her employer, Mass Mutual Insurance Co., gave her their "top level support" during her "transition" from female to male -- and that other companies need to be forced to do this, also.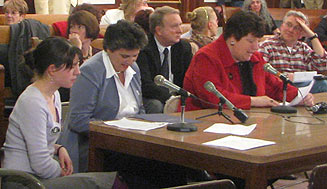 Another long-winded panel supporting H1722.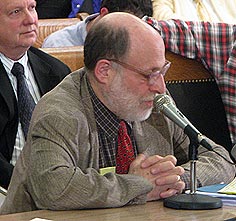 Famed ACLU attorney Harvey Silverglate couldn't miss this one. He came to support repealing the sodomy laws and public morality statutes (but of course) and also strongly supports H1722.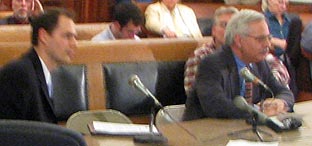 What public hearing would be complete without a "human rights" panel. Man at right is member of Newton's (extremely offensive) Human Rights Commission. Man at left identified himself as board member of ACLU. Changing one's sex is a human right, and public must be forced to accept that, was message we got.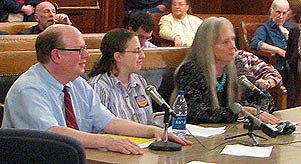 Hate crimes panel. Person at right is man in woman's clothing who calls himself Nancy Nangeroni. An MIT-trained engineer, he told emotional story of not being able to find suitable work after sex change. He also told story of transsexual acquaintance who turned to sex work and was murdered.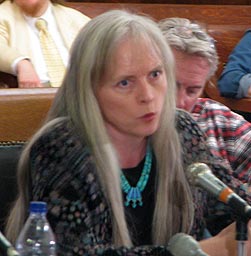 Since his MIT days, Nancy Nangeroni has become a major transgender activist. He founded & runs GenderTalk radio on a Cambridge radio station. As his bio states:
" Nancy is a lobbyist for transgender rights and inclusion on national and local levels, and has conducted trans diversity trainings for the Human Rights Campaign national board of directors and governors, as well as local chapters of GLAD, Planned Parenthood, Lucent Technologies, Verizon and Bell Atlantic."
(This is how corporations push the homosexual agenda into the faces of their employees.) He was also behind Cambridge's transgender rights ordinance.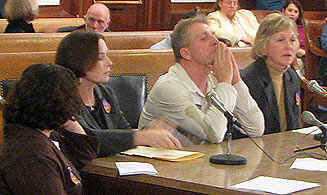 Parents panel. The bizarre stories continued. Man at table is a Waltham fireman who told long story about his daughter (who he refers to as his "son") who began "transitioning" after her junior year at Waltham High School. After multiple surgeries, "he" was still being humiliated at school, the father said. "We're looking for protection for our boy," he told the committee. The father has now officially become a member of the odious Massachusetts Commission on Gay, Lesbian, Bisexual and Transgender Youth. Also on panel was medical person who blames "fear and ignorance" of mainstream population on the depression and suicidal behavior of people who have had surgeries to change sex.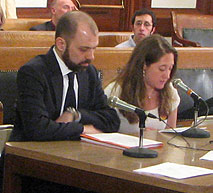 Education and students rights panel. Two prominent members of the odious Massachusetts Commission on Gay, Lesbian, Bisexual and Transgender Youth (including chairman Jason Smith, left) talk about the "wonderful" work they're doing with Massachusetts schoolchildren and the desperate need to pass this law.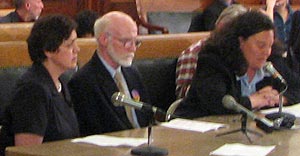 More family stories. Man, center, talked about his three sons, the eldest of whom became a woman, and the great support he has for the transgender movement. Woman at left told particularly bizarre story of her two children: a daughter who is a lesbian, and a son who is transsexual and became a woman. We were told that this group represents the National Association of Social Workers. We'll just say that no further comment is necessary!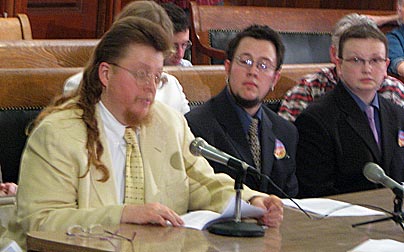 Three women posing as males. Woman at left began by announcing: "I am a female with a beard." Described how she is a Unitarian Universalist minister who could not get into the UMass divinity program "because I am a woman with a beard." Says this law is needed to change that. Woman in middle talked about how people treated her badly at work after she took testosterone to deepen her voice and hormones to grow beard.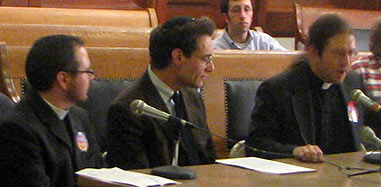 Clergy panel. Members of "Interfaith Coalition for Transgender Equality" testify. Very bizarre. Center: Rabbi Victor Reinstein made the absurd statement that "The Rabbis teach that all humanity comes from a common gender. The first human was androgynous." At right, a "Metropolitan Community Church" minister (who we photographed in 2005 intimidating parishioners of the Tremont Temple Baptist Church in Boston) told the Committee that the Book of Galations is supportive of transgenderism.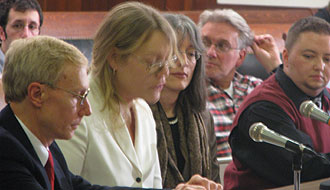 Major league activists. Three men and a woman (hint: the woman's the one with the beard). From left to right: Bill Conley, lead lobbyist for Massachusetts Gay & Lesbian Political Caucus (and who was arrested in 2006 for soliciting sex from college students); Denise Leclair of the International Foundation for Gender Education in Waltham (who fights for publicly funded sex-change operations for prisoners); Grace Sterling Stowell, executive director of BAGLY (and gives transgender workshops to kids in high schools); and Gunner Scott, head of Massachusetts Transgender Political Caucus and a member of the public Commission on Gay, Lesbian, Bisexual, and Transgender Youth.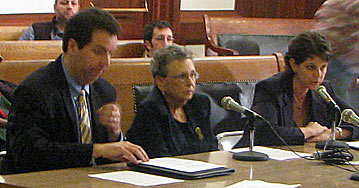 Abortion lobby weighs in. Left to right: Angus McQuilken, executive director of Planned Parenthood of Massachusetts, Norma Shapiro of the ACLU, and a representative from NARAL. Not surprisingly, they all wholeheartedly support H1722.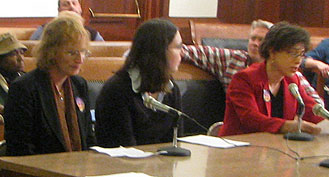 Woman (center) and two men. Man in red (right) is a medical doctor who "became" a woman after many years of seeing patients, and described the reactions of many of the patients. Man at left, dressed as woman, talked about how his own father fired him, after catching him dressing in woman's clothes. He said he got beat up a lot. Also, discussion about the great support at Ratheon for "transition" operations for their employees.

This man (who had earlier used the woman's rest room outside the Judiciary Committee offices) talked about the emotional traumas of being transgender.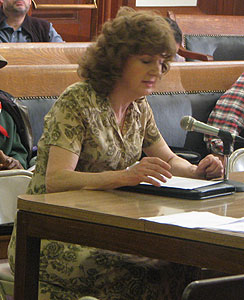 Man dressed as woman said he is a Navy veteran, has two grown children, has been married (to a woman) for 30 years -- and his wife fully accepts his lifestyle. He complained that State Police hassled him at a highway rest stop, seeing him in full makeup and evening wear and suspecting he was soliciting sex. He wants this law to keep the police from bothering people like him.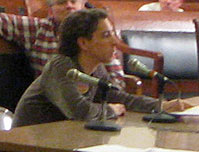 Girl said she was "the first openly transsexual at Northeastern University" but the only person in her group who wasn't placed in a job. She wants to fight anti-tranny job discrimination with this law.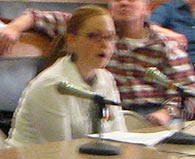 Girl gave long, emotional talk about her "partner" who's a female but dresses as a male.

Another bearded woman who gave long, emotional testimony. She talked about a transsexual middle school teacher in Massachusetts who was reluctant to come and testify, so she's here instead.

Law student gave long, emotional testimony about her transsexual sister, who's now her "brother."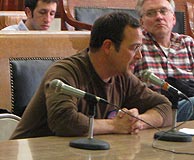 Man talked about "questioning his sexual identity" and how the opponents of H1722 are the ones who gave him the strength to come here and defend this bill.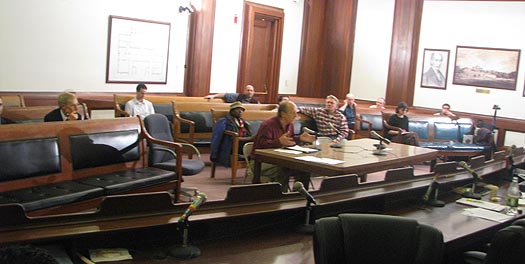 Here's what the room looked like at 10:25 pm when the first pro-family citizen was called up. The majority of the people you see are pro-family people here to testify. Committee staff acknowledged that they made pro-family people wait until the end.