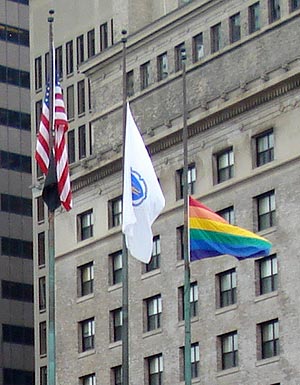 Mayor of Boston flies homosexual flag over City Hall to celebrate "Gay Pride Week"
Mixes Celtics pride with homosexuality. Macy's, Faneuil Hall join in..
Friday, June 6, 2008
Pro-homosexual Mayor Thomas Menino and other top city officials honored the homosexual movement by staging what has become an annual flag-raising ceremony at Boston City Hall to kick off "Gay Pride Week."
This year, Menino managed to insult sports fans as well as tourists by mixing it with the city's pride in the Boston Celtics, which reached the NBA finals a few days before.
The same day, tourist mecca Faneuil Hall Marketplace began its "gay pride" celebrations, as well as Macy's Department Store (see photos below). And as usual, tourists -- especially those with children -- were left confused and often upset.
| | |
| --- | --- |
| | This year's "ceremony" (in background) seemed to attract more city officials than audience members. Many of the people in the photo seem to be just passing through from the nearby subway station. Who would want to watch this, anyway? |
| | |
| --- | --- |
| | If you step back a bit, you notice that the main attraction in the City Hall area that day was a Boston Celtics tent and a Celtics banner. What an obnoxious time to stage a homosexual event! |
Nearby a few straggling homosexual activists momentarily came by, then left.
| | |
| --- | --- |
| | In your face - in tourist mecca. A block away, Quincy Market officials want to make sure that people can't easily avoid it. |
Not to be outdone, Macy's Department Store has made a point of publicly pushing homosexual "pride" ever since we forced them to take down their transgender "pride" display a few years ago -- to the fury of the gay movement. So now, Macy's goes the extra mile for them.
At left, window display states "Pride is always in fashion" and "Macys celebrates Boston Pride". At right, zooming in on Macy's "pride calendar" display.
Want to let them know how YOU feel about it?
Contact information:
Mayor of Boston: 617-635-4500 Email
Macy's - Downtown Boston: (617) 357-3000 Email
Fameuil Hall: (617) 523-1300 [email protected]