Cross-dressers & transsexuals converge on MA State House to lobby for radical "Transgender rights and hate crimes bill."
A taste of things to come if bill passes
April 16, 2009
It was a taste of what you'll see a lot more of if the Orwellian "Transgender Rights and Hate Crimes" bill becomes law. On Tuesday, April 6, cross-dressers, transsexuals, and other "sexual minority" activists converged at the Massachusetts State House last for a "transgender lobby day." They were there to push the most radical bill ever seriously considered by the Massachusetts Legislature. And as usual with the homosexual lobby, the event was very well organized, full of emotion and propaganda - and very strange.
MassResistance Report on Bill H1728: Transgender rights and hate crimes bill
The world's strangest men wandering the State House. All of the people in the four pictures below are men.

If this bill passes, it will be a crime to make any critical comments on this. In fact, this very report could be considered criminal "hate speech" punishable by up to a year in jail and a fine.
There is something about people who unmistakably are men attempting to pass themselves off as women -- and women who have ingested hormones to grow beards and sideburns -- that jars the soul. The shocking sight never quite leaves you. And that day in particular, there were many other political lobbying groups walking around, including several groups of young children (see below). It was upsetting, to say the least.
Rally and speeches at the Grand Staircase
To start things off on "Transgender Lobby Day", they got about 200 of their people to show up for speeches. After that, it was off to lobby the legislators, office by office.
Men wearing dresses and high heels and women with beards and sideburns attended the rally at the Grand Staircase featuring legislators, public officials, activists, and (of course) left-wing clergymen with the twin mantras of "horrible discrimination" and "civil rights" repeated over and over.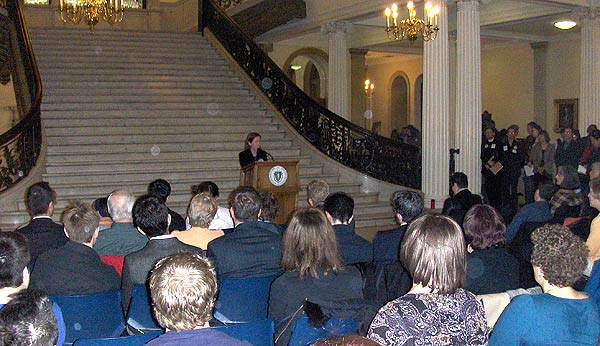 Some of the featured speakers:
| | | |
| --- | --- | --- |
| This is "Gunner Scott" -- a woman with a beard and sideburns, who runs the Massachusetts Transgender Political Coalition. | Rep. Carl Sciortino (D-Medford) a hardcore homosexual activist who once disrupted a Catholic Mass with his male lover over the marriage issue, is the sponsor of the bill. | Sen. Benjamin Downing (D-Pittsfield) is a Senate co-sponsor who's becoming a big water-carrier for the homosexual lobby. |
| | |
| --- | --- |
| A representative from ultra-pro homosexual Attorney General Martha Coakley's office whips up the crowd. | And what left-wing gathering would be complete without a few words from Rep. Byron Rushing (D-North Korea) |
Faces in the crowd . . .

| | |
| --- | --- |
| | These five "women" are all men. At lower left is Grace Sterling Stowell, a man who is on the Massachusetts Commission on LGBT Youth, who goes to public schools around the state to meet with kids, paid for by your tax dollars. And ladies: How would you like to meet up with these fellows in your restrooms? |
Getting ready to march to the offices: slick, emotional lobbying
They gave out well-planned instructions and packets, complete with "outcome" forms to fill out. Then the groups meticulously went to every legislative office.

The one-page instruction sheet synopsis was clearly written by people very familiar with the techniques of using emotion and civil rights arguments. They tell their people, "You do not need to go into the details of the legislation." But as we all know too well, the devil is in the details!
Read transgender lobbying sheet here

If you have the stomach for it, watch MassEquality's propaganda video with transsexuals speaking out: "Everyone Matters"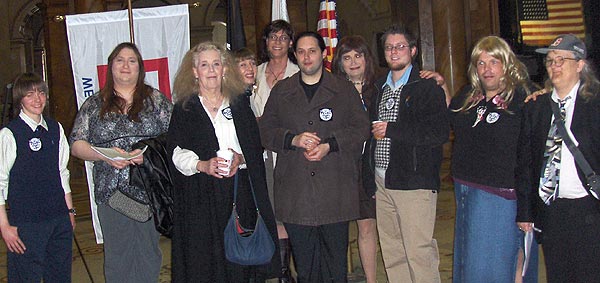 This group posed for our photographer. They are all transgender activists: women with beards and sideburns and men in women's clothes -- about to lobby the legislators.
Scared children on State House field trip walk into transgender rally . . .
A group of young children accidently wandered into the transgender rally. A man who was standing there gave us this account of what he saw:
"There was a group of about 60 children, about 7-8 years old, on a field trip to the State House. They were coming up the stairs of the Grand Staircase to the area where the transgender group was holding their rally. It was a normal group of boistrous, excited, and curious kids.

"When the children came around the corner and looked at all these men dressed as women, they suddenly became silent. I was standing right next to them.

"They looked confused, scared, shocked, and dumbfounded. It was obvious to them that these were men dressed in women's clothes.

"None of the children said a word. They were faced with something they'd never seen before. The teachers didn't seem to know how to react. I felt a terrible feeling inside of myself about it."
And of course, the bathrooms
According to multiple witnesses, they made a made a particular effort to use the (opposite-sex) men's' and women's' rest rooms, seemingly as a gesture of defiance. (We observed that at last session's hearing on the Trans bill, as well.) More on that in an upcoming email.
| | |
| --- | --- |
| This table was particularly busy, as you could imagine. | And what "sexual minority" gathering would be complete without several of these folks on hand? |