At the "Transgender prom" for kids, Boston City Hall, May 9, 2009
On the dance floor at the "transgender prom" for kids
State-sponsored madness targeting vulnerable children
June 9, 2009
This is the most difficult part to deal with. It's heartbreaking to see what these homosexual and transgender activists are doing to innocent and vulnerable kids. We're publishing these pictures because the world needs to see what's happening. And especially because this took place in Boston City Hall, at an event where the public was invited. This was supported by public money and major politicians. The Mayor of Boston, besides allowing the use of City Hall, wrote a proclamation in support of this. It's unbelievable.
Transgender youth?
These are two boys around middle school age. Max talked to both of them. The one in a dress has written on him "Free Kisses", "Free Hugs", and "Free Gropes". Note also the "bra" strap marks on his shoulders.
Homosexual dancing. Boys with boys, girls with girls.
Make-out session.
These two boys (yes, they're boys) just stood in the dance floor kissing.
It's particularly sad and heartbreaking to see how many young children were there.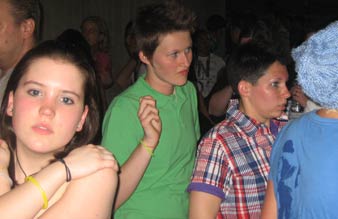 Boy at left, who looks about 14, came up to Max and asked him to dance.

"Couple" at right posed for a photo.
| | |
| --- | --- |
| | The transgender movement is being pushed on younger and younger kids. |

The strong smell of marijuana use
In one area of the room the smell of marijuana was very strong. The green object in this girl's hand, according to Max, appears to be water-pipe, or "bong" used to smoke marijuana.

Below, adults a few feet away just watch and do nothing. (Note the two at right are official "greeters".)