Google posts warning notice on MassResistance blog after transgender rights reports are published!
Claims it's "objectionable". (Wait till you see it!)
July 7, 2009
Is 1984 getting closer? Just a week after our website was attacked, now this.
Starting on Tuesday, if you went to the MassResistance blog (see specific links below) you will probably be greeted instead by a big screen warning: "Some readers have contacted Google because they believe this site is objectionable." It gives you the opportunity to continue or not continue going into the site. (Note: After the first time it may not show up until you reboot your computer, etc.)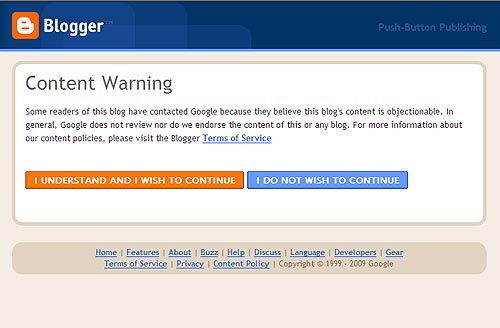 Left-wing campaign against the truth
Apparently our factual reports (with photos) on the transgender movement are too disturbing for the politically correct crowd to allow.
Over the last few weeks our MassResistance Blog, written since 2005 by researcher Amy Contrada, has published some extremely disturbing photos and descriptions about the transgender movement in Massachusetts. It's a pretty chilling expose of what happening now - and what can be expected.

The photos are fairly graphic, but they are were ALL taken in public places where kids - or anyone - could wander. (An exception is one of the tamer photos that was uploaded by a Boston homosexual activist, and a portrait from the homosexual newspaper Bay Windows.
Here are the MassResistance Blog reports that Google has judged to be "objectionable".
June 27: "Gender expression" defined in photos

June 24: Questions That Must Be Asked at "Transgender Rights" Hearing

June 23: Flood of GLBT Lawsuits Predicted after Passage of Mass. Transgender Bill, ENDA, & Federal Hate Crimes Bill

June 19: Transgender Rights Bill H1728: "Body Mutilation Bill"
We agree with Google that they're very objectionable. But that's not due to the blogger, but to the subject matter being pushed on us all in public. It's all true, and these reports are meant as a warning.
The blog is posted on the "blogspot" site, which is owned by Google. Strangely, Google's "terms of service agreement is" pretty hands-off:
"Google does not monitor the content of Blogger.com and Blogspot.com, and takes no responsibility for such content. Instead, Google merely provides access to such content as a service to you."
Yeah, right. Well, apparently something's changed.
Pretty frightening censorship of facts
Worldwide pattern of politically-correct censorship by Google
Google has gained extensive notoriety in recent years for its willingness to block content for political reasons. For example, Forbes magazine reported how Google blocks content banned by the government in Communist China.

In our last email we discussed how Google had mysteriously warned people that the MassResistance website had "malware". It turned out that someone had hacked the website and put some malware on it, but Google acted surprisingly fast (within hours, it seemed) to put up its block. Yet it took days for Google to get it down when we presented proof that the site was cleaned up.
| | |
| --- | --- |
| | Scene from a recent Gay Pride parade in San Fransisco |
What we're doing about it
There have been communications to Google on this. They don't seem likely to even bother responding. It's a pretty scary situation.

But in the meantime, we're moving the blog from Google to a private site as quickly as possible.