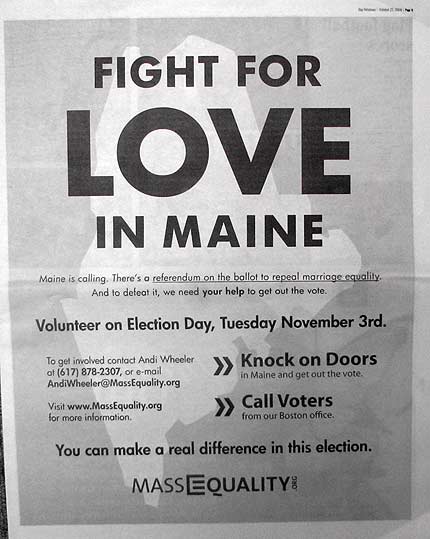 Above: Full-page ad in homosexual newspaper "Bay Windows"
Mass. homosexual lobby sending wave of activists to Maine this Tuesday for "get out the vote."
For statewide election Nov. 3 on same-sex "marriage"
POSTED: November 1, 2009
Over the last several months homosexual activist campaign workers from across the country have been traveling to Maine to campaign against the upcoming vote for traditional marriage. It's been largely paid for by national homosexual groups.

But all along the Massachusetts homosexual lobby has been a major organizing and fundraising arm of the pro-gay marriage push in Maine. Now they are finishing the job. Over the last few weeks they have published full-page ads in the homosexual newspaper Bay Windows (and presumably elsewhere) recruiting "get out the vote" workers to go to Maine for election day.

Among other things, these volunteers will do various essential "get out the vote" tasks: They will make phone calls to thousands of Maine voters previously identified as "pro-gay marriage" and offer them rides to the polls. They will also act as "poll-watchers" at the polls to check off people as they vote, so they could get additional phone calls later in the day to their supporters who hadn't voted yet.

The homosexual lobby is determined to "win" Maine after their losses in California, Florida and other states. They are stopping at nothing, and sparing no expense. Unfortunately, to our knowledge no similar effort is being done by the pro-family groups. It looks like a very close election.