"Safe schools" czar Kevin Jennings helps Harvard celebrate homosexual terrorist group "Act Up"
Contributes to offensive display of sexual perversion, child pornography, and anti-Catholic bigotry -- now being exhibited at Harvard University
WARNING: Photos below are offensive and pornographic.
POSTED: October 21, 2009

If you want to know what Americans can expect in public schools, look no further.

Kevin Jennings is Barack Obama's "safe schools" czar in the US Department of Education. He's also the founder of the national homosexual group GLSEN, which sets up "gay straight alliance" clubs in high schools and middle schools across America. GLSEN is officially supported by the Massachusetts Legislature.

Jennings is also a former member of the radical homosexual group "Act Up", and he contributed to this depraved and offensive museum exhibit on "Act Up" now at Harvard University (see press release) .

This exhibit is a window into what the homosexual movement thinks of you, your children, religion, and America. It involves sexual perversion, child pornography, and anti-Catholic bigotry. And it's what your "safe schools" czar Kevin Jennings supports.

It's at Harvard University's prestigious Carpenter Center for the Visual Arts from Oct. 15 through Dec. 23, 2009. MassResistance was there for the opening night. It was pretty disturbing.

This poster depicts Cardinal O'Connor, comparing him to a condom. Under the condom is written "This one prevents AIDS."
A paragragh in the official program given to the public (below) thanks
Kevin Jennings and others for their support, gifts, and grants: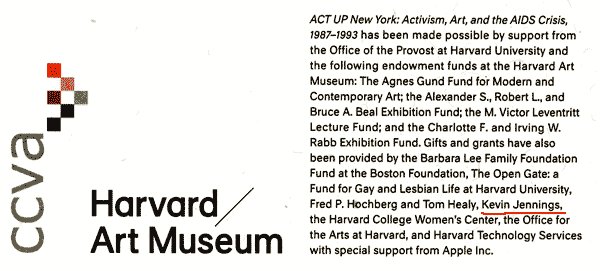 | | |
| --- | --- |
| | Opening night. The prestigious Carpenter Center is known world-wide. What a sorry use of a great building. |
| | |
| --- | --- |
| Below & right: Sign and poster outside the museum entrance announcing the event. | |
| | |
| --- | --- |
| | The main corridor of the exhibit. As you walk in, posters and other materials line the walls. |
Pushing perversion in the public's face
The homosexual movement considers these posters to be part of their "history". Much of their message -- common to a lot of homosexual discourse -- is anger, particularly anger at the Catholic Church. Don't be surprised if they turn up at your schools during "GLBT history month". Thousands of these were illegally posted in public areas throughout New York City and elsewhere in the US by Act-Up in the late 1980s and early 1990s. It employs a psychological technique known as "jamming" -- pushing homosexuality and sexual imagery in front of as many people (including children) as possible, as often as possible, to affect their thought process.
| | |
| --- | --- |
| | A pretty accurate depiction of how they think of sex and AIDS. It's not about personal responsibility; it's about doing whatever you want. |
| | |
| --- | --- |
| | This was part of a slide show at the exhibit. One of their proud photos of men kissing outside of St. Patrick's Catheral in New York City. |
| | |
| --- | --- |
| | This is the homosexual movement's approach to public discourse on sensitive health issues. |
| | |
| --- | --- |
| | Poster for a homosexual "kiss-in." At the bottom it says, "Fight homophobia, fight AIDS." In other words, if only we force the normalization of homosexuality into society, all our AIDS problems will go away. |
The homosexual movement is obsessed with softening the public's inhibitions toward their behavior. They will push these kinds of posters everywhere they can. This one was put on the sides of busses.

| | |
| --- | --- |
| | This is a poster of a woman's private parts. It's the radical feminists' way of debating the abortion issue. They're celebrating it at this exhibit as political art. |
Remember, many of the people who share this mentality are teaching your children in the public schools -- with the full blessing of your Legislature and other public officials.
Venting their rage
The homosexual movement continues its rant that the spread of AIDS is not caused by promiscuous behavior, but instead by politicians who don't give enough public money to find a cure, and who therefore stigmatize homosexuality. This started in the late 1980s with vicious attacks on any public official who held to a traditional approach to fighting disease. As a result, the public health profession gradually caved in, and now most sensible and scientific approaches to public health are ignored regarding AIDS, thus the spread has intensified.
| | |
| --- | --- |
| | Early attack on NYC public health commis-sioner. |
| | |
| --- | --- |
| | Poster promoting terrorist assault on National Institutes of Health offices. |
| | |
| --- | --- |
| Ronald Reagan is "targeted" as a murderer. | |
Not pro-gay enough. New York Democrat politicians Gov. Mario Cuomo and Mayor Ed Koch can't escape the wrath.
| | |
| --- | --- |
| President George H.W. Bush is labeled a "serial killer". | |
| | |
| --- | --- |
| | This poster is very significant. In the early 1990s the homosexual movement was able to get "AIDS education" forced into the New York public schools. But parents saw that it was just a thinly veiled sexuality agenda -- and an army of citizens stormed the New York Board of Education and forced it out. The homosexual movement reacted with anger. |
| | |
| --- | --- |
| | Oral history. They're not content with just posters. You can also watch hours and hours of AIDS activists' "oral histories" at the exhibit. |
| | |
| --- | --- |
| | This is their mantra. It's their reasoning for pushing their agenda in everyone's faces, particularly children in the public schools. The "next generation" is very important to the homosexual movment. |
Fierce Pussy: Concurrent exhibit of new material by "artists in residence"
A particularly disturbing part of this exhibit involved new material by lesbian activists who were part of the same radical network. It was included in the Carpenter Center exhibit and also overflowed to nearby Gund Hall and the Sackler Museum.
Fierce Pussy calls itself "a collective of queer women. " It was formed in 1991 and has "four core members" who still work together and create political "art". Here's how they describe their activities during their early years:
. . . the collective used stencils and spray paint to rename New York City streets after prominent lesbian heroines, and engaged in an iconoclastic greeting card campaign directed at Cardinal O'Connor and Senator D'Amato.
This group appears to be taken very seriously by the "mainstream" sexual radical movement. (This includes many who teach in colleges and high schools.) But by any objective standard this "art" mostly reflects the creators' personal sexual dysfunctions.

| | |
| --- | --- |
| At nearby Gund Hall (Harvard Graduate School of Design), a wall was lined with their work, including enlarged excerpts from pornographic books (see below). | |
| | |
| --- | --- |
| Inside the ladies' and mens' restrooms at Carpenter Center and the Sackler Museum this is what people were confronted with: It was wallpapered with perversion. Apparently this is what is considered healthy by Harvard and the lesbian movement. | |
| | |
| --- | --- |
| A closer look at the restroom wallpaper. | |
| | |
| --- | --- |
| A pile of these was also in the restroom . . . | |

Child pornography and sexuality. Below are photos of posters on the wall (above) which were enlargements of pages from pornographic and transgender stories, two of which clearly involve children. Text was blacked out on some by the "artists" for effect. This appears to play out their sexual fantasies. Keep in mind that this is all considered legitimate art by the homosexual community.
Adult apparently sexually asssaulting a girl. (Note: Lesbians always refer to adult females as women. They're only called girls if they're children.)





Children and cross-dressing.





More sado-machochism:
"ten strokes . . . mistress . . .
thumping whip. . .
pony dance . .
her bottom . . .
wooden trestle. . .
cheeks apart . . .
spread.

What kind of sickness is this?



Kiddie poster by "Fierce Pussy." Sexualizing a toddler. This is how the GLBT movement thinks of children.

NOTE: Huge stacks of this poster were set out in the main gallery at Carpenter Center for viewers to take home with them!