National outrage growing over appointment of homosexual activist Kevin Jennings as "safe schools czar" in US Dept. of Education
MassResistance work being cited. Congress taking notice
Posted: Oct. 2, 2009
This could become even bigger than the recent Van Jones situation. The momentum is starting to get that strong.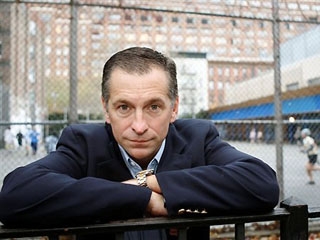 Kevin Jennings (AP Photo)
Maybe the most unbelievable and outrageous Obama appointment -- of the many outrageous Obama appointments -- is Kevin Jennings to become the national "safe schools" czar -- running a multi-million dollar program without Senate confirmation.

Jennings is the ultra-homosexual activist teacher who founded and ran the national group Gay Lesbian and Straight Education Network (GLSEN).

As may of you know, GLSEN targets schoolchildren with homosexual propaganda. It's the group that organizes homosexual clubs in high schools and middle schools across the country. And under Jennings' direct leadership, GLSEN done some hideous things to kids in Massachusetts, including the Fistgate conference and the homosexual Little Black Book - which we exposed and publicized -- as well as the various "gay days" and "transgender days" and similar activities in high schools, middle schools and even elementary schools. GLSEN also uses "anti-bullying" programs as a foot in the door for homosexual and transgender indoctrination of even the youngest children.
See MassResistance report on Kevin
Jennings' activities in Massachusetts
(includes audio and transcript from Fistgate,
and link to report on the Little Black Book)
During the 2008 presidential campaign Jennings quit his job at GLSEN to campaign full-time and raise money for Obama. Obama's Secretary of Education, Arne Duncan (who had attempted to set up an all-homosexual high school in Chicago), almost immediately brought Jennings into the DOE as a high-level "safe schools" director.
MassResistance being cited
Jenning's appointment quickly got attention because of the Fistgate scandal, which has been widely publicized over the years, and that led the press to other outrageous things he's done. Several national pro-family groups, such as Family Research Council, American Family Association, Americans for Truth, and others, have begun to sound the alarm in a vigerous manner.

Since we exposed a lot of the Jennings horror stories, we've been cited by the press (sometimes under our earlier name Parents Rights Coalition) and called on to discuss it. For example, last week Sean Hannity of Fox News mentioned our work exposing the Fistgate scandal. Many other news stories also bring it up.

Earlier this week we were interviewed about Kevin Jennings on a national radio show based in Florida and the Sandy Rios Show in Chicago. WorldNetDaily has reported on this several times recently, and the Washington Times editorials have brought a lot of attention.
Member of Congress speaks out on Hannity show
Last Friday Congresswoman Marsha Blackburn (R-TN) discussed Jennings on the Sean Hannity show on Fox. The problem of "czars" has clearly come to a boil with the Kevin Jennings situation. As Rep. Blackburn told Hannity:
"When you look at Mr. Jennings's background, it causes me great concern. And all of this is something that would come up through the Senate confirmation process. Being able to look at his writings and his speeches and go through those [Fistgate] tapes and look at what he has had to say about different issues. Because he is in charge of the safe schools, drug-free schools program.

"And, Sean, this is an agency that has a $700 million budget. And he is one of only two deputy assistant secretaries that are operating and running their own division, operating without Senate confirmation.

"So you get into the oversight issues, and you also get into the issues of what he's teaching, the moral issues."

Sean Hannity interview with Rep. Marsha Blackburn:
Latest Jennings horror story involving 15-year-old boy!
Recently the Americans for Truth website and others publicized an outrageous incident that took place back when Jennings was a teacher at a private school in Massachusetts, which he wrote about in a book. In the book (and in a subsequent taped interview) Jennings describes how he counseled a 15-year-old boy at the school to continue having a sexual relationship with an adult man the boy met in a bus station restroom. Jennings even described how the boy seemed happier the more the man sodomized him. Jennings never reported any of this to authorities, but instead encouraged the boy to "use condoms."

Since this became public, the calls for Jennings to be removed have been growing across the country. And although the mainstream media continues to ignore it, it will not go away. It's reached Fox News, the Washington Times, and conservative web sites and talk radio around the country.

Like the Van Jones incident (the Obama "czar" who was forced to resign after his strong ties to radical communist organizations were exposed), this will be a very hard story to continue to ignore.

Rush Limbaugh discusses Kevin Jennings
and 15-year-old boy


Sean Hannity: Statuatory rape -- Where's the
vetting process?
Read more here: