Special Report
How Elena Kagan helped "queer" Harvard Law School
Will she now help "queer" the US Supreme Court's decisions?
On April 28, 2015, the US Supreme Court will hear the "same-sex marriage" case. Federal law states: "Any justice, judge, or magistrate judge of the United States shall disqualify himself in any proceeding in which his impartiality might reasonably be questioned."

Last September, Kagan performed a same-sex "wedding". But that's just the latest of a long history of Kagan's GLBT activism. The evidence presented below is overwhelming. Justice Kagan is hugely biased on GLBT issues and must recuse herself.
POSTED: June 28, 2010 UPDATED: June 30, 2010 UPDATED April 20, 2015
[Note: This was originally published shortly before Kagan's 2010 confirmation hearing. It has been updated and expanded with new information.]
by Amy Contrada and Brian Camenker, MassResistance
with Peter LaBarbera, Americans for Truth about Homosexuality
(c) 2010, 2015 MassResistance

Introduction
Supreme Court nominee Elena Kagan is committed to the radical campaign pushing acceptance of homosexuality and transgenderism as "civil rights." Her unprecedented activism supporting that view as Dean of Harvard Law School (2003-2009) calls into question her ability to judge fairly and impartially on same-sex "marriage" and other homosexuality- or transgender-related issues that may come before the nation's highest court.
Kagan's record while Dean of Harvard Law School (HLS) demonstrates her agreement with the goals of the radical GLBT (gay lesbian bisexual transgender) movement and her solidarity with those activists. Working hand in hand with students to expel military recruiters in protest over the Armed Forces' ban on homosexuals (a "moral injustice of the first order," she wrote) is only the most obvious example of Kagan's passionate dedication to this controversial and immoral agenda.
Kagan's celebration and active promotion of the radical homosexualist and transgender worldview has profound implications. As a Supreme Court Justice, she could be expected to overturn traditional law and understandings of family, marriage, military order, and even our God-given sex (what transgender radicals call "gender identity or expression"). She is a most dangerous nominee who must be opposed by all who care about religious freedom, the preservation of marriage and traditional values.
There should be grave concern over Kagan's issues advocacy concerning "sexual orientation." Even before her nomination to the Court, her enthusiastic and committed pro-homosexuality activism at Harvard (including her recruitment to the faculty of radical "gay" activist scholars like former ACLU lawyer William Rubenstein and elevation of radical out lesbian Professor Janet Halley) was highly significant for the nation. Now, it is imperative that Senators and the U.S. public gain an accurate understanding of the radical, pro-homosexual environment that was Kagan's home at Harvard – and the GLBT legal agenda that Kagan herself helped foster as Dean.
Kagan did her best to change a generation of Harvard-educated lawyers. Will she do the same to America?
Highlights of Elena Kagan's Record as Dean at Harvard Law School, 2003-2009 (documentation in following section):
Kagan accelerated and legitimized the GLBT "rights" concept and law studies at Harvard Law School and in the larger community.
Kagan recruited former ACLU lawyer (and former ACT-UP activist) William Rubenstein, an expert on "queer" legal issues. Few Americans can comprehend the radical nature of "queer" academics. Rubenstein described one of his courses as taking up "newer identities (bisexuality, trans, genderfuck)" as well as "polygamy, S&M, the sexuality of minors."
Kagan promoted and facilitated the "transgender" legal agenda during her tenure at Harvard. In 2007, HLS offered a Transgender Law course by "out lesbian" Professor Janet Halley and Dean Spade, a transsexual activist attorney. (Halley's extremism and contempt for natural gender boundaries is illustrated by calling herself a "gay man.") Kagan also brought in Cass Sunstein (Obama's regulatory czar, 2009-2012) who has written in support of free-for-all marriage relationships.
Kagan encouraged Harvard students to get involved in homosexual activist legal work. At a time when she as Dean pushed students to engage in "public interest law" and to get "clinical" legal experience, the Harvard Law School established the LGBT Law Clinic. How could a "Justice Kagan" on the Supreme Court be impartial involving cases brought by "gay" legal activists — when she so openly advocated for homosexual legal goals and integrating homosexuality into legal studies and practice at Harvard?
Kagan engaged in ongoing radical advocacy opposing "Don't Ask Don't Tell" and demanding an end to the ban on homosexuals serving in the military. Her highly partisan actions are unbecoming of a future judge – especially one who would be called upon to adjudicate such weighty and divisive matters.
Even after Kagan and Harvard lost their legal campaign to ban military recruiters and Harvard Law School was forced to let them back on campus, she encouraged ongoing student protests against them — deputizing the radical Lambda group to come up with ideas of how to harass the recruiters legally. Kagan's actions blatantly disrespected our military and exposed her as the out-of-touch, socially leftist academic that she is.
Kagan attended functions of radical homosexual (GLBT) groups at Harvard University, absorbing and apparently agreeing with their goals. She followed the wishes of campus homosexual organizations — within a month of meeting with a Harvard Law School GLBT student group, she was agreeing with their demand to ban military recruiters on campus. She moderated a panel on GLBT law at the Harvard Gay and Lesbian Caucus's 25th anniversary celebration in 2008.
Radical "trans" activism at Harvard: Kagan's active promotion of the GLBT agenda at Harvard likely accelerated the campus environment so "tolerant" of homosexuality and gender confusion that there was even a campaign (during her tenure) to make the campus "trans inclusive" — using Harvard's "gender identity" non-discrimination policy (in place since 2006). This included discussions between GLBT student activists and the law school administration (i.e., Kagan) "to make our restrooms safe and accessible for people regardless of their gender identity or expression." (Meaning, allowing men who identify as "women" to use female restrooms and locker rooms, etc.)
Thanks in part to engagement by Kagan (and other administrators), Harvard has become so committed to radical transsexual activism that its health insurance policy now [2010] partially covers "sex-change" breast "treatments" for transsexuals (either men taking hormones to develop breasts, or women having their healthy breasts removed to become the "men" they believe they are). Where does Kagan stand on transgenderism and transsexuality and the law today? It's very possible this question will come before the courts as trans activists make their demands on government health care.
Elena Kagan was a member of the Diversity Task Force of the ultra-leftist Boston Bar Association during the time of its activism in support of "gay marriage" and advocacy for "transgender rights." Clearly, she was in agreement with its support for radical GLBT "rights."
________________________________________________
The following is a more in-depth treatment of the pro-homosexuality and pro-transgender activism that took place during Kagan's tenure as Dean of the Harvard Law School (2003-2009):

I. Kagan accelerated and legitimized the GLBT "rights" concept and law studies at Harvard Law School — and in the larger legal community.
On February 5, 2004, Kagan moderated a "Dean's Forum" on the Massachusetts "same-sex marriage" ruling. This was just months after the state's Supreme Judicial Court issued its Goodridge opinion in November 2003. (A tape of the event exists in the Harvard Law School archives, but Kagan's comments have not been publicly reported.)
In October 2004, Dean Kagan presented a HLS "public service award" to HLS alumna and GLBT activist, Sheila Kuehl, then a California State Senator. The likely reason for this award was Kuehl's election as the first open homosexual to the California legislature, and her authorship of the law banning discrimination on the basis of "sexual orientation" in California schools. (No record of Kagan's remarks is available.)
In September 2008, Kagan moderated a panel on "LGBT law" at the gala Harvard Gay and Lesbian Caucus 25th anniversary event, billed as "A Celebration of LGBT Life at Harvard." She was moderator for their panel discussion on "The State of the Law: Reflections on the Past Twenty-Five Years and Thoughts about the Future — A discussion of LGBT legal developments and trends by leading legal scholars." Note that "trends" were discussed along with "developments" — which likely included these hot-button issues: "gay marriage," adoption by homosexuals, overturning remaining state anti-sodomy statutes, pushing for more "anti-discrimination" statutes and ordinances, overturning the ban on homosexuals in the military, "transgender rights," the role of federal courts in promoting LGBT "rights," etc. (No record of her comments is publicly available.)
Among the panelists at that HGLC 25th Anniversary discussion were Georgetown Law Professor Chai Feldblum, an open lesbian and leading GLBT legal strategist, and radical queer Harvard Law Professor William Rubenstein (more on him below). Feldblum (who graduated from Harvard Law School the year before Kagan) claims advocating for homosexuality is a "moral" issue. She openly advocates legalizing polygamous households. Feldblum also ran a website devoted to overturning the "Don't Ask Don't Tell" policy and the ban on homosexuals in the military. President Obama appointed her to be a Commissioner on the Equal Employment Opportunity Commission.

Feldblum admits that the battle for legal rights between pro-homosexual advocates and people of faith is a zero-sum game. She has stated that she can think of few situations in which religious rights (when acting on one's opposition to homosexuality) would triumph in the courts over homosexuals demanding their "rights" based on "sexual orientation non-discrimination." Her outlook has been summarized as, "Gays win, Christians lose."
Does Kagan subscribe to Feldblum's view that homosexuality-based "rights" take precedence over the liberty of people of faith to act on their belief that homosexual practice is wrong?

Re-shaping the Law School curriculum
In her role as Dean, Kagan oversaw the HLS curriculum and new faculty appointments. Thus, she must have endorsed the following HLS offerings as legitimate subjects and viewpoints (i.e., "gay rights" and "transgender rights" are true civil rights; any disagreement or disapproval is therefore illegal discrimination). One of her major efforts as Dean was "modernizing" the curriculum including eliminating a required Constitution course, and instead requiring international law courses.
"Queer theory" legal scholar William Rubenstein
Kagan brought a pioneering GLBT legal advocate and "scholar", William B. Rubenstein, to HLS from UCLA, first as a Visiting Professor, then as a tenured professor. (Both he and Kagan were HLS Class of 1986.)
In a memoir -– also the keynote speech he delivered at the September 2003 HLS GLBT reunion (with Kagan apparently in the audience), Rubenstein waxed poetical about his sexual experiences, desires, and scholarship. He describes his involvement with ACT-UP in the 1980s. (He later gave a lecture at Harvard's Kennedy School in conjunction with a celebratory Harvard Museum exhibit on ACT-UP in 2009.) He explained how he had to alter his planned GLBT law course at HLS (Spring 2004) after the Lawrence v. Texas and Massachusetts "gay marriage" rulings:
In my new guise, I was hired on May 19, 2003 by the Harvard Law School as a visiting professor to teach a January 2004 course on sexual orientation law. … it was with mixed feelings that I reorganized my Hardwick-centric course away from its gay focus. Labeling the new product Law & Sexuality, I took up newer identities (bisexuality, trans, genderfuck), as well as the gauntlet thrown down by Justice Scalia, dissenting in Lawrence (polygamy, S&M, the sexuality of minors). … And yet Harvard Law School itself has not retained many of its alienating features of old. My own classmate Elena Kagan is now Dean; another classmate, Carol Steiker, who had written her journal Note arguing for heightened scrutiny of classifications based on sexual orientation, now a professor; and one of my own students from a 1995 Yale course on Queer Theory, Ryan Goodman, now a member of the Harvard faculty. Fifty-four Harvard Law professors signed an amicus brief challenging the Solomon Amendment, Congress's insistence that the military be permitted to recruit at the law school, recruit, that is, in direct violation of the law school's, the university's, the city's, and the state's anti-discrimination policies. No longer do gay law books represent the occasional oasis in the Saharan library. (Harvard Civil Rights-Civil Liberties Law Review, Vol. 39, 2004 pp. 330-1, emphasis added.)
More important, in his 2003 reunion speech, Rubenstein challenged the Harvard Law School to work harder to "queer" its curriculum and culture:
And so my message, to collect the lessons: our [gay] children, figuratively speaking, come to Harvard seeking a home; they bring with them a wondrous spirit that renews the life of the community regularly; but what they "go into" here at Harvard is not what it is at other institutions around the country. Whose law school is it? Why not ours?
Imagine the possibilities: student scholarships; fellowships for graduates to work on queer issues or to assist them in becoming legal scholars; funds to expand Harvard's collection of gay materials; funds to support scholars to come to Harvard to teach and write; research and travel money to facilitate the efforts of Professor Halley and other Harvard faculty working on these issues; an endowed speaker series providing a forum for the exchange of ideas among scholars, lawyers, judges, and law students; a chair. Such programs would both make Harvard a more welcoming place and help Harvard contribute more to intellectual discourse on gay issues. Harvard should aspire to lead, and we alums should aspire to make sure that happens. After all: Aren't we enlarged by the scale of what we're able to desire? Still time. Still time to change…. (p. 333, emphasis added.)
Did Elena Kagan hear and accept his challenge?
Here's the description of Rubenstein's 2007-08 course, "Sexual Orientation and the Law."
Janet Halley and transgender law
Professor Janet Halley (an "out" lesbian who self-identifies as a "gay man") was elevated to a named chair professorship under Dean Kagan. Halley may have provided the inspiration to Kagan to go after the military recruiters in her 1999 book on "Don't Ask Don't Tell": Don't: A Reader's Guide to the Military's Anti-Gay Policy. She teaches family law, discrimination, and legal theory. She has also taught a course entitled "The Poetics of Sexual Injury."
Professor Rubenstein described Halley in his 2003 speech cited above:
Most importantly, Harvard's faculty now includes the country's single most interesting and provocative queer law scholar, Janet Halley, hired away from Stanford.
Professor Halley identifies herself as a member of the LGBT community in the law professors' directory—the first full member of the Harvard faculty to do so. Professor Halley's work, however, challenges the identity-based nature of social movements, investigating whether identity is not, ultimately, as imprisoning as it is liberating. In a unique demonstration that the personal is political, Professor Halley refers to herself as a "gay man." (pp. 331, emphasis added.)
HLS offered a Transgender Law course (in 2006) taught by Halley and Dean Spade, a transsexual activist attorney from the national Lambda Law organization:
As evidence of the increasing visibility of transgender people, Harvard Law School is offering a seminar on transgender law next spring taught by [out lesbian] Professor Janet Halley and [transsexual] Dean Spade, founder of the Sylvia Rivera Law Project, which is dedicated to serving the needs of low-income people of color who are transgender, intersex, or gender non-conforming. ("Lambda lawyer discusses challenges facing transgendered," Harvard Law Record, April 29, 2005; emphasis added.)
Catharine McKinnon — course on rape, lesbianism, gay rights, prostitution, transgenderism, etc.
Kagan brought radical feminist Catharine McKinnon to Harvard as Visiting Professor in 2007-8 for an "inquiry into the relationship between sex inequality in society and sex equality under law... Concrete issues—employment discrimination, family, rape, sexual harassment, lesbian and gay rights, abortion, prostitution, pornography — focus discussion through cases. Racism, class, and transsexuality are considered throughout."
Michael Klarman, another legal scholar interested in "gay marriage" and "gay rights," was hired in 2008 as full professor. Later, in 2012, he published From the Closet to the Altar: Courts, Backlash, and the Struggle for Same-Sex Marriage. "He is currently working on a revisionist history of the Founding."
LGBT Law Clinic and "Career Guide"
The LGBT Law Clinic of HLS was apparently established during Kagan's tenure as Dean. Kagan encouraged students to engage in "public interest law" and "clinical" experience." The LGBT clinic was one recommended choice. Its director, Robert Greenwald, also taught courses at HLS including (in 2009) "Family, Domestic Violence and LGBT Law".
HLS issued its "LGBT Rights Law: A Career Guide" in 2007 during Kagan's tenure as Dean. It lists recommended courses to take for a career in LGBT law, and organizations around the country supporting sexual radical causes.
HLS hosted forum on hate crimes and transgender issues for Democrat Mass. Governor candidates (Sept. 2006).
Also at HLS while Kagan was Dean, Lambda (the student GLBT organization) co-sponsored a forum with the Massachusetts Democrat Governor candidates, along with InNews Weekly (a defunct radical GLBT Boston newspaper), and the Boston [GLBT] Pride Committee. It was covered by the National Association of Lesbian and Gay Journalists. The focus was "hate crimes" and transgender issues — once again demonstrating the extremism of HLS Lambda. (MassResistance blog, September 14, 2006.)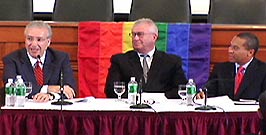 Mass. Governor Candidates Chris Gabrieli (L) and Deval Patrick (R) at GLBT Forum, Harvard Law School, Sept. 12, 2006 (Bay Windows photo)
II. Kagan took part in functions and forums of radical GLBT groups at Harvard University – and apparently followed their lead on issues from banning military recruiters on campus, to increasing GLBT "visibility" in the HLS curriculum.
Kagan attended the first HLS GLBT Alumni reunion in 2003.
Kagan attended the first reunion of HLS GLBT alumni in September 2003, organized by the HLS GLBT student organization Lambda. (Note the inclusion of "T" for "transgender" alumni.) Reportedly, it was the first event of its kind in the nation.
Kagan graduated from Harvard Law School in 1986. Did she attend as a GLBT alumna, or in her role as Dean? She was, at least, at the reunion's concluding dinner, according to the Harvard Crimson. The Crimson described the event:
Celebratory at times, solemn at others, alumni and current students marked the anniversary Saturday with anecdotes about the personal challenges they faced, the battle they continue to fight to keep military recruiters off campus and the need for classroom instruction in legal issues pertaining to homosexuality.
During the second discussion, titled "Lambda Today: Current Issues and Challenges Facing GLBT Students at HLS," a student panel expressed their dissatisfaction with the efforts that the faculty and administration are making to address issues facing GLBT students. They highlighted the University's decision to continue to allow military recruiters on campus, even though their presence violates Harvard's non-discrimination policy...
At the reunion's final event, a dinner held at the Hyatt Regency hotel, HLS Dean Elena Kagan renewed her commitment to improving student life for all students on campus ... ("HLS Holds Nation's First Ever GLBT Reunion," Harvard Crimson, 9-22-03; emphasis added.)
What role did Kagan play at this event? (Kagan noted no recording or transcript of her formal comments in her Senate Judiciary Committee questionnaire.)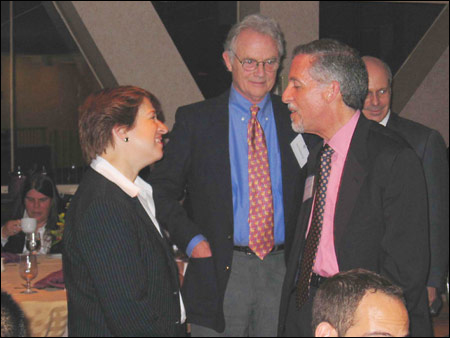 Kagan at HLS LGBT reunion 2003 (source: Harvard University Gazette)
Within a month, Kagan was agreeing with the demand made by the GLBT students at that reunion: to ban military recruiters on campus.
Notably, the keynote speaker for that HLS GLBT reunion was radical queer legal scholar and Kagan's Class of 1986 classmate, Professor William Rubenstein (then at UCLA, but about to teach a course at HLS on sexual orientation and the law as Visiting Professor). In his speech noted above, "My Harvard Law School " (available on a Harvard Law School journal website), he challenged the school to "queer" its curriculum and culture.
In March 2005 Kagan welcomed attendees at a conference of the leftist HLS student journal, Civil Rights and Civil Liberties Law Review, and in April 2007 delivered "remarks" at another of their events. The journal features "gay rights" issues. (She reported to the Senate Judiciary Committee that no records of her comments exist.) The Review was founded as a "journal of revolutionary constitutional law" and is now "the nation's leading progressive law journal." In 2007, the journal published radical homosexual HLS professor William Rubenstein's ramblings on queering legal education (discussed above).

Kagan attended the university-wide Harvard Gay & Lesbian Caucus's 25th Anniversary celebration. (See also above.) Events included a panel discussion which Kagan moderated on LGBT legal developments and trends, and other diversions.
The HGLC banner notes the group is dedicated to "Organizing, Serving, and Advocating for the Harvard Lesbian, Gay, Bisexual, and Transgender Community" — which is exactly what Kagan was doing when she appeared at their event: advocating for their causes. HGLC's 25th Anniversary Celebration listings included an LGBT Film Festival, "LGBT Highlights of the Harvard Art Museum," "Gaydalus" after-party, and panels entitled "Jihads of Love," "That's Ms. Dyke to You," "Naked and Queer," "Trans America," and "The Fight for Marriage." Barney Frank gave the keynote at the gala dinner.
Just how radical is the Harvard Gay and Lesbian Caucus (HGLC)?
In 2007 HGLC gave its "Respect Award" to Kevin Jennings, Obama's "Safe Schools Czar" with a long record of homosexual activism targeting schoolchildren. The group credits him with leading the fight to get the gay students' rights bill passed in Massachusetts. He is also described as a leader in radicalizing Harvard University, organizing the first "open" reunion events specifically for GLBT alumni. "Kevin has changed the face of American education," said the person introducing him.
In 2002, they gave porn promoter Frank Kameny their achievement award. The bio at HGLC refers to Kameny's heroic past, including his arrest in Lafayette Park across from the White House, "a popular gay cruising area." Kameny started the D.C. chapter of the Mattachine Society, founded by NAMBLA supporter Harry Hay. Kameny "was instrumental in getting the American Psychological Association to declare that homosexuality is not a mental illness." He was a founder of the extremist National Gay and Lesbian Task Force, which promotes sexual sadomasochism.
(Note: HGLC has been renamed the Harvard Gender & Sexuality Caucus, now serving the "BGLTQ" community. The use of the broader word "sexuality" — rather than specifically "lesbian/gay/bisexual/transgender" — is significant as it implies the pansexual directions in which the radicals will likely move, much as Justice Antonin Scalia warned in 2003.)
Kagan attended forums held by HLS Lambda, the radical GLBT student group, on banning military recruiters. (See detail in Section III below.)
Note on the above items: Attending a dinner, moderating a panel, or delivering "remarks" to a group pushing controversial goals indicates sympathy with the viewpoint of group, and is not akin to a simple "welcome" to an uncontroversial group or eminent speaker. In fact, when Kagan fulfilled her administrative duties at a group's event she did not approve of, here's what happened:
At the [conservative-leaning Federalist Society] banquet in a downtown hotel, Kagan rose to speak the host institutions' [sic] words of greeting to the thousand or so Federalists assembled from every corner of the country. She was greeted by a long and raucous ovation. With a broad grin and her unmistakable Upper West Side twang, the former Clinton White House official responded: "You are not my people." This brought the dark-suited crowd of Federalist students to their feet in a roar of affectionate approval. [HLS Professor Charles Fried, "Everyone's Dean," New Republic, April 19, 2010.]
III. Kagan engaged in radical advocacy opposing the "Don't Ask Don't Tell" policy and demanding an end to the ban on homosexuals serving in the military.
While Dean at Harvard Law School, Kagan allied herself with the radical GLBT student organization, Lambda. Her questionnaire for the Senate Judiciary Committee and press reports reveal at least seven events where she lent her credibility to their causes and demands, including ending the military's "Don't Ask Don't Tell" policy. Here is the chronology of those meetings:
September 2003: Kagan attended the first Harvard Law School GLBT alumni reunion organized by the HLS student organization Lambda. The event "highlighted the University's decision to continue to allow military recruiters on campus, even though their presence violates Harvard's non-discrimination policy."
October 2003: Invites Law School students via official email to Lambda October 10-11 conference on military policy re: homosexuals. Kagan speaks at the conference (press report below).
10/15/04: Kagan made "remarks" at Lambda event (press report below), and joined students in protest on steps of Law School.
9/19/05: Meets with Lambda group before publicly announcing HLS policy reversal (press report below).
10/12/05: Made "remarks" at Lambda event (no record); works with the group that fall to develop resistance tactics (press report below).

March 2006: Kagan issues statement urging students to demonstrate vs. military recruiters after Supreme Court ruling against her position on recruiters on campus (press report below).

4/8/06: Kagan moderated LAMBDA student organization panel on "relationship between law schools and the military" (no record).
3/3/07: Kagan moderated panel at HLS Lambda conference on "Don't Ask Don't Tell" (transcript provided to Senate Judiciary committee).
Shortly after becoming Dean, in September 2003 Kagan dived right into the conflict over military recruiters at Harvard Law School.
The Harvard Crimson reported in September 2003:
Harvard is not among the law schools under the umbrella of FAIR [suing the federal government over the "Don't Ask Don't Tell" policy], according to a statement released by HLS Dean Elena Kagan on Saturday. "Harvard Law School is not a member of this organization, but I share its commitment to nondiscrimination," Kagan said in the statement. "I look forward to the day when all Americans—regardless of sexual orientation—can serve their country with honor and distinction."

At the first HLS reunion of gay, bisexual, lesbian and transgendered alumni on Saturday night, Kagan further addressed the issue of military recruitment on the HLS campus. "The military policy that we at the law school are overlooking is terribly wrong, terribly wrong in depriving gay men and lesbians of the opportunity to serve their country," she said. "The need to create this exception makes me and makes almost all the members of the Harvard Law School community profoundly unhappy."
She appeared at an October 2003 conference held by Lambda, the GLBT group at the Law School, delivering the welcoming remarks. She had even encouraged students to attend the conference via official email. Kagan wrote on October 6, 2003:
I abhor the military's discriminatory recruitment policy. The importance of the military to our society — and the extraordinary service that members of the military provide to all the rest of us — makes this discrimination more, not less, repugnant. The military's policy deprives many men and women of courage and character from having the opportunity to serve their country in the greatest way possible. This is a profound wrong — a moral injustice of the first order. And it is a wrong that tears at the fabric of our own community, because some of our members cannot, while others can, devote their professional careers to their country.
The Law School remains committed to the principle of equal opportunity for all persons, without discrimination on the basis of sexual orientation. As a result, the Law School remains opposed to the military's discriminatory employment practices.
I invite all of you to email me if you have any questions or comments on this important matter. I also invite you, if you wish to learn more about these issues, to attend a conference sponsored by Lambda on the military's recruitment policies and the Solomon amendment, to be held on October 10 and 11.
The editorial page editor of the Harvard Law Record criticized Kagan's email as inappropriate coming from the Dean:
The text of Dean Kagan's notice moved far beyond her role as the Dean of the Law School. Her admonition was an abuse of her position of academic (but certainly not moral) authority, and it should give students pause to consider whether their new dean is capable of understanding the difference between her, the office she occupies and the school that she leads. [Quoted in Accuracy in Academia.]
The Harvard Law Record reported on Kagan's comments at the conference:
… much of what Kagan said was a recital of her personal abhorrence for the military discriminatory policy. She said, "I am committed to working with Lambda and others … on making progress for the elimination of" discriminatory policies in the military…. Kagan's public statement was in fact her welcoming remarks for the two-day Lambda conference, titled: "Solomon's Minefield: Military Discrimination after Lawrence and the Coming Fight over Forced On-Campus Recruiting." … The conference included panel discussions on "Don't Ask Don't Tell" in the wake of Lawrence v. Texas, the Supreme Court decision last summer that struck down sodomy laws across the nation…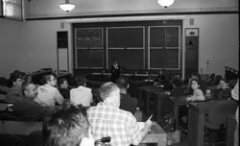 Dean Elena Kagan appears before a conference organized by HLS Lambda, October 2003. (Harvard Law Record photo.)
In October 2004, Kagan appeared at a student rally against "Don't Ask Don't Tell" and military recruiters. According to the Harvard Law Record:
The LAMBDA-sponsored rally on the steps to the library on Friday brought almost 100 students and numerous professors ..."I'm very opposed to two government policies that directly violate our policy of nondiscrimination and directly impact our students," stated Dean Kagan at the rally. "The first is 'Don't ask, don't tell.'.... The second is the Solomon Amendment which effectively forces educational institutions to make exceptions to their nondiscrimination policy when it comes to the military and military recruitment."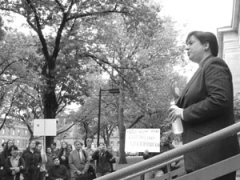 Kagan on Harvard Law School steps during Lambda rally against military recruiters, October 2004. (Harvard Law Record photo)
In September 2005, Kagan even met with the Lambda group before announcing HLS's policy reversal (allowing recruiters back on campus) to assure them she still shared their views. Kagan would surely have agreed with Professor Alan Dershowitz's sign at the HLS rally in October 2005: "Don't Ask, Don't Tell Codifies Homophobia." [Bay Windows, October 13, 2005, p. 18.] A student at the same rally holds a sign reading: "Racist Sexist Homophobic Recruiters OUT of Harvard."
Kagan then went on to encourage ongoing disrespect for the military recruiters once HLS let them back on campus, deputizing the radical Lambda group to come up with ideas of how to harass them legally. (Clearly, she was meeting with group members outside their public events.) The group stated it had Kagan's support. In the fall of 2005,
… Law School Dean Elena Kagan appointed a "Solomon amelioration" task force, headed by Lambda—the school's gay, lesbian, bisexual, and transgender student group—to examine methods in which the school could curb the effects of the statute. … In October, Lambda members staged a "sit-in" at the Law School student center, Harkness Commons, to voice their opposition to the military's "don't ask, don't tell" policy. And in the past … Law School students have protested recruitment by signing up for interviews with recruiters in order to waste the military officers' time. ("Solomon Law Might Not Bar Jeering," Harvard Crimson, December 13, 2005, emphasis added.)

In March 2006, Kagan
... encouraged students to demonstrate the presence of recruiters. Her statement came one day after Supreme Court Chief Justice John G. Roberts Jr. '76 ruled that "law schools remain free under the [Solomon Amendment] to express whatever views they may have on the military's congressionally mandated employment policy, all the while retaining eligibility for federal funds." … Kagan wrote in her message that she hopes "many members of the Harvard Law School community will accept the Court's invitation to express their views clearly and forcefully regarding the military's discriminatory employment policy."
… the co-president of Lambda, Jeffrey G. Paik '03, said yesterday. "I'm also glad that she acknowledged the right of students to protest and make their views known; it says a lot to the students when the dean comes out and supports them." ("HLS to abide by Court's decisions," Harvard Crimson, March 8, 2006.)
In April 2006, Kagan moderated a Lambda panel on the "relationship between law schools and the military." (No record.)
In March 2007, Kagan doubled down on her advocacy, actually chairing a panel discussion at the HLS Lambda conference focused on "Don't Ask Don't Tell."
Saturday morning's panel, "The Contours of Judicial Deference to Military Personnel Policies," looked at the tradition of judicial deference to Congress, and how that deference applies in the case of military affairs. Moderated by Dean Elena Kagan, the panel included Bakken and Delery, along with Diane Mazur, Professor of Law, University of Florida College of Law; and Laurence H. Tribe, Carl M. Loeb University Professor, Harvard University.
Discussion involved whether a court would overturn "Don't Ask Don't Tell" considering all of the fact-finding that Congress engaged in during its codification of the policy in 1993 ...
In addition to stimulating discussion of legal issues facing the LGBT community, the conference is also intended to provide a networking environment for the law students and practitioners interested in engaging in dialogue on topics in this area. The presence of HLS alumni, respected scholars and authorities in the field created a vibrant discussion in the "off times" during lunches and breaks. ("Lambda Conference Examines 'Don't Ask, Don't Tell'," Harvard Law Record, March 8, 2007; emphasis added.)
IV. Did Kagan's engagement with GLBT groups help accelerate the transgender movement at the University?
"Our mission is not simply to train lawyers; more broadly, we must seek to train leaders—visionary thinkers and practitioners capable of designing new institutions to meet individual and societal needs," Kagan wrote. ("As Harvard Law Dean…," CNS News, May 28, 2010, emphasis added.)
Student and staff GLBT groups wanting to design "new institutions" ("gay marriage" for example) — including HLS Lambda and the Harvard Gay and Lesbian Caucus, both of which Kagan supported publicly — pushed for the most radical transgender demands and clearly had influence with Kagan. "One of the central goals of Lambda [was] to raise the profile of out queer students at the law school and dismantle the homophobic and hyper-masculine culture of a law school that first graduated women in 1953." ("Cleaning Out the Closet," Harvard Crimson, September 24, 2008.) They found an ally in Kagan.
For years before the university's 2006 inclusion of "gender identity" non-discrimination, the "Trans Task Force" had been working hard "behind the scenes" talking with administrators all over the university.
To what extent was Kagan involved as an administrator, and does she agree with these radical transgender demands?

How are these demands playing out [in 2010] at the University?
During Kagan's tenure the movement was already gaining steam:
In April 2005, HLS Lambda sponsored two forums on transgender issues, one with a transsexual activist (whose group is pushing the "Transgender Rights and Hate Crimes" bill in the Massachusetts legislature), and one with an attorney from the national group Lambda Legal. [Harvard Law Record, "Lambda lawyer discusses challenges facing transgendered," 4-29-05]
In April 2006, HU added "gender identity" to its non-discrimination policy, leading to granting transgender demands on bathroom and locker room use, dormitory housing, hormone treatments (beginning in 2006), and counseling supporting the individual's chosen "gender identity." "2006 was a major year for trans activism, education, and visibility at Harvard, sparking much discussion both within the student body and between students and administrators," according to the Harvard Gay and Lesbian Caucus. (It's notable that a 2005 Harvard Law School graduate and former HLS Lambda activist, Noah E. Lewis, has led the charge for these benefits at Harvard as staff attorney for the Transgender Legal Defense and Education Fund.)
The radical GLBT groups worked with administrators throughout the university to promote their cause (Harvard Crimson). HLS Lambda was one of those groups. What was Kagan's involvement and position on their trans demands?
Professor Janet Halley's 2007 transgender law course is noted above.
In early 2008, HLS Lambda hosted its third annual Harvard Lambda Legal Advocacy conference, and it focused on transgender legal issues. A conference organizer said:
"This is absolutely cutting edge in the legal world, and it's also something that doesn't get enough attention in LGBT advocacy" … Mara Keisling, [male-to-female transsexual] executive director of the National Center for Transgender Equality, will kick off the conference with a welcome lunch Feb. 29. The conference will also feature panels on everything from trans youth and family issues to healthcare to sex segregation and gender regulation in the law. ("Harvard Lambda conference to focus on trans issues," Bay Windows, February 21, 2008.)
In 2008, Lambda's stated focus was discussions on "gender identity" and making the Law School

... campus truly trans inclusive. Building on the significant efforts of the Trans Task Force [which made a big push in 2006] and the undergraduate bathrooms campaign, Lambda has begun conversations with the law school administration [i.e., Kagan] to make our restrooms safe and accessible for people regardless of their gender identity or expression. ("Cleaning Out the Closet," Harvard Crimson, September 24, 2008.)
So … Does Elena Kagan subscribe to the view that Americans should be granted "rights" based on gender confusion? Should transgender or transsexual persons be allowed to serve in the military?
Note: See Trannys Talk Back (2005 and later) and the Harvard trans community's online publication, quench zine, for a taste of the juvenile, irrational and disturbing extremism of these groups' demands. (See also MassResistance blog, "Harvard, Truth and Transgenderism," September 15, 2006.)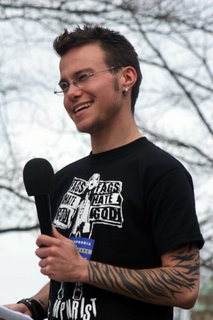 Speaker at "Transgender Rights" rally at Harvard, 4-19-06. Note T-shirt message: "Fags Hate God". (Photo: InNews Weekly.)
V. Kagan's advocacy in the wider Massachusetts community: She noted in her Senate Judiciary questionnaire that she was a "member of Boston Bar Association Diversity Task Force." Clearly then, she would support and promote their public positions on "gay marriage," DOMA, "transgender rights," etc.
This was a period of radical action by the Massachusetts Supreme Judicial Court and the legislature. The Goodridge opinion (claiming the state constitution required allowing "gay marriage") was issued in November 2003. In May 2004, the "marriages" began. In the years to follow, GLBT radicals pushed for "transgender rights" and national action to overturn DOMA.
What did the Boston Bar Association promote in the name of "diversity"? From its website:
2002 "The BBA files an amicus brief (filed jointly with the Mass. Lesbian and Gay Bar Association) in Goodridge v. Department of Public Health in support of same-sex marriage as a civil rights issue, stating that discrimination against gays and lesbians is unacceptable and unconstitutional. Depriving same-sex couples the right to marry violates their equal protection under the law and denies them the rights, benefits, and privileges afforded to opposite-sex married couples." The brief states, "The denial of the right to marry … deprives same-sex couples in Massachusetts of equal protection under the law, as a matter of statutory and constitutional law." (p. 3)

So it would seem Elena Kagan's mind is already made up on the issue of "gay marriage."
2003 BBA adopts a diversity statement including non-discrimination re: "sexual preference."
2006-2008 The Diversity Task Force makes recommendations focused on "race, ethnicity, gender, and LGBT issues in the profession."
2007 "BBA Supports Equal Rights for Transgender Individuals."
2010 BBA institutionalizes partnership with Massachusetts LGBTQ Bar Association.
2012 The Massachusetts Attorney General's Office and Gay & Lesbian Advocates & Defenders (GLAD) receive the third annual Beacon Award (from BBA) for their work to defeat the Federal Defense of Marriage Act (DOMA).
2013 "The BBA underscores its support for marriage equality and joins a coalition of bar associations, civil and human rights groups, and public interest and legal services organizations in signing onto amicus briefs in United States v. Windsor and Hollingsworth v. Perry."