"GAY PRIDE" WEEK IN BOSTON:
Macy's department store showcases drag queen in downtown store for "gay pride week" fashion show
See photos & VIDEO below . . .
POSTED: June 16, 2010
Macy's Department Store in Boston has broken new ground in its cutting-edge support of "gay pride" and the homosexual / transgender movement.

As an official "Gay Pride Week" event, Macy's downtown Boston store held a fashion show MC'd by a well-known Boston drag queen. "Jujubee" is a man who dresses as a woman and performs at various drag queen and cross-dressing events. (And it's been holding similar celebratory events in 16 cities nationwide, according to a company spokesman in our video!)

The event was open to the public, held in the men's department of the downtown Macy's store, and widely advertised in the homosexual press and elsewhere.

| | |
| --- | --- |
| Drag Queen "Jujubee" begins the fashion show at Macy's in downtown Boston during "Gay Pride" week. Note the rainbow background just for the occasion. | |

Jujubee was the star attraction and the MC of the event. Macy's even set up an area for people to get their pictures taken with "her" after the show. And the models modeling the clothes were various homosexual activists associated with the Pride Committee, according to a Macy's spokesman at the event. There was also a short speech by one of the Pride Committee organizers, praising Macy's and, of course, paying homage to the memory of Stonewall and the gay riots.

| | |
| --- | --- |
| "Jujubee" in his Boston apartment. | |

Macy's is clearly hard-core on this. They had adorned the store with rainbow banners with slogans supporting the homosexual movement, and in one of their display windows had a full Pride Week schedule.
SEE VIDEO:

Macy's went out of its way to portray this bizarre public event as completely normal, positive, and celebratory. Macy's staff constantly referred to Jujubee as "she" - even though "she" is clearly a man. Their attitude is not unlike that of the homosexual movement itself: We're here, we're queer, and if you don't like it there's obviously something wrong with you.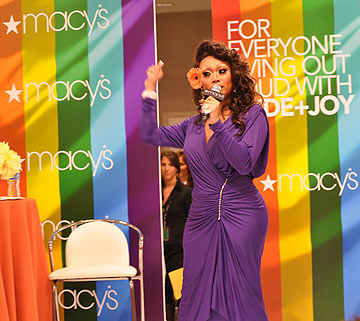 Macy's message on the Boston Pride website was:
"Macy's is proud to support Pride Month 2010. Our Pride + Joy campaign, taking place in 16 cities across the country, exemplifies how we feel about our customers and our employees, who show us every day the meaning of courage and character.

"The Boston Pride 2010 theme is "Riots to Rights - Celebrating 40 Years of Progress," which honors the 1969 Stonewall Rebellion that commenced the modern Gay Rights movement and commemorates the progress we've made as a community since those early days in the battle for equal rights."
Macy's in downtown Boston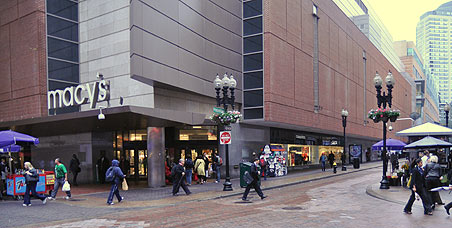 Macy's display window celebrating "Gay Pride Week"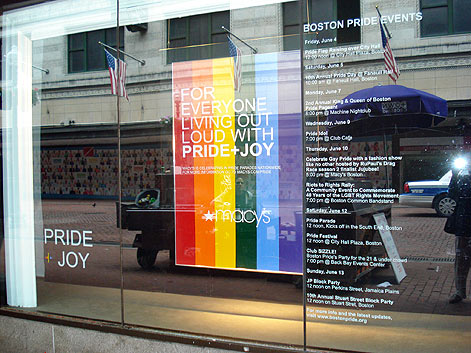 | | |
| --- | --- |
| Inside, "gay pride" was evident throughout the store. | |
| | |
| --- | --- |
| Part of the men's department was roped off for the event. | |
| | |
| --- | --- |
| All set up and ready to go. | |
Before long it was standing room only.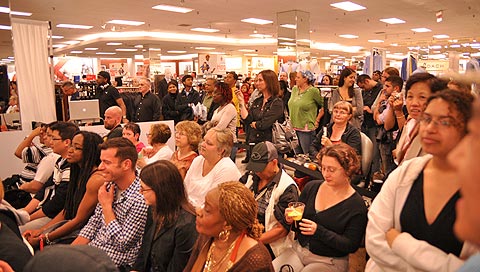 | | |
| --- | --- |
| Macy's employee welcomes everyone and announces that Macy's is doing a similar event in 16 cities across America to honor Gay Pride Month (June). | |
| | |
| --- | --- |
| But of course -- a homosexual activist makes some announcements about Pride Week and thanks Macy's for their incredible support to the cause. | |
| | |
| --- | --- |
| Jujubee takes the stage to a whoop of cheers from the partisan crowd. | |
| | |
| --- | --- |
| Jujubee gets right to work announcing the models. | |
| | |
| --- | --- |
| We were told that the models were all Pride Week activists. Is this a "transgender" man? This person certainly seemed to walk like a man. | |
| | |
| --- | --- |
| The line forms quickly to get a picture taken with Jujubee. | |
Macy's & MassResistance made international news back in 2006
This isn't the first time Macy's has been at the cutting edge of mainstream retail weirdness. At the start of "Gay Pride Week" in 2006, Macy's downtown Boston store featured a display window with a man wearing a skirt, with female-like breasts, placed close to another man wearing normal clothes. In the background was a poster celebrating Boston Pride Week and listing all the activities.
MassResistance snapped a photo that went around the world, and organized outraged people to call the store and loudly complain. Within two days they backed down and removed the display (angering the homosexual/transgender activists!). But the incident was reported in newspapers across the country and as far away as Europe.

See our report on the 2006 Macy's transgender mannequins HERE

Several weeks later the president of Macy's apologized to the homosexual community and voiced his unwavering support for their movement.

Such is the sad state of corporate America.