"Gay Day" at Six Flags New England amusement park this Sunday
Obsession with children's activities a disturbing part of homosexual lifestyle
POSTED: September 17, 2010
Maybe even more than government, corporate America is often the pro-family movement's worst enemy and the greatest change agent for the left's radical agendas. And there's something about children's activities, such as amusement parks (and public schools, parades, etc.) that attracts the homosexual movement in an obsessive and disturbing way.
As we reported last September, Six Flags New England in Springfield, Mass, opened up their amusement park for an entire day of homosexuality, completely disregarding the feelings of families and the greater good of society.
This Sunday, Six Flags New England is doing it again, and they're advertising that it will be "even bigger than last year." They're certainly going all-out to attract homosexuals and transgenders. They are bringing in several well-known cross-dressing and homosexual entertainers (including the weird "Jujubee" who performed at Macy's during Gay Pride week).
| | |
| --- | --- |
| Full-page ad in homosexual newspaper Bay Windows promoting Six Flags New England's "gay day", includng their special rates, bus rides, and the homosexual / transgender entertainment they've hired for the festivities. | |

Six Flags is also offering bus rides from Boston or Providence RI, free parking, and a hefty discount package. And to help push the agenda further, they've announced that "A portion of each ticket will benefit local GLBT charities."
To advertise this event, they had a booth at the raunchy "Gay Pride" festival in Boston last June and have been paying for full-page ads in the homosexual newspaper Bay Windows for several weeks. They've even set up a special website for "Out in the Park".
In many ways, it's an arrogant, in-your-face message to the rest of us: "We don't care what you think."
Closed to the general public that day - for a reason
It's telling that the park feels the need to close the event to outsiders. (The event is open to "the Gay and Lesbian Community as well as friends, family and supporters," though they also say "All are welcome to attend.") But it's clear that they know very well how normal families would react if they were to see what goes on. It's unquestionablyl unlike any other adult group that might decide to come to an amusement park.
Here are some photos from last year:

| | |
| --- | --- |
| | NOTE: These are four MEN. |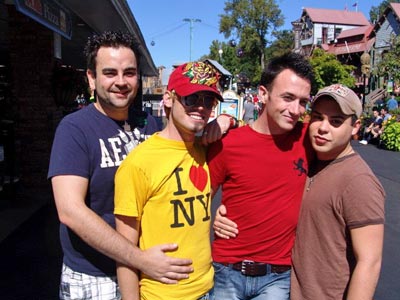 | | |
| --- | --- |
| Two women . . . | Two men . . . |