BAGLY holds homosexual/transgender "prom" at Boston City Hall targeting schoolchildren
Tells kids "We will have condoms, lube, and various safer sex supplies"
(See photos below)
POSTED: July 13, 2010
Every May as part of the GLBT Commission's "Youth Pride" event, BAGLY ("Boston Alliance for Gay Lesbian Bisexual and Transgender Youth") holds a homosexual/transgender "prom" in Boston City Hall, courtesy of Mayor Thomas Menino. Children as young as middle-school age from across the state are encouraged to come. This year it was on Saturday evening, May 8.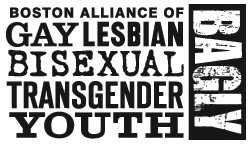 BAGLY is a hard-core homosexual/ transgender activist group that is part of the Mass. Commission for GLBT Youth. BAGLY not only goes into the public schools, but entices schoolchildren to attend off-campus homosexual and transgender activities across the state. Many of these events are with bizarre adults, such as men wearing women's clothes, middle-aged men involved with sado-machosism, etc.

BAGLY is run by a middle-aged man who wears women's clothes, who calls himself "Grace" Sterling Stowell.

Stowell was named a Grand Marshal of this year's Gay Pride parade. Boston Mayor Thomas Menino has personally given him an award. And every year Menino allows BAGLY to use Boston City Hall for their homosexual/ transgender youth prom. It's unbelievable.

At this year's prom: BAGLY gives homosexual sex supplies to kids
For this year's "prom" BAGLY announced on its website, "We will have condoms, lube, and various other safer sex supplies. We also offer free anonymous HIV testing." (They call this HEARRT - "Health Education and Risk Reduction Team".) Note it's simply "risk reduction". Remember, these are kids as young as middle-school age. And they're mingling with homosexual activist adults.
Here's from BAGLY's website describing this year's prom for kids considering attending.
And here's BAGLY's pamphlet given out by HEARRT to kids:

And attract kids they did . . .
By six o'clock kids were already lined up at Boston City Hall to get into the BAGLY homosexual / transgender prom.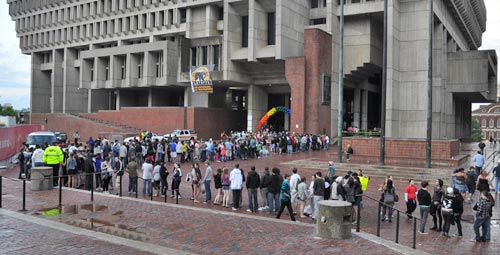 Soon the whole area in front of City Hall was filling up with kids.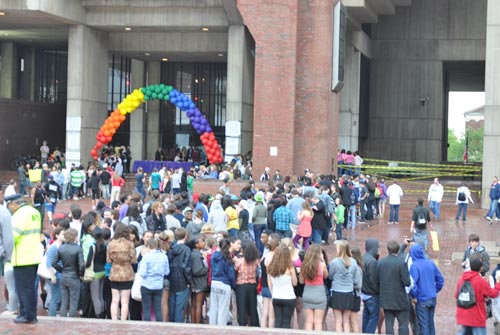 As kids were let in they roped the area off to make sure no one could come near and see what was happening.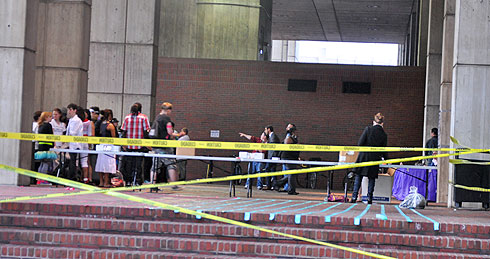 Secrecy. They were adamant that no members of the public could come near. Below, a Boston policeman and one of the adult activists (at right, talking on phone) watched the area and told any people wandering by that they had to leave the area.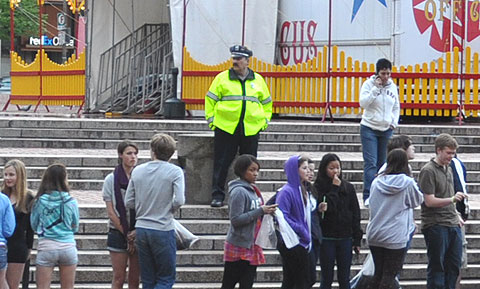 | | |
| --- | --- |
| And pretty darn chummy. After chasing a person away who got too close, the cop and activist walked back arm in arm. There's a close relationship between the Boston Police and the homosexual activist movement, much of that mandated by City Hall. | |
| | |
| --- | --- |
| | Police presence. Just in case, there were police cars parked all over City Hall Plaza. The homosexual lobby gets the best from Mayor Menino. |
Since in past years we were able to expose the disgusting and offensive things going on with kids at the BAGLY prom, this year they went to extroardinary lengths to make sure no one was able to get near enough to see.
How many kids will be drawn into dangerous company, get diseases -- or worse -- while our legislators keep giving these hideous radicals more of our money?
BAGLY brings kids to the Gay Pride Parade
A few weeks after the prom, BAGLY was at it again. They brought children to march in the Boston Gay Pride Parade -- along with homosexual activist adults.

BAGLY gathered kids, gave them special "Bisexual and Transgender Youth" T-shirts, and marched them in the adult Gay Pride Parade.

NOTE: BAGLY's director (transsexual man in photo above) was honored as Grand Marshal of that parade this year. [MassResistance photos]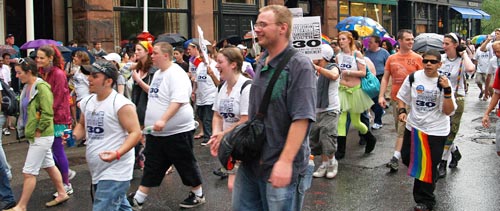 | | |
| --- | --- |
| | For a group that says it's for "youth", BAGLY seems to attract a lot of guys like this. |