Lesbian activist Chai Feldblum confirmed for EEOC: US Senate's lame-duck gift to the homosexual movement
Cave-in by conservatives (and Scott Brown) gives huge victory to homosexual movement in America
POSTED: Dec 31, 2010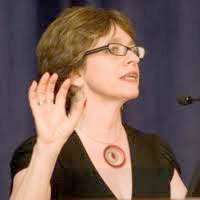 Last week the homosexual movement got another big victory thanks to the US Senate Republicans (including Scott Brown) caving in. By unanimous consent in the Senate, Chai Feldblum, a lesbian law professor and the primary author of the pro-homosexual Employment Non-Discrimination Act (ENDA), was finally confirmed as a member of the powerful Equal Employment Opportunity Commission (EEOC), which wields enormous power over the nation's employers.
Republicans cave after year-long lobby campaign
Feldblum's hearing was held in November, 2009. But when the Senate's confirmation vote stalled, Obama put her on the EEOC temporarily via a "recess appointment." However, Republicans continued to block her confirmation using a rule that allows just one Senator to hold up a vote.
But in the end it was similar to the repeal of DADT -- a sophisticated year-long behind-the-scenes lobbying effort by the homosexual lobby. And as time ran out on the lame-duck session, the homosexual lobby accelerated their pressure, even getting organizations such as the US Chamber of Commerce to send letters to the Senate leadership urging her confirmation. See report in homosexual news service describing lobby effort results.
Finally last week, with momentum following their DADT victory, the homosexual lobby persuaded all the Senate Republicans to fall into line and use the sleazy lame-duck session to confirm Feldblum by unanimous consent. They knew that once the lame-duck session ended at the end of this week their chances with the newly elected Republican Senators would be severely diminished. It's a disgusting way to conduct the nation's affairs.
A radical homosexual activist now directing the nation's employers
Feldblum's pro-homosexual radicalism goes back years. Her main passion -- which her position on the EEOC will accelerate -- will be to use the provisions laid out in the EDNA bill to force the acceptance of homosexuality into businesses and other institutions (including religious organizations) across America.
Feldblum's dangerous potential was recognized early on in pro-family circles. The Traditional Values Coalition, which lobbied against her, said that she would "use her power to strip nearly all First Amendment rights of freedom of expression/free exercise of religion from businesses." Family Research Council said she "openly admitted to supporting polygamy." Concerned Women for America said she "represents one of the most serious threats to religious freedom we have seen in a long time."
Traditional Values Coalition's posting on Feldblum goes on to say:
At Georgetown Law School, Feldblum runs the Federal Legislation Clinic. Her goal is to teach young law students to be "legislative lawyers" - to use the law for political agendas - including for her main focus overturning laws in support of LGBT goals. She is creating an army of far left lawyers who will wage war against traditional values.

Feldblum has created the term "identity liberty" that conflicts with "belief liberty." According to Feldblum, a person's sexual identity "rights" must routinely trump "belief liberty" which is religious liberty guaranteed by the First Amendment to the Constitution.

In addition, Feldblum rejects the right of the Boy Scouts to set their own moral standards for membership.

Feldblum believes that the Christian owner of a business loses his religious liberty when he engages in commerce.

In short, Feldblum has stated: "We want to change the American workplace and revolutionize social norms." Instead of being an unbiased referee on the EEOC, she would be a radical activist who would use the force of government to implement aggressive and intrusive employment non-discrimination laws to benefit the LGBT political agenda . . .

See TVC's full write-up here
The fact that all the Republicans all caved in on this is unforgivable. Chai Feldblum should not be in any position of power at all, much less the EEOC. As with the repeal of DADT, the oppression against people with traditional values that she will bring can only be imagined at this point. If you live in Massachusetts, this is just one more reason that Scott Brown needs to be thrown out in 2012.