Brian Camenker of MassResistance addresses pre-election Peabody Square Tea Party!
Tea Parties realizing that cultural and fiscal issue battles face common ideological enemy
POSTED: Nov 1, 2010
On the last weekend before the election it was Tea Party Time! Across the street from Congressman John Tierney's office in Peabody Square candidates ranging from state-wide and Congressional races to local races joined Tea Party activists from around the state for a pre-election Tea Party Rally. It was sponsored by the feisty (and strongly principled) North Shore based Independence Tea Party.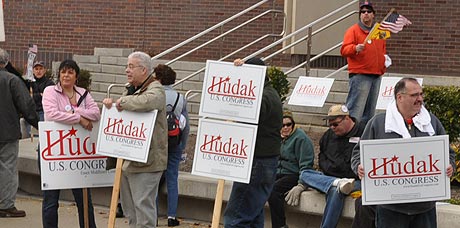 Just how feisty is the Independence Tea Party? Brian Camenker of MassResistance was a featured speaker!
His message was that the core basic bad ideas of progressivism (or utopianism) are responsible for both the fiscal crises we constantly face and the culture war that's degrading the social fabric. It was quite well received and underscored the the belief among many (if not most) in the Tea Party movement that the fiscal and social issues cannot locigally be separated in a free society.
| | |
| --- | --- |
| Brian Camenker of MassResistance (center) addresses crowd from steps of courthouse. | |
Interesting contrast in Mass. Tea Parties
In the last few weeks before the election there seems to be an interesting contrast in Tea Parties in Massachusetts. Some (probably the majority) have stuck fast to their principles of fiscal and social common-sense conservatism. But others have essentially become extensions of the Massachusetts Republican Party. They coordinate with the Party people and hold their events around Repubican speakers and themes, irrespective of whether their actual views coincide with Tea Party principles. It's often the unfortunate result of inexperienced leadership that's easily swayed by prestige and power.
This is, of course, greatly pleases the Republican Party, but can have rather odd un-Tea Party effects. For example, a week ago the Greater Waltham Tea Party held a rally featuring GOP Lt. Governor candidate Richard Tisei as their star speaker. Tisei, who is pro-abortion and pro-homosexual "marriage," has obvious issues with social conservatives. And as a state senator he also has a history of opposing tax reductions, which riles fiscal conservatives. So what's left? A lot of people who showed up that day were left scratching their heads.