Fighting back: Citizen confronts liberal Mass. town over gay-themed anti-Semitic play in high school
Forcing vote at Town Meeting this Monday.
See videos below. MassResistance involved . . .
POSTED: April 22, 2011
This is a story about one citizen standing up to a hostile liberal Massachusetts town. Lee Ann Kay of Concord, Mass., is a heroine who inspires us all. She doesn't quit!
She and other residents were outraged when a vulgar and disgusting gay-themed anti-Semitic play was produced at the local high school. A lot of people living in a town full of nasty liberals would have just backed away. But she's fearlessly doing something about it.
The culmination of her efforts comes this Monday, April 25, when the Concord Town Meeting will vote on "Article 31" which Lee Ann Key has submitted asking the town to formally condemn the production. As you can imagine, in a left-wing town like Concord that public action has caused a firestorm!
A disgusting gay-themed anti-Semitic play
In late 2009 the Concord-Carlisle High School (CCHS) presented the play "Falsettos" It is a vulgar and disgusting play about a man who leaves his wife to have a homosexual love affair. In addition, the main characters are Jewish, and Judaism is constantly mocked and denigrated. The play encourages promiscuous homosexual sex. It was directed by Peter Atlas, a long time homosexual activist and CCHS faculty member who was an early collaborator with GLSEN founder Kevin Jennings, currently Obama's "Safe Schools" czar. It had never been presented at any school before.
Shocking video about "Falsettos" by Lee Ann Kay:
Falsettos
At first, she was ignored. Then she got to work . . .
Lee Ann Kay sent excerpts of the play to the Rabbinical Alliance of America (RAA), a national organization of Orthodox rabbis. The RAA spokesman, Rabbi Yehuda Levin, responded with a scathing letter to the town and to school officials -- which the school officials also ignored.
Lee Ann then addressed the School Committee and asked them to take some action. But she was rudely rebuffed.

VIDEO: Lee Ann Kay rebuffed by Concord-Carlisle School Committee

So she composed and introduced a resolution for a vote at the April 25 Concord Town Meeting. The resolution would condemn the production of the play and urge the school committee to apologize to the town, the RAA, and others.

In late February Lee Ann Kay produced her hard-hitting VIDEO to educate the town about that production of Falsettos, with scenes from the high school production. It is truly shocking. Watch for yourself.
The fight begins
After her video was released, things really began to happen. The anger from the town liberals began to plume. They defended the play and attacked those who would question its suitability for children.
It's utter madness. They are attempting to defend the indefensible through an Orwellian smokescreen of "tolerance" and "diversity."
Grilled by liberals at town Finance Committee meeting. On March 3, Lee Ann was called before the Concord Town Finance Committee to explain her upcoming resolution and answer hostile questions from the rabid local liberals. (Video below.) It has the flavor of a Soviet-style kangaroo court. But she stood up to them beautifully.

VIDEO of the liberals at the Concord Finance Committee grilling Lee Ann Kay - - but she stood her ground wonderfully!



March 2 Hearing

Letter Lee Ann Kay sent to local businesses who supported the play. On March 23, Lee Ann sent a letter to the local businesses who had advertised in the "Falsettos" program informing them exactly what they had paid for. Read that letter HERE. It's gratifying that all of the responses she received said that the businesses had no idea about the controversial nature of the play and they would be more careful when buying such ads in the future!
Also throughout March, more hostile letters began to appear in the local paper attacking both Lee Ann and MassResistance.
Local left-wing Temple supports play
On March 29, the president of Temple Kerem Shalom in Concord published a letter to the editor in the Concord Journal on behalf of the congregation supporting "Falsettos," denying that the play is anti-Semitic, and condemning the Rabbinical Alliance of America (RAA) as out of the mainstream. Read the letter HERE
But just how "Jewish" is Temple Kerem Shalom? According to its website, it has no affiliation with any branch of Judaism and it enthusiastically supports the homosexual movement and other fashionable left-wing nonsense. In other words, their real "religion" is liberalism. They are to Judaism what a ham and cheese sandwich is to a Kosher diet. These kinds of temples usually attract disaffected liberal Jews, much the way radical churches attract disaffected Christians. It's an embarrassment.
(NOTE: Barbara Lenk, Gov. Patrick's nominee to the SJC, is on Kerem Shalom's Board of Directors! See more HERE.)
More newspaper letters & op-eds
On April 14, the Concord Journal published this letter from MassResistance exposing Kerem Shalom and defending the RAA. (Note: This letter was not posted in the Concord Journal's online edition.)

Also on April 14, two prominent op-ed articles were published - one by Lee Ann Kay supporting Article 31 and the other against Article 31. Take a look. It's a real window to the way conservatives and liberals think. It's mind-boggling to read the absurd, illogical reasoning that the liberals use in their opposition.
(NOTE: These op-eds were not posted in the Concord Journal's online edition.)

OP-ED: Vote Yes on Article 31 - by Lee Ann Kay

OP-ED: Vote No on Article 31 - by Margaret A. Hoag
Editor: Too many hateful letters!
The editor of the Concord Journal wrote an editorial in the April 14 issue saying that most of the letters they received were so angry and full of personal attacks that the paper wouldn't print them. (We assume these were from the local liberals. If the letters are anything like the twisted hatred that angry messages Concord liberals have been emailing to MassResistance recently, the editor hardly had a choice.)

Here's the editorial (NOTE: It was not posted in the Concord Journal's online edition):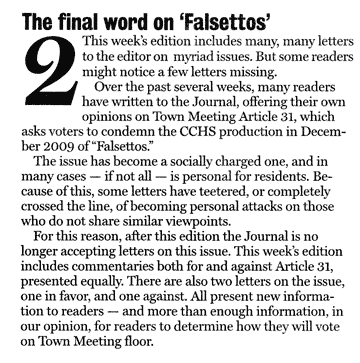 Showdown coming this Monday April 25
Lee Ann Kay and her allies are not backing down an inch. The town votes on Article 31 during Monday's Town Meeting (which could possibly extend to Tuesday or Wednesday). She will be showing materials about "Falsettos" at the meeting. Town and School Committee officials are already scheduled to speak in support of "Falsettos."
Concord residents will be forced to either honestly face the uncomfortable truth -- or follow their infantile politically correct mantra and defend the utterly indefensible. Which will it be?
Concord, Massachusetts is famous for being a starting point of the Revolutionary War. Has Concord now become a town of hate, vulgarity, and anti-Semitism presented as left-wing "tolerance"?
We'll see. But whatever happens, they won't forget this for a long time.