"Old Navy" stores now selling "gay pride" shirts. Donating percentage of sales to radical homosexual group targeting kids.
POSTED: May 31, 2011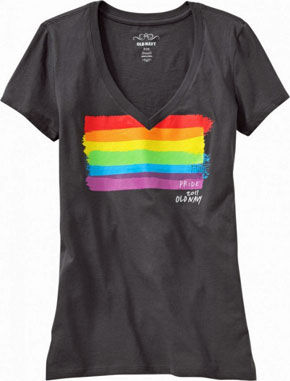 Just in time for this year's "Gay Pride" parades in cities across the country, the Old Navy clothing chain has announced that its stores are selling a line of "gay pride" shirts. It is clearly an effort to support the homosexual agenda --both culturally and financially. (Old Navy also owns The Gap stores.)
Old Navy's announcement on this wasn't in the mainstream media (not surprising), and it's not found on its web site, but alternative media is covering it:
Article: Old Navy Launches Gay Pride T-Shirts

Article: Old Navy Debuts Gay Pride T-Shirts For It Gets Better
Although the clothes are for everyone from babies to adults, they are clearly focusing on "LGBT teens" in their sales push.
Donating to radical homosexual group targeting kids
Old Navy is also donating 10% of the proceeds from these sales to the "It Gets Better" project, a homosexual organization that uses the "anti-bullying" front to target kids and help them feel "safe" in their homosexual identities.
"It Gets Better" was founded by Dan Savage, a vile, angry anti-Christian homosexual activist. Among Dan Savage's other activities:
He writes a raunchy on-line sex column.
He set up a website to attack Sen. Rick Santorum in a most disgusting manner. As you enter the website, on the "splash" screen Savage calls Santorum "the byproduct of anal sex". The site includes disgusting sexual imagery.

He set up a website to attack Pastor Rick Warren of Saddleback Church. More disgusting homosexual imagery.

In 2000, Savage pretended he was a conservative and volunteered for Gary Bauer's presidential campaign. He wrote about how he tried to make Bauer ill by licking his doorknobs and desk impliments while he (Savage) was sick with the flu. The whole idea is sick, in our opinion.
Savage has created a place where he tells kids they can get involved with his group and find "love and happiness" . . .
The "It Gets Better" website describes itself:
The website www.itgetsbetter.org is a place where young people who are lesbian, gay, bi, or trans can see how love and happiness can be a reality in their future. It's a place where our straight allies can visit and support their friends and family members. It's a place where people can share their stories, take the It Gets Better Project pledge, watch videos of love and support, and seek help through the Trevor Project and GLSEN.
(Also on that page is a video of Savage with his "husband".)
The last thing in the world that vulnerable kids need is to have any contact with a hideous, disgusting individual like that. What kind of a demented corporation would support and even fund this?
FIGHT BACK!
Old Navy REALLY needs to hear from as many of you as possible. It won't take you long, but will be effective. Let them know you will NEVER shop in their stores EVER, and you will spread the word.
Contact Old Navy NOW:

Website: www.oldnavy.com

Phone: 1-800-OLD-NAVY (1-800-653-6289)

Email: custserv@oldnavy.com