Thomas More Society Pro-Life Law Center helping pro-life activist Peter D'Attilio
POSTED: September 2, 2011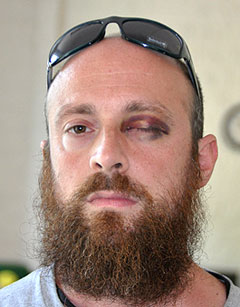 Peter D'Attilio after the beating by
police Aug. 14 while leafletting.
The Chicago-based Thomas More Society Pro-Life Law Center has stepped up to help pro-life activist Peter D'Attilio, who was arrested and beaten by police while handing pro-life pamphlets at a public Catholic fair in Franklin, Massachusetts on Aug. 14. (See full MassResistance report HERE). Tom Brejcha, the president of the organization, spoke to MassResistance last week and is personally working to see that Peter has proper representation.
D'Attilio was also absurdly accused by police of conspiring to plant bombs at the event, and they ransacked his truck with bomb-sniffing dogs while he was being held inside the police station. He faces 2½ hears in jail and hundreds of dollars in fines from the false charges filed against him.
D'Attilio has a preliminary court hearing on Sept. 28.