Pro-life activist beaten, arrested, and accused of bomb plot by police while handing out pro-life flyers at local town fair
POSTED: August 24, 2011 UPDATED: Sept 2, 2011
The open hostility and even vitriol by police against pro-family and pro-life citizens in the public square has reached a frightening new level. We're now seeing pro-life activists innocently passing out flyers considered to be dangerous terrorists by police departments.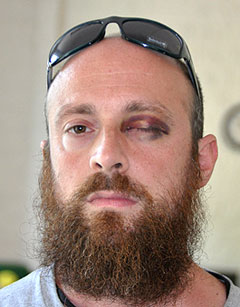 Peter D'Attilio after the beating
by police.
On August 11, Peter D'Attilio was merely handing out 2-inch-wide pro-life bookmark flyers at a local fair in Franklin, Massachusetts when he was arrested, handcuffed, and beaten by police while his hands were cuffed behind his back.
The police then accused him of conspiring to plant bombs at the event, telling him that pro-life people "are known for that kind of thing." They ransacked his truck with "bomb-sniffing dogs" while he was being held in a cell at the police station. He was charged with resisting arrest and disturbing the peace and now faces 2½ years in jail and hundreds of dollars in fines. He strongly denies all of the charges
He has also been told that as a result of the incident he has been put on a "terrorist watch list."
Peter D'Attilio is a staunch pro-life activist and religious Catholic who ironically is known for pacifism and never responding to provocation. He has no history of violence of any kind. But he was also accused by the Franklin police of assaulting the police officers, in addition to resisting arrest. The statements and accusations by the police, including those in the police report (see below), are "full of lies," D'Attilio says.

Disturbing and frightening trend by government and police
The extremely hostile attitude against people with traditional values is not an accident, but is tied to official policy in local police forces. In 2009 a sub-group of the federal Department of Homeland Security (DHS) published a bizarre document warning law enforcement agencies that pro-life and other conservative groups are possible domestic terrorist organizations. The DHS has also encouraged local police departments across the country to work with radical far-left "watchdog" groups such as the Southern Poverty Law Center (SPLC). The SPLC has compiled an enormous list of supposed "extremists" and "hate groups" which includes the Tea Party movement, US Reps. Ron Paul and Michele Bachmann, Glenn Beck, the Family Research Council, anti-illegal immigration groups, pro-life groups, various Christian groups and, yes, even MassResistance.
The Franklin police report on the D'Attilio incident (see below) specifically mentions that the police officers were looking for a man who was handing out "a pamphlet about abortion." And they subsequently accused D'Attilio -- with no evidence whatsoever and after beating him -- of threatening to plant explosives at the event.
Prominently displayed inside the police department is a big "No Place for Hate" banner. No Place for Hate is a left-wing nationwide propaganda campaign which teaches that traditional pro-family values are "hate" which must be stamped out. This offensive campaign has been adopted by communities, police departments and even school systems across the country. It's widely opposed by pro-family groups and others.
"No Place for Hate" banner prominently displayed inside Franklin Police Department.

NOTE: Directly under the banner are photos of sex offenders -- an interesting display of "diversity."
Peter D'Attilio's account of incident
Here is Peter D'Attilio's description of what happened:
On Thursday, August 11 at 7 pm I arrived at the St. Rocco fair (an annual Italian festival held on the grounds of St. Mary's Catholic Church in Franklin, Mass.) and handed out pro-life flyers to over 50 teens. They were well received as they thanked me for the info. At 7:45 I went back to my truck for five minutes to say a few prayers. My truck was parked at the corner of Pleasant St. and Queen St., not too far away.
Then I re-entered the fair which was free and open to the public. I gave out the flyers to about six teens who were sitting at a table when two cops approached me. One of them asked, "What are you doing?" I said, "Giving out public service announcements, sir." He asked to see my ID. I said "Why?" (Police are required to have probable cause of a crime committed to demand an ID. I've seen situations where pro-life people, after giving out their IDs, will be immediately given a legal no-trespass warning without reason, and other such harassments.)
He got upset and demanded my ID and said that by law you have to identify yourself to a police officer, and threatened me with arrest. Besides that, he would not give a reason. Then he falsely accused me of having outstanding warrants as a reason to not ID myself. He said that this was private property owned by the church. So I said, "If that is the case then I'll leave right now." He told me not to leave. So I didn't, nor did I make any attempt to.
Assaulted by police
I told him he was illegally detaining me. He then put his hand in my back pocket to grab my wallet, but I also put my hand in my back pocket to hold my wallet, so he gave up trying. That is when he put the handcuffs on me. He claimed I tried to resist that, which I didn't. I remember one of the male teens saying to me, "Sorry" as I was still in front of them.
The cop had me walk over to the curb, then he got behind me. Suddenly I was on my knees as he started choking me. The cruiser showed up and I yelled to the group of teens, "Get the camera out." Then as I was peacefully going into the cruiser the same cop punched me hard in the face without warning or cause, giving me a black eye. I am sure the two other cops who were standing there saw it up close. There might have been more assaults on me between the chocking and the punch, but there are no other bruises and I can't remember since it happened so fast.
At the police station
I told the sergeant who did the booking at the station, Sgt. Manocchio, many times about the assault. He just ignored me. I showed him my swelling eye, and he ignored it. The sergeant asked me six times if I planned to blow up the carnival. I asked, "What on earth gives you that idea?" He said, "You guys are known for that sort of thing. I admit it hasn't happened in a while but there was that guy, Eric Rudolph in South Carolina, who blew up the Olympics about 25 years ago." [NOTE: It was actually in Atlanta, Georgia in 1996.]
When I was put in a cell he came back and asked me again if there was "anything at the carnival that I left that could do great harm to people." I said, "I don't know what you are talking about. I don't know anything about bombs. I've never had that or violence on my record. I don't know anyone who has bombs or used bombs or knows how to use bombs. Where are you getting this?" Then he said, "I gotta go" and left the station for many hours.
Out of jail, into court
When I got out of jail I found my truck had been broken into. The door was left wide open, everything was moved around as if it had been thoroughly searched, both seats were in the forward position, not how I left it, and there was a pair of plastic gloves on the hood of my vehicle.
Six hours later - the following morning - I was in court and got a copy of the police report. It was filled with lies. I went to file an official complaint at the station. They said the chief was there 9-4 and I just missed him, so I should come back Monday. I spoke further with the sergeant who did the booking, Sgt. Manocchio, and he said he knew nothing about the searching of my vehicle. I had a long conversation about my case. He brought in a detective; I didn't get his name. I asked why the cop didn't have a scratch on him if there was a "scuffle" as mentioned in his report. The next day the newspaper police blog said he injured his knee in the scuffle. No mention of it in the police report. Is he changing his story?
The cops also said I'd be getting something in the mail about trespassing against the church, effective indefinitely. "The anti-trespassing order is for life," I was told. Peter Brunelli, who had been running the fair, was apparently involved with filing a trespassing warning on behalf of the church against me. However, since then I contacted the church and explained the situation, and they've lifted that order.
Later -- back to police station & scene of incident
On Monday when I came back to the police station a different cop, Lt. Ryan, spoke with me. I said I wanted to file a breaking and entering report regarding my truck. He said I can't, though he admitted my truck was searched. He said that there was a witness of "suspicious activity by my vehicle" and they had to bring out bomb-sniffing dogs. But he didn't say what exactly the suspicious activity was. I said, "I want to know who the witness was." He said, "That info is not available right now." The lieutenant also refused to let me speak to the chief of police saying, "Only I am allowed to take your complaint." I said I would like a picture of my eye taken as evidence to your investigation. But he said, "YOU DON'T TELL ME HOW TO CONDUCT AN INVESTIGATION, TAKE A PICTURE OF YOUR OWN EYE".
On Wednesday I went back to the church area to take a picture of where the false arrest took place. I was standing on the public sidewalk taking a few photos. Then a man named Frank, who said he is part of St. Mary's pro-life group and who was helping out putting things away at the fair, came over to me and said, "The whole town is talking about how you are on the terrorist watch list." Then, about a minute later, five police cars and at least one additional unmarked car appeared and surrounded me. Even the prosecutor was there in his white shirt and tie. I was accused of trespassing on Church property. But it was obvious that I was only on the public sidewalk so they soon left, though two cars stayed behind to watch me.
Facing jail time and fine over outrageous, false charges
I am very disturbed that I'm being accused of being involved with some kind of bomb plot. I have always remained non-violent, have no history of bombs or bomb threats nor ever owned a weapon or a permit. Nor did I ever look any such thing up on line. I've never even purchased so much as a firecracker my whole life. Even throughout school I don't think I was ever in a fight, needed teachers involved, or anything like that -- which is unusual for most boys. And besides, I would never fight back to a cop because I know they would a put million charges on someone for doing that. Now I'm facing 2½ years in jail and a big fine. I was just handing out pro-life flyers at a Catholic Church event. (I thought I was in friendly territory.) All of these lies and false charges are absolutely outrageous.
| | |
| --- | --- |
| | Scene of the "crime". The fair was in this field. Peter was handcuffed and brought to police cruiser which had pulled up to foreground area. |
Official documents

Strange local newspaper account
Two days after the incident the Milford Daily News printed one sentence. It mentions a police officer's injured knee -- which was not mentioned in the police report or anywhere else -- supposedly caused by the "scuffle" which Peter insists never happened.
On Saturday, August 13 the Milford Daily News reported:
Newton man charged with disorderly conduct
GateHouse News Service / Milford Daily News
Saturday, Aug 13, 2011
FRANKLIN - A Newton man was arrested Thursday night and charged with disorderly conduct, said police.
Peter Dattilio, 40, of 44 Hancock Ave., Newton, was arrested at 8:01 p.m. at 8 Queen St. An officer injured his knee in a "scuffle" with Dattilio, and Dattilio was charged with resisting arrest and disorderly conduct, said police.
On Friday morning Peter was arraigned in court before a judge. His next court appearance is at 9:00 am on Wednesday, September 28.
Thomas More Society Pro-Life Law Center steps in to help!
The Chicago-based Thomas More Society Pro-Life Law Center has stepped up to help Peter D'Attilio. Tom Brejcha, the president of the organization, spoke to MassResistance last week and is personally working to see that Peter has proper representation.
He had been talking with local pro-family lawyers, but many were reluctant to get involved with this kind of case for fear of retribution from police. He was also turned down by the American Center for Law and Justice (ACLJ).
TAKE ACTION NOW!
Make no mistake about it. This will eventually happen to you, and it will be sooner than you think. What's happened to the First Amendment? What about Constitutional rights? The answer: Going out the window unless you help stop it. The totalitarian state is on its way at a very fast clip. Local police departments have more and more power, and are lining up in opposition to citizens holding traditional values.
Is this how police should treat honest citizens who are simply exercising their First Amendment rights? Is this the direction you want America to be going?

| | |
| --- | --- |
| Getting the pro-life message out. Back in June Peter D'Attilio gives a pro-life talk on Boston City Hall Plaza to kids who had gathered there -- while a Jimmy Fund charity event takes place behind him. | |