Britain's most prominent & successful pro-family lawyer coming to US to speak at MassResistance banquet Sept. 18! Warning Americans on what's happening there!
(Registration information below)

How far (and how fast) has Britain descended into the depths of anti-Christian oppression and secular totalitarianism? And how can we in the US avoid following in Britain's path? On Sunday, September 18 you will have a unique opportunity to hear first-hand from someone on the front lines in the UK.


As bad as things often seem here, the "culture war" news from the European union -- and Great Britain in particular -- has been even more chilling, and appears to be a frightening sign of things to come in America.


A recent newspaper article . . .
Some examples MassResistance has recently reported:
The movement in Britain to lower the age of consent for gay sex to 14 years old!

The call by gay supporters for the killing of newspaper writer who criticized homosexual lessons targeting 4-year-olds!

British government now telling parents: Don't push your morality on your kids!
And things in Britain continue to worsen. Over the last 15 years the civil rights and religious liberties of believers have been disappearing. And the militant homosexual and secular movements have permeated society far more deeply than they've been able to in the United States -- so far.
A major figure in Britain's pro-family defense
Since 1996, Barrister Paul Diamond has been a major force for pro-family rights in the legal arena in Britain. He has taken on many high-profile cases and has won groundbreaking victories in the face of an increasingly hostile judiciary.
AUDIO: Paul Diamond's talks to Americans (via phone)
"The courts are trying to drive Judeo-Christian values out of the
public forum. Christians are the being told they're the problem
because they're out of date. It will become very aggressive . . ."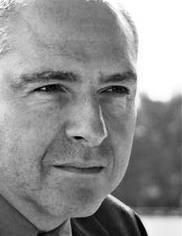 Mr. Diamond focuses his legal work right in the lion's den of Britain's cultural battles -- in the areas where religious liberties are being pummeled, where the right even to express traditional values is being curtailed and punished, and where government authorities put the inclinations of homosexual activists (and radical Islamicists) above those of other groups.

He takes on the enforced diversity agendas and government tribunals which oppress people who hold traditional beliefs. "The defenders of faith and family are too often cowering in silence, intimidated by secular judges and media into not speaking out," he says.

Mr. Diamond also practices religious freedom law on the European continent. He is one of a handful of individuals who understands the law of religious liberty in the legal framework of the English Common Law, European Law, and International Law -- and is highly sought after.
Coming to Massachusetts!
On Sunday afternoon, Sept. 18, Paul Diamond is coming to the United States exclusively to address the MassResistance Banquet to reveal, explain, and warn us on "What is happening in Britain - and what you must do now in America."

This is a breathtaking opportunity that you must not miss. Mr. Diamond is a gifted speaker and a committed Christian. It's a once-in-a-lifetime occasion.


MassResistance Banquet - Don't miss it!
Keynote speaker: Barrister Paul Diamond
(from Cambridge, England)
"What is happening in Britain --
and what you must do now in America."

DATE: Sunday afternoon, September 18, 2011
TIME: Registration 1:15 pm / Banquet served 2:00-4:30 pm
PLACE: Holiday Inn, Boxborough, Massachusetts

$40.00 per person / $375 for a table of 10

Checks or credit card payments can be mailed to:
MassResistance, PO Box 1612, Waltham, MA 02454

Download our registration form HERE.

To register via email (Include contact info: Address, phone number, email and note "online payment for banquet.") Online credit card payments can be made through our donation page.

Space is limited so reserve early.

If you can only go to one event this fall - this is the one to go to!
Some of Paul Diamond's activism and court cases in the UK
pro-family battle . . .
In the UK, the government and now even the business community are aggressively trying to drive traditional values completely out of any part of civic life or the public square. Paul Diamond is there on the front lines of the pro-family movement.
A British Human Rights Commission described Christian faith as an"infection" and denied a Christian couple the right to adopt. Christian views on the morality of homosexual relationships were declared in court to inimical to the interests of a child.
British Airways told a Christian woman she would be fired if she wore evan a small cross (the size of a dime). But they allowed employees to wear Muslim clothing and a Sikh headdress.

| | |
| --- | --- |
| | A college attempted to expel a Christian Society because of its religious belief. |
A church was told that it could not exclude a transsexual.
A Christian counselor was fired for declining to give sex therapy to homosexual couples.
| | |
| --- | --- |
| The British Health Department was suppressing data on late-term abortions of babies with cleft palate. | |
A town served two churches noise abatement notices for singing on a Sunday!
| | |
| --- | --- |
| | A nurse suspended for offering to pray for a patient. |
| | |
| --- | --- |
| An employee was fired for having a Palm Cross inside his working van. | |
AUDIO: Paul Diamond on BBC Radio debating religious freedom -- Notice the abuse he takes from the high court official and the moderator, but he does not back down.
BELOW: Two important cases of Mr. Diamond were accepted by the European Court in Strasbourg, France. These cases will determine the extent of Christian conscience in Europe.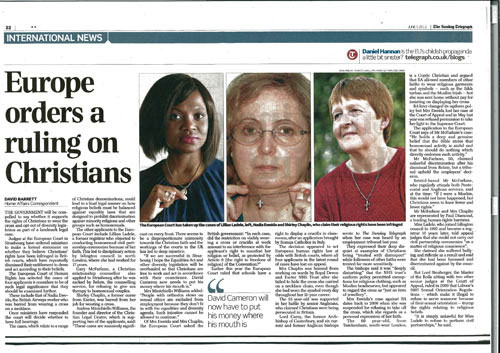 Don't miss this exciting and informative event!