Not backing down:
Pro-family citizens stand firm and confront loud "Occupy" demonstration. Attempting to harass & intimidate Pastor Scott Lively's inner-city Christian ministry in Springfield, Mass.
Religious believers to left-wing activists: We're not taking it anymore!
See photos & VIDEO below
POSTED: Nov 22, 2011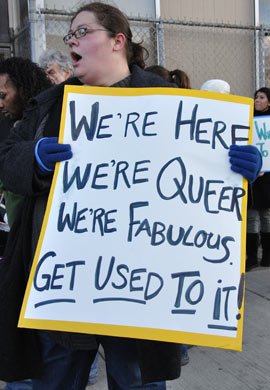 Angry "Occupy Springfield" protester
outside the Holy Grounds Coffee House
Christian believers and activists with signs and American (and Israeli) flags didn't give an inch outside of the Holy Grounds Coffee House in Springfield, Mass., as a loud, well-organized "Occupy Springfield" protest converged to harass and intimidate them, targeting Pastor Scott Lively and his inner-city Christian mission. Christian activists also counter-picketed the nearby storefront of the "Occupy" organization with the message that they weren't backing down.
It's believed to be the first time in the U.S. that any Occupy harassment action has been met with resistance by those they were targeting.
The demonstration brings to the forefront what many have observed since the beginning of the "Occupy" movement: That along with its socialist and anarchist economic philosophy, at its core it is anti-American, pro-Muslim, and particularly hostile to Christianity and traditional values.
See the shocking video below:
Targeting a Christian inner-city mission
Occupy Springfield has publicly stated that one of their goals is to drive Pastor Lively and his Christian mission out of town. Dr. Lively, a western Massachusetts native whose family has lived in the region since the 1600s, established Redemption Gate Mission Society a few years ago and set up the Holy Grounds Coffee House in inner-city Springfield to bring Christian faith to the downtown area.
Although the ministry's focus is on helping people live by Christian Biblical principles, Dr. Lively has been attacked by anti-Christian liberals because of his past writings documenting and opposing the homosexual movement, and his pro-family activism around the world. They have tirelessly attempted to spread lies about him and marginalize him. But at the same time, the coffee house has gained great popularity in the neighborhood as a spiritual oasis in an often dangerous area.
| | |
| --- | --- |
| | Subversive material. Bumper sticker and button given out in the coffee house. Apparently too radical for the local liberals. |
The opening salvo: Vile anti-Lively ad published in local newspaper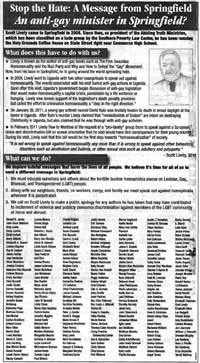 In the Sunday Nov. 13 edition of the area's local newspaper The Springfield Republican, a shocking display ad appeared attacking Scott Lively and falsely charging him with a list of various "hate" crimes. It also included the names of over 250 people as signatories. A few of the names are recognizable as local residents or statewide homosexual activists, but most of them are untraceable and appear to be made up.

See the ad -- and our rebuttal -- HERE
Soon afterwards Occupy Springfield acknowledged that they produced and paid for the ad. And they reiterated their intent to drive his Christian ministry out of town.
Across America -"Occupy's" tactic of targeted demonstrations
Since the its beginning earlier this year, a primary tactic of the "Occupy" movements across the country has been to march from their urban encampments and harass specific targets with loud, intimidating demonstrations. They will often go to downtown corporate offices to intimidate employees, or to homes of executives.
It's also becoming clear that the "economy" is a convenient front for their larger anti-American, pro-Palestinian, and anti-Christian agenda. On Nov. 4 Occupy Boston stormed the Israeli Consulate — just as the Jewish Sabbath was beginning – and held a sit-in in the lobby screaming pro-Palestine and anti-Israeli slogans. (However, they don't seem to protest at North Korea's, China's, Cuba's, Iran's or Syria's consulates.)
The "Occupy" demonstrations are very well planned. They include signs, banners, chants, slogans, a beating drum for effect, and a well-rehearsed public reading of their complaint against the particular target. Make no mistake: Underneath their sloppy appearance is a well-oiled political machine.
And thanks to local left-wing politicians the Occupy protesters march wherever they want, completely ignoring local laws, permit requirements, or the like. With few exceptions they arrogantly take over streets, cause disturbances, and intimidate their targets without any police interference whatsoever.
Occupy Springfield's plan to march on the coffee house
Around mid-week After the Sunday ad appeared, Occupy Springfield's Facebook page revealed plans for a march to Scott Lively's coffee house in order to personally harass him as part of their intimidation campaign to close him down. They set the time for 1:30 pm on Friday afternoon to begin their demonstration.
Christian mission supporters gather to fight back!
Word quickly got out around to Scott's friends and supporters throughout the Springfield area about the impending demonstration. People were outraged when they heard about it. They were determined not to let Scott Lively face this alone – they would come and stand with him. Although hundreds of Scott's supporters expressed a desire to be there that day, because of the short notice (and jobs and family commitments) only a fraction were able to make it. But they were very determined!
By 1:15 on Friday the coffee house was full of people ready to stand shoulder to shoulder with Scott! There were veterans, parents, grandparents, a mother with her baby, students, local neighborhood residents and a pastor and congregates from a local church.
They had home-made signs, American flags, Tea Party flags, and they even brought a few Israeli flags to give the Occupy people a real message!
| | |
| --- | --- |
| Brian Camenker of MassResistance (right) with Pastor C. S. Cooley of Springfield. | |
At 1:30 pm no one from the Occupy group had shown up. So several Christian activists decided to go to them. Ironically, Occupy Springfield runs its operation out a the storefront office rented by a far-left group called "Arise for Social Justice" — which is located just four doors down on the same block as the coffee house!
About a dozen Christians walked over to their storefront and stood outside, daring them to come out. But instead of coming out, they went out as cowards through the back door to reorganize several blocks down the street.
| | |
| --- | --- |
| | Come on out! Outside of the "Arise for Social Justice" office daring them to come out. But they sneaked out the back door to join their comrades. |
The Occupy demonstration arrives at the coffee house!
A little after 2 pm they showed up. About two dozen of them marched up the street with signs, a drum beat, and a big banner. When they got to the coffee house they had planned to march around in a circle in front of it. But about 20 Christians came out with their own signs and faced them head-on on the sidewalk in front of the door. So they gathered in the other part of the front area.
The Occupy people began beating their drum louder, waving their signs, and screaming chants and epithets. Then they began shouting their written diatribe against Scott Lively, demanding he leave town.
The scary thing was the look in their eyes of pure hate. For most of us was the most chilling part of the day. And in their twisted ideology Christianity and traditional values constitute "bigotry" — while socialism, Marxism, sexual perversion, and the like is "love." They waved their pro-homosexual signs screaming "Preach love, not hate." It was bizarre.
The Christians didn't back down a bit, and shouted back "We Love Scott" and "Tell the Truth" (and a bit of "Occupy a Job"). Scott himself came out and stood in the middle of the near-melee and calmly read Bible verses, while they screamed at him and banged their drum.
They marched to the coffee house behind a white banner.

And our side was there to meet them!

They stopped and held up their banner in front of the building.

They gathered in front of it and started shouting out their list of grievances against Scott Lively.

Then they began to march forward but our people stood in the sidewalk.

Scott Lively came out and read some Bible passages, while they tried to shout him down.

Our people continued to hold their ground and not be intimidat-
ed.

Finally the "Occupy" mob gave up and but our side stayed and waved our flags.
After a while it became clear to them that they weren't intimidating anyone or making any headway at all. So they turned around and, as quickly as they came, marched away.
A great day for the pro-family movement and for America
Looking back, it was a great afternoon for our side. One really got the sense that this is a spiritual battle and we had stared them down. Like all radical leftists, they have a bully mentality and have difficulty with anyone not giving in. We're sure they'll be back, of course. And when they do, good people will stand up to them again.
We must all continue to confront this. Despite all of the hype in the liberal press, there should be no question that the "occupy" movement is simply another flavor of the radical liberal/progressive movement. And it's further proof that despite certain (RINO) conservatives' insistence to the contrary, the "social" and "fiscal" battles are completely intertwined.
Postscript – Pathetic news coverage from local liberal press
The subsequent press coverage in the local newspaper, the (left-wing) Springfield Republican and on their MassLive.com website, was as usual pathetically biased and incomplete. In this case, it was a re-hash of their usual anti-Scott Lively pabulum with their "news" of the event completely from the Occupy people's perspective. Their reporter wasn't there and apparently made no attempt to contact the coffee house. If you get a chance, contact the reporter and tell her the rest of the story that she missed.

Truth . . .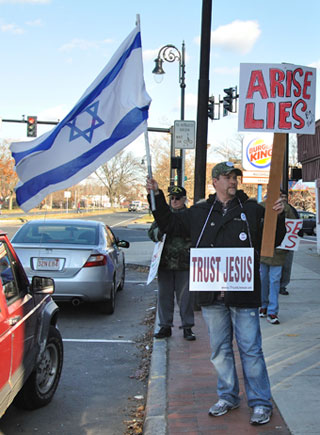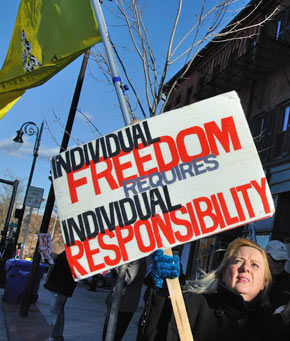 . . . Versus blind anger