Huge gay lawsuit vs pro-family pastor in Federal Court this Monday!
1. Soros-funded group suing Pastor Scott Lively for "crimes against humanity" in Federal Court. Punishing him for Christian, pro-family position on homosexuality. Oral arguments begin Monday morning!

2. Homosexual groups organizing to "pack the courtroom" at Monday's Federal Court hearing. Followed by rally and press conference.
We need YOU to come, too, to show pro-family support.

3. Lively receives death threat, harassment, intimidation from homosexual activists as court date nears.

4. Fundraising update.
POSTED: January 4, 2013
1. Soros-funded group suing Pastor Scott Lively for "crimes against humanity" in Federal Court. Punishing him for Christian, pro-family position on homosexuality. Oral arguments begin Monday morning!
On Monday morning, January 7, at 11:00 am in the Federal District Courthouse in Springfield, Massachusetts, oral arguments will be heard on the most outrageous lawsuit anyone can imagine.
| | |
| --- | --- |
| | Pastor Scott Lively |
Pastor Scott Lively, a well-known pro-family writer and speaker who also runs Redemption Gate Ministry and the Holy Grounds Coffee House in Springfield, Mass., is being sued by a George Soros-funded New York-based pro-homosexual "civil rights" group for so-called "crimes against humanity" which they claim include his alleged inciting of murder, torture, and other crimes in Uganda!
Angry at Pastor Lively's visits to Uganda
The lawsuit is not based on any actions by Lively himself, but simply his pro-family oriented meetings and conversations he had with church leaders and public officials on pro-family issues during trips to Uganda in 2009.
Homosexual activists are making the outlandish claim that his conversations and speeches caused the Uganda Parliament to introduce a harsh anti-homosexuality bill. Though the bill was never passed, they claim that its introduction led to attacks on the homosexual community in Uganda. Thus, they are suing Lively in the U.S. for these alleged (and often disputed) attacks in Uganda by others!
Moreover, all of Lively's actions and speech were (and still are) completely legal both in Uganda and in the United States. And Lively has not been charged with any crime in either country.
Lawsuit: Pro-family speech = "Crimes against humanity"!
Nevertheless, on March 14, 2012, the Soros-funded "Center for Constitutional Rights" (CCR) filed the 47-page lawsuit in Federal District Court in Springfield, Massachusetts against Pastor Scott Lively. CCR filed the suit on behalf of a fringe homosexual group in Uganda, "Sexual Minorities Uganda" (SMUG). Then on July 13, 2012, they re-filed it as a 61-page amended complaint.
Read the 61-page amended lawsuit against Scott Lively HERE.
Based simply on Pastor Lively's pro-family speeches and conversations in 2009, they are charging Pastor Lively with "violating the law of nations" and "crimes against humanity" as well as conspiracy and various "civil rights" crimes. Thus, they are using a US court to attempt to prosecute him for alleged "anti-gay" crimes unconnected to him, which took place overseas in Uganda by people he never met or spoke to.
The suit is asking for compensatory damages, punitive damages, exemplary damages, attorneys' fees, and a "declaratory judgment that the Defendant's conduct is in violation of the law of nations" as well as "all such other and further relief that the court may deem just and proper."
In addition, CCR is asking the court:
For injunctive relief enjoining the Defendant from undertaking further actions, and from plotting and conspiring with others, to persecute Plaintiff and the LGBTI community in Uganda on the basis of their sexual orientation and gender identity, and strip away and/or severely deprive Plaintiff and LGBTI community in Uganda of fundamental rights, including the rights to freedom of expression, association and assembly, to be free from torture and other cruel, inhuman and degrading treatment, and arbitrary arrest and detention . . .
Scott Lively's legal team -- Liberty Counsel
Scott is being represented pro bono by the pro-family legal group Liberty Counsel, based in Florida. His Liberty Counsel legal team includes attorneys Horatio Mihet and Steve Crampton, with help from Michael DePrimo. His Massachusetts-based lawyer is Philip Moran.
Liberty Counsel counters charges, files lengthy Motion to Dismiss
On August 8, 2012, Liberty Counsel filed a 109-page motion to dismiss.

Read the 109-page motion to dismiss HERE.

In our original report in March, MassResistance wrote that we had considered doing a point-by-point refutation of the charges against Lively. But it would be too big a project. Almost every line of the lawsuit contains some kind of ridiculous assertion or twisted logic attempting to connect Lively to real or imagined horrors in Uganda!

Fortunately, Liberty Counsel attorney Horatio Mihet did a very good job of summarizing and refuting all the charges -- and it took 109 pages to do it! That's how absurd the allegations against Lively are.

The major points in the refutation are:
The plaintiff lacks standing. The plaintiff, SMUG, does not allege a concrete injury to itself, but to homosexuals in Uganda in general.

The court lacks subject-matter jurisdiction. SMUG is asking a United States court to punish an American, Scott Lively, for "crimes against humanity." To support this, they refer to an international treaty (the so-called "Rome Statute") that the United States expressly rejected. And furthermore, these "crimes against humanity" are actually simply political discourse in the public square, having no relation whatsoever to actual crimes. Lively's First Amendment right to engage in non-violent political speech is protected. In addition, the Alien Tort Law, which is a major part of their argument, has never been construed to address issues regarding "sexual orientation and gender identity."

The complaint fails to state a claim upon which relief can be granted. The complaint cannot objectively connect Lively with any actual crimes. Nor has he been accused of or charged with any crimes. In fact, SMUG does not allege that Lively ever incited anyone to imminent violence. SMUG is instead alleging that Lively is somehow responsible for certain crimes committed in Uganda by other individuals not connected with him in any way.
The 109-page response also addresses a long list of other absurd accusations including the ridiculous charges of conspiracy, persecution, joint criminal enterprise, and more.

As a legal vehicle, CCR is using the "Alien Torts Act," an obscure U.S. law dating back to the late 1700s. Through a strange interpretation of that law that has never been attempted before, CCR is claiming that residents of Uganda can come to the U.S. and sue Scott Lively, an American, for activity (speech) which was perfectly legal in both Uganda and the U.S. Nothing in the Alien Tort Act allows a US citizen to be prosecuted for alleged crimes in other countries.

Here is Scott Lively's detailed analysis of the lawsuit against him.
You can also learn more at Scott Lively's website DefendTheFamily.com.
How this affects you
This could very be a chilling glimpse into everyone's future. They want to silence Scott Lively, bankrupt him, punish him, and make him an example for others. (We know - MassResistance is going through the same kind of thing.) If they are successful, anyone else could be next.

The homosexual movement will stop at nothing, no matter how expensive our outrageous, to destroy anyone who gets in their way -- unless good people fight back.

Luckily, Scott Lively is absolutely fearless and principled, and is not backing down. He deserves everyone's total support.
What about the judge?
Federal Judge Michael A. Ponsor is considered moderately liberal (i.e., not a raving leftist) but one who respects the First Amendment. By any objective measure, he should throw out this absurd case. But as we've seen in the recent Supreme Court case regarding ObamaCare, sometimes politics gets in the way. We'll see what happens.
What happens on Monday
The oral arguments on Monday are strictly on Lively's Motion to Dismiss. It could take a few hours or more.

If the judge grants the motion to dismiss (as he should by any normal standards) then the case is essentially over. If not, then a trial date will be set at some point.
For more information on the lawsuit, including background, what happened in Uganda, the timeline, links to filings, and more, click here.

Inside Scott Lively's Holy Grounds Coffee House — a patron and supporter with her message to the world.
[MassResistance photo]
2. Homosexual groups organizing to "pack the courtroom" at Monday's Federal Court hearing. Followed by rally and press conference. We need YOU to come, too, to show pro-family support.

Because of his articulate pro-family stands, Pastor Scott Lively is a major target of the homosexual movement. So this is more than a major lawsuit. Going after him has become a full-blown campaign. CCR even created its own anti-Lively logo (below) and has aggressively pushed this in the media and throughout the homosexual political community.

| | |
| --- | --- |
| The far-left Center for Constitutional Rights (CCR) created this logo! | |
Plan to "pack the courtroom" with homosexual activists
The homosexual movement has announced it is going to "pack the courtroom" on Monday with their supporters from across the state - just to let the court know it's being watched by them. And right afterwards, they have announced they will hold an anti-Lively rally and press conference at the courthouse.

| | |
| --- | --- |
| | The United States Federal Courthouse in Springfield, Mass. |
The Internet calls to "pack the courtroom" has been going out for at least the last few weeks. The two main websites promoting this are Center for Constitutional Rights (CCR) and the Massachusetts homosexual extremist group "Join the Impact".

(Join the Impact is a particularly vicious group, with terrorist-like activity going back years -- which, of course, no one is ever arrested for. For example, in 2009 they helped organize a screaming attack on a downtown Boston church. They also targeted Scott Lively while he was giving a prayer at a Tea Party event on the Boston Common last spring -- see #3 below.)
We need YOU to come and make YOUR presence felt!
It is very important that the homosexual movement not be allowed to completely dominate this court hearing. You need to come and make your presence seen and felt also!

Scott Lively is encouraging as many pro-family citizens as possible to show up. He's doing the heavy lifting in this. It's the least we can do to show up if we can.

Here's what he has sent out to supporters:
"This is an extremely important case with serious implications for Christian First Amendment rights, and the possible intrusion of ultra-liberal European legal standards into American courts. Please pray for the judge to grant our motion, and if you can be at the courthouse please come. Signs are obviously not allowed in court but if you want to bring one for outside before and/or after the hearing (or during it if you can't get in), make it in support of me or religious liberty."
We hope to see you there!
United States Federal Courthouse
300 State Street
Springfield, MA, 01105

Monday morning, January 7, 2013
Hearing begins at 11:00 am; Get there at 9:30 am if you want a seat
3. Lively receives death threat, harassment, intimidation from homosexual activists as court date nears.

Besides the lawsuit, the homosexual movement has gone to great lengths to personally harass and intimidate Pastor Scott Lively. Here's some of what he's been enduring to stick up for our right to exercise pro-family speech in America:
* Death threat. This was phoned to Scott Lively last month:
"Denounce the Uganda Nazi bill or I will hang you and burn you alive, you disgusting Nazi maggot. You're a Nazi. You're not a human. You're a parasitic maggot and if you don't get the f*** out of this country you will die."

LISTEN to the phoned death threat here
* "Get out of town" hate note. This was left on his front gate a few weeks ago.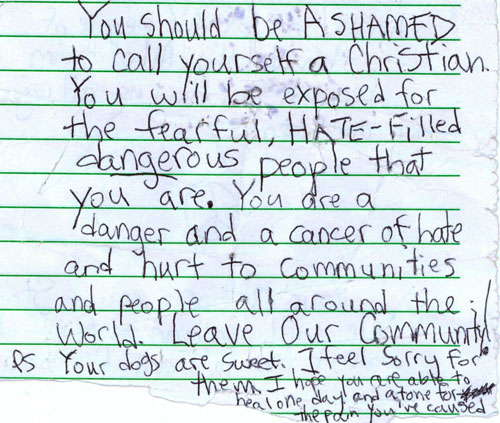 This is just a culmination of recent attacks against him, which include:

* Vicious display ad in local newspaper attacking Scott Lively. Ad falsely charges him with a list of various "hate crimes." It includes the names of over 250 people, most of which are untraceable and appear to be made up.

* Mob of "Occupy" activists terrorizing Lively's Christian coffee house. See article, photos, and video.

* "Attack" article against Lively by Boston Globe. They even included video of him! See article HERE.

* Screamed and harangued while Scott Lively was giving a prayer at a Tea Party event on the Boston Common last April. The homosexual group "Join the Impact" helped organize and lead the disruption.

While Pastor Scott Lively was reading from the Bible during a prayer at a Tea Party event, homosexual activists screamed and did their best to disrupt it. [MassResistance photos]