Fighting back against nomination of activist lawyer for judgeship in Mass:
1. Outrageous nomination of radical activist judge to Superior Court by Mass. Governor.

2. Pro-family leaders dominate testimony at nomination hearing before Governor's Council, despite rude treatment by Council members.

3. Boston Herald editorial attacks pro-family outrage at hearing.

4. Vote on nominee Wednesday. Mass. citizens: Take Action! Also: Serious constitutional issues about hearing.
POSTED: July 21, 2012
1. Outrageous nomination of radical activist judge to Superior Court by Mass. Governor.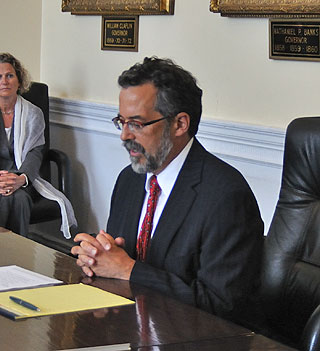 Salinger addresses overnor's Council during
hearing. (MassResistance photo)
Pro-family citizens have decided: No more anti-family activist judges in Massachusetts!
Pro-family activists, including MassResistance, dominated the confirmation hearing on Wednesday for a left-wing activist attorney, Kenneth Salinger, nominated to be a Superior Court judge by (the ultra-left) Governor Deval Patrick.

The pro-family testimony was, not surprisingly, met with hostility and rudeness by the elected officials on the Governor's Council. It was so startling and annoying to the left that the Boston Herald wrote an editorial about it in Friday's edition. The vote is scheduled for this Wednesday afternoon, July 25. But there are also serious questions about the constitutionality of Wednesday's meeting.
How radical is he?
The nominee, Kenneth Salinger, would be every pro-family citizen's nightmare as a judge. Salinger has given thousands of dollars to the radical activist group MoveOn.org, the pro-abortion group EMILY'S List, and various left-wing politicians across the country.
EMILY'S list ("Early Money Is Like Yeast") funds pro-abortion politicians in the early stages of their campaigns against conservatives. MoveOn.org is a radical national left-wing activist group that organizes pro-Obama political action and supports campaigns across the country for same-sex "marriage" and homosexual school projects such as the "Love Makes a Family" movie.
Salinger is currently working for the Massachusetts Attorney General's office. At the AG's office he has been particularly zealous in helping to fight legal challenges to anti-family legislation such the Buffer Zone law.
He previously was a partner at the Boston law firm of Edwards Angell Palmer & Dodge. While there, he co-wrote an amicus brief asking the federal courts to declare the military's "Don't ask don't tell" policy unconstitutional.
Salinger left the Boston firm in 2006 to join the AG's office (at a considerable loss of pay) to get more involved in "public service" (according to testimony) - which usually translates to liberal activism.
Terrible situation in Massachusetts judiciary is legendary
Massachusetts is known nationally for its terrible anti-family court system. Some well-known cases include the 1995 South Boston St. Patrick's Day Parade case (where the pro-family group lost on every level in the state courts -- then won 9-0 in the US Supreme Court), the infamous Goodrich same-sex "marriage" ruling, and the David Parker case (ended up in federal court), and there are many others. It's come to a point where pro-family people are unwilling to go to court for help anymore. This is particularly exacerbated in the family courts.
Many conservatives have thrown up their hands and given up. But this nomination may be the turning point.
---
2. Pro-family leaders dominate testimony at nomination hearing before Governor's Council, despite rude treatment by Council members.
The 8-member Governor's Council (elected in districts across the state for 2-year terms) which votes on confirming judges, convenes in a meeting room in the Governor's suite in the State House. The meetings are open to the public, but few show up. It's unfortunate that more people don't pay attention to this body; their decisions affect the state for decades.
Wednesday's hearing started at 1 pm sharp. Councilor Marilyn Devaney was chairing the meeting, and Charles Cipollini was the only other Councilor present, along with Salinger. About twenty spectators and witnesses who came to testify were also there. Later on, Councilors Terrance Kennedy, Jennie Caissie, and Christopher Iannella drifted in. Councilors Thomas Merrigan and Mary-Ellen Manning never showed up.
First, Salinger's prepared list of witnesses each stood up and spoke at length in his favor. They included people from the AG's office, from his former firm, and a lawyer at another Boston firm, and even a receptionist. One of the more troubling "good" points they made was how Salinger was always "part of the team." Is this the team that includes gong along with the liberal group-think? Another obvious red flag.
Opposition dominates the afternoon!
Then it was the "opposition's" turn. One by one they stood up and spoke. From the beginning it seemed that Devaney was not interested in enduring much opposition testimony. She was clearly annoyed that several pro-family leaders not only came but articulated very direct concerns and outrages.

| | |
| --- | --- |
| Patrick McCabe, a Governor's Council candidate in this year's elections, told the council that Salinger's contributions to radical causes showed that he was far too biased for the bench. McCabe has posted a list of Salinger's donations on his website. (Let's hope that McCabe, a Democrat in District 2, gets elected!) | |
| | |
| --- | --- |
| Brian Camenker of MassResistance talked about the longstanding bias permeating the Massachusetts court system, how it affects all pro-family citizens, and how Salinger's contributions to radical groups and candidates will only exacerbate that. Camenker then described the widespread feeling across the state that Governor's Council members seemed less interested in protecting the public from biased judges, and more interested in not offending the liberal establishment. Normally those kinds of comments are fair game at a public hearing - legitimate feedback to public officials. But this time Marilyn Devaney interrupted Camenker, rebuked him and told him he could not speak "off the subject." It was pretty shocking. | |
| | |
| --- | --- |
| Joe Ureneck of the Fatherhood Coalition described expressed a huge concern that Salinger's financial support of groups generally supporting the biased and often oppressive treatment of fathers in divorce and child disputes would make the already bad situation in Massachusetts only worse. | |
Retired Boston attorney Joseph Lydon came well prepared and spoke for nearly half an hour. He discussed EMILY'S List, MoveOn.Org, and the radical politicians around the country Salinger gives money to. Lydon went into detail about Salinger's relatively short and uninspiring legal career, his curious move from prestigious law firm to the Attorney General's staff ("basically a bureaucrat"), and how these seem to be odd and inappropriate qualifications for a Superior Court Judge. Salinger's nomination is clearly an ideological appointment, not a quality one, he insisted.

| | |
| --- | --- |
| | Attorney Joseph Lydon makes a point while Councilors Jennie Caissie and Terrence Kennedy (seated at table) look on. |
After that the Councilors began their direct questioning of Salinger. Charles Cipollini was particularly probing in his interrogation, and this seemed to bother Devaney and most the others. Christopher Iannella made the troubling comment to Salinger that he felt it was "admirable" that he gave contributions to these groups.

During that questioning, C.J. Doyle of the Catholic Action League of Massachusetts arrived and requested to be allowed to testify. Devaney reluctantly agreed, after reminding him that the official period for opposition testimony had passed. Doyle began to discuss his fears that religious liberty would be in jeopardy with someone so obviously biased. But then, halfway through, Devaney stopped him and made him swear under oath that his statements were true. We have never seen this happen in any State House public hearing.

Doyle continued, but then several times during his testimony Devaney turned to Salinger and gave him an opportunity to comment on what Doyle had just said! That's also completely unprecedented in our experience. When Doyle concluded, Devaney further rebuked him, saying that "religion shouldn't be an issue here." Unbelievable.


C.J. Doyle at the hearing room.
Interesting in their absence: The "moderate" pro-family and pro-life groups in Massachusetts did not come at all to testify.

---
3. Boston Herald editorial attacks pro-family outrage at hearing.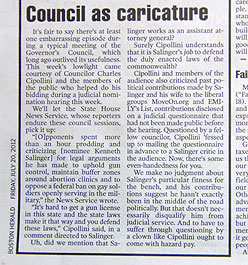 You can tell that we hit a nerve with the liberal establishment. On Friday the Boston Herald published an editorial about the hearing. They bashed Councilor Cipollini, calling him a "clown" and said that the list of outrages against Salinger "doesn't necessarily disqualify him from judicial service."

Note that the Herald didn't bother to actually go to the meeting, even though their State House news office is just down the hall. They relied on the State House News Service for their "facts" of what happened. It always seems to bother the media when conservatives rail against left-wing judicial appointments. But they weren't ready for this.
Council as caricature
Boston Herald Editorial
Friday, July 20, 2012

It's fair to say there's at least one embarrassing episode during a typical meeting of the Governor's Council, which long ago outlived its usefulness. This week's lowlight came courtesy of Councilor Charles Cipollini and the members of the public who helped do his bidding during a judicial nomination hearing this week.

We'll let the State House News Service, whose reporters endure these council sessions, pick it up:

"[O]pponents spent more than an hour prodding and criticizing [nominee Kenneth Salinger] for legal arguments he has made to uphold gun control, maintain buffer zones around abortion clinics and to oppose a federal ban on gay soldiers openly serving in the military," the News Service wrote.

"It's hard to get a gun license in this state and the state laws make it that way and you defend these laws," Cipollini said, in a comment directed to Salinger.

Uh, did we mention that Salinger works as an assistant attorney general?

Surely Cipollini understands that it is Salinger's job to defend the duly enacted laws of the commonwealth?

Cipollini and members of the audience also criticized past political contributions made by Salinger and his wife to the liberal groups MoveOn.org and EMILY's List, contributions disclosed on a judicial questionnaire that had not been made public before the hearing. Questioned by a fellow councilor, Cipollini 'fessed up to mailing the questionnaire in advance to a Salinger critic in the audience. Now, there's some even-handedness for you.

We make no judgment about Salinger's particular fitness for the bench, and his contributions suggest he hasn't exactly been in the middle of the road politically. But that doesn't necessarily disqualify him from judicial service. And to have to suffer through questioning by a clown like Cipollini ought to come with hazard pay.

---
4. Vote on nominee Wednesday. Mass. citizens: Take Action!

Vote on nominee is Wednesday. Taxpayers lawsuit being prepared. If you live in Massachusetts, take action now!

This needs to be opposed on a wide level. If you live in Massachusetts, you need to weigh in. Judges serve for decades and can do a tremendous amount of damage. If you don't get involved now, complaining about "activist judges" won't do you any good later on.
Contact the Governor's Council Members
The vote is scheduled for Wednesday, July 25, at noon in the Governor's offices. The public can attend. But these councilors need to hear from you before then.

Here's the list along with our (admittedly blunt) comments of the seven current council members. (District 2 is currently vacant.) If they don't hear from you, they'll think you don't care. Let them know that they MUST vote against this outrageous nomination, and you will campaign against them in November if they approve this person.
Don't be afraid to call them personally. Here's the lowdown:
Their contact information, including phone numbers and email addresses are here.

Charles O. Cipollini - District 1
He's on board. Very pro-family. No need to call him.
(Has opposition in General Election--from his brother, who's also good!)

Marilyn M. Petitto Devaney - District 3
Rude and arrogant. Needs to hear from everyone.
(Has opposition in Democratic primary)

Christopher A. Iannella - District 4
A hack's hack and an insufferable liberal. Needs pressure.
(Has opposition in Democratic primary)

Mary-Ellen Manning - District 5
Received a $75 donation from Salinger. Will probably support him unless pressured. [Didn't show up for hearing.]
(Running for State Senate this November.)

Terrence W. Kennedy - District 6
Arrogant liberal, openly hostile to pro-family position. Needs to hear your outrage.
(Has opposition in Democratic primary)

Jennie L. Caissie - District 7
A Republican, who has indicated she will oppose the nomination.
(No opposition)

Thomas T. Merrigan - District 8
A hack who always votes the party line. Needs to hear from you. [Didn't show up for hearing.]
(Not running for re-election)
Serious constitutional issues.
Besides the obvious hostility by the councilors, it's pretty clear that Wednesday's public hearing had some serious constitutional issues that should at the least cause a postponement and re-visiting of this process.

Quorum issue. The Massachusetts Constitution requires a minimum of 5 councilors present for the council to meet. But the meeting began with only two, and five weren't there until much of the testimony had finished.
Presiding officer of meeting. But more importantly, the Constitution requires that only the Governor or Lt. Governor preside over council meetings. This one was instead presided by one of the members, Marilyn Devaney.
Article IV. The governor shall have authority from time to time, at his discretion, to assemble and call together the councilors of this commonwealth for the time being; and the governor with the said councilors, or five of them at least, shall, and may, from time to time, hold and keep a council, for the ordering and directing the affairs of the commonwealth, agreeably to the constitution and the laws of the land.

Article II. The governor, and in his absence the lieutenant governor, shall be president of the council, but shall have no vote in council: and the lieutenant governor shall always be a member of the council except when the chair of the governor shall be vacant.
This kind of intentional sloppiness and disregard for the law is an outrage and an insult to every citizen. Why do they feel they can get away with it? Because everyone is playing the game and no one challenges them. It also reflects how little they feel about the importance of vetting judicial candidates.
This needs to happen in the next few days. PLEASE BE PART OF THE SOLUTION. We will keep you informed on this!
| | |
| --- | --- |
| | Too many of our problems start here. |