Powerful pro-family coalition poised to stop "gay marriage" from passing in Illinois legislature!
They are leading in House & keeping up pressure. Session ends in two weeks.
POSTED: May 19, 2013
If you're looking for some good news - here it is! All eyes are on Illinois.
We've watched the legislatures in state after state capitulate to the well-funded and well-organized "gay marriage" blitzkrieg. This year the final state in the "gay marriage" path is Illinois. But it looks like the "gay lobby" will probably be stopped there by a marvelous pro-family army!
| | |
| --- | --- |
| Telling it like it is. Pastors' press conference organized by Illinois Family Institute to stop "gay marriage' from coming to Illinois. | |
With only two weeks until the current session ends, it's down to a final vote in the House. After months of intense lobbying, the "no-on-gay-marriage" votes have a pretty strong lead, which actually seems to be growing a bit. It appears from this delay that unless it is clear there are the 60 "yes" votes needed to pass, the leadership will not bring it up for a vote.
Unprecedented pro-family force in Illinois
How is this happening with (1) the enormous funding that the gay lobby there has, (2) the incredibly slanted Illinois media pushing for it, and (3) the corrupt nature of Illinois politics? The answer: Hard work, an uncompromising non-mushy attitude, a great coalition of groups and churches, and enough funding from local pro-family donors to do what is necessary.
Leading the fight is a coalition organized by the Illinois Family Institute (IFI), including the Illinois Catholic Conference, the African American Pastors' Coalition, various Evangelical churches, Hispanic churches, Korean and Chinese churches, and several other groups.
By all accounts, Illinois has never pulled together like this for a pro-family issue. Among other things, IFI has organized a series of Pastor Breakfasts across the state, which have been extremely successful. In a few short months, churches have become a major force like never before.
| | |
| --- | --- |
| | Marshalling the troops. On May 14, this pastors' breakfast to confront the "gay marriage" bill attracted over 200. |
Black churches taking a big role
It's generally believed that in order to pass "gay marriage", the homosexual lobby needs the entire 20-member House black caucus to vote "yes". Right, now they're not even close. And the African-American churches, particularly the big ones in Chicago, are stepping up and are putting huge pressure on their state reps. These reps have never before had to face any backlash when voting against the values of their constituents, and they're not liking it.
The churches are taking it right to the people. Recently over 400,000 robo-calls went out in Chicago, East St. Louis, and Peoria from Rev. James Meeks, pastor of a huge church in Chicago. His message: "Your representative needs to hear from you!" Here is one of the robo-calls.
Several reps are being told they will face a primary challenger if they vote "yes".
Catholic Cardinal speaking out
As we reported earlier, On January 1, Cardinal Francis George of Chicago sent a powerful letter to every priest in the Archdiocese of Chicago strongly opposing the "gay marriage" efforts. And the Catholics have continued to speak out strongly.
Rallies outside offices of turncoat reps and fence-sitters
Citizens across the state are taking it directly to the reps. IFI and the coalition have organized pro-marriage rallies and demonstrations in key districts. They usually gather right outside the local offices of turncoat reps or fence-sitters. The message is that their neighbors in their district do not want them to cave in to the homosexual lobby and abandon traditional morality.
Of course, the homosexual activists try to get wind of these pro-family rallies and attempt to disrupt them, intimidate people with their vulgarity, etc. But it's not working. So far the pro-family citizens have outnumbered them by far every time and simply aren't being shut down.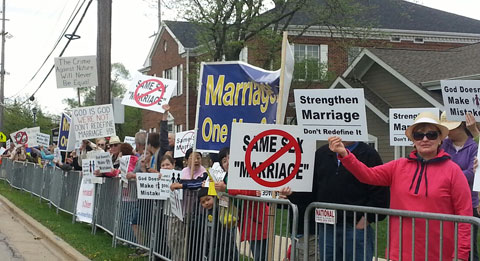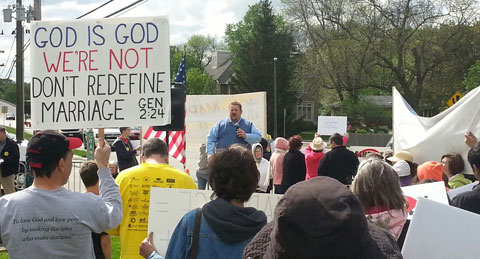 May 11: In Western Springs, IL, 120 pro-family people demonstrated outside of turncoat Republican State Rep. Jim Durkin's office. This was followed by a rally in a nearby park.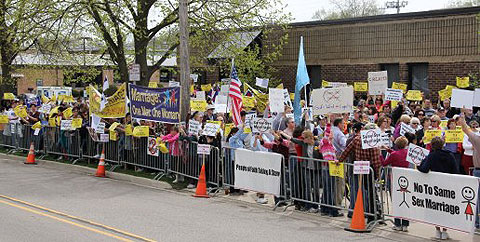 May 4: In Downer's Grove, IL, 300 pro-family people demonstrated outside turncoat Republican Rep. Ron Sandak's offce. In addition, hundreds of MassResistance's booklets were passed out.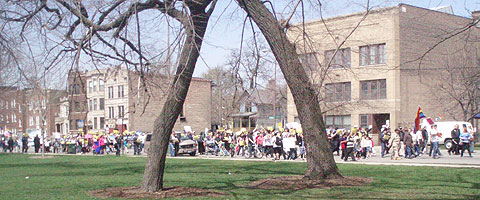 April 28: Nearly 400 people marched to Humboldt Park in Chicago and had a big pro-marriage rally. It was organized by local Hispanic pastors, and a wide range of pro-family people came


Peter LaBarbera, president of the Illinois-based advocacy group Americans for Truth about Homosexuality, and a veteran of the culture wars going back decades, has big praise for IFI and the coalition. "One of the reasons they're doing so well across the state is that IFI president Dave Smith is not playing the politically correct game that has hurt other battles. He's not avoiding the major issue -- which is homosexuality and the 'gay movement.' And he's not alienating people who recognize that."
| | |
| --- | --- |
| | Peter LaBarbera of Americans for Truth addresses the Western Springs, IL, rally on May 11. He is holding the homosexual book "King and King" which is read to schoolchildren in Massachusetts. |
Over 20,000 copies of MassResistance booklet passed out!
IFI has printed and distributed over 20,000 copies of the MassResistance booklet, "What same-sex 'marriage' has done to Massachusetts." This includes over 5,000 copies printed in Spanish for the Hispanic churches. And of course, every state legislator has received at least one copy.
| | |
| --- | --- |
| Kathy Valenti, IFI's Director of Operations told us, "These books are fantastic. They are an eye-opener to everybody who reads them. Once people read it they want more for their churches and neighborhoods." | |
NOM mostly a no-show
It's upsetting to report that the National Organization for Marriage (NOM) appears to be almost completely skipping the Illinois fight. Apparently they helped pay for the robo-calls by the African-American Pastors Assn. But besides that, no one we talked to has seen any evidence of anything NOM has done there, nor have they even been contacted by NOM.
It's noteworthy that the homosexual group "Equality Illinois" is raising money by claiming that NOM has a huge war chest to defeat pro-"gay marriage" lawmakers at the ballot box. Whether this is true or not, we don't know.
Coming down to the wire
Friday, May 31 is the last day of this session of the Illinois General Assembly. The homosexual lobby is desperately trying to get enough votes. The pro-family coalition is not letting up, but instead is increasing their pressure on the House members, and that's having an effect. Across the state it appears that the pro-family support is growing.
We think this is looking to be a big defeat for the homosexual Wehrmacht. We'll have a full report when the session closes.