Ground Zero this week in Illinois: Will there be a "gay marriage" vote in Legislature before session recess on Friday?
POSTED: May 29, 2013
As we reported last week, the Illinois legislature has been close to passing a "gay marriage" bill being pushed by a well-funded and well-organized high-pressure homosexual lobbying blitz. But it's been stalled thanks to a great coalition of pro-family and church groups, coordinated by the Illinois Family Association (IFI).
The bill sailed through the state Senate in February but it's run into trouble getting through the House, thanks to the coalition's great efforts. The House leadership has indicated that it won't come up for a vote unless the homosexual lobby has enough votes to pass it. This is the last week before the session recesses for six months, on May 31. So far our side has a slim lead. Can we hold it?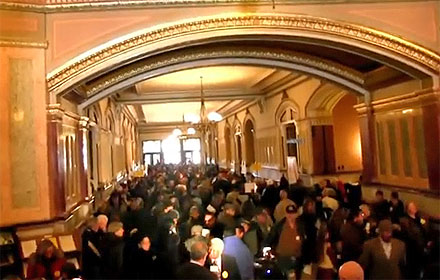 At this pro-family lobby day in the Illinois State House last February
it was so packed that the Fire Marshall had to keep anyone else
from coming in!
It's generally agreed that at this point it comes down to the 20-member black caucus. How they split their votes will make the difference. Right now, both sides are lobbying them extremely heavily. On our side, the African American Ministers Association is not letting up.
Last weekend homosexual lobby told the news media that they have the votes for it to go to the floor this week. But they've made that claim before and it didn't materialize.
We'll keep you up to date on all of this.
UPDATE ON NOM. In our last email we said that the National Organization for Marriage (NOM) was "mostly a no-show" in this, according to everyone we'd talked to. The day after we posted the email, one of our contacts called us again to say they'd been informed that NOM was helping fund the robo-calls for the African American Ministers Association in Illinois. And since then, NOM's two fundraising email blasts said they were in fact spending "upwards of $125,000" for the robo-calls and similar activities. We are great admirers of NOM, but it would have been nice if they'd gotten involved earlier, and had worked with IFI.