Gay Pride Week in Boston
Raising rainbow flag over Boston City Hall - state & local officials gather for ceremony
Attorney General says: I'll help help mold "our laws, our opinions, and our cullture" for the LGBT community.
POSTED: June 7, 2013
We've said it before: The rest of America should pay attention to what's happening in places like Massachusetts. This could be your future, too, if you're not vigilant.
"Gay Pride Week" in Boston began on Friday, May 31 with a rainbow flag ceremony at Boston City Hall. It lasts through Sunday, June 9.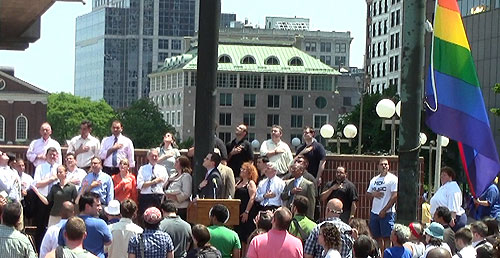 As the ceremony began it was an odd scene. They played the National
Anthem in the shadow of the huge rainbow flag.
It began with a show of political power. Prominent state and local elected officials gathered in front of Boston City Hall to pledge their support for the homosexual movement, make groveling speeches, and participate in raising the rainbow flag over Boston City Hall.
For those with traditional religious values who have been trampled by the homosexual movement for years it was a pretty frightening display. The message from the politicians was that the "gay" movement can rely on them to whatever it wants. From what we've seen in recent years they're very serious.
Those in attendance included:
City of Boston: City Council President Stephen Murphy. Boston City Councilors Felix Arroyo, Mark Ciommo, John Connolly, Rob Consalvo, Sal LaMattina, Bill Linehan, Matt O'Malley, Ayanna Pressley, Mike Ross, Charles Yancey. In addition, a lot of the Mayor's top staff and various candidates for Mayor of Boston.

Other State and local officials: Attorney General Martha Coakley, Congressman Edward Markey, Suffolk County District Attorney Dan Conley, Suffolk County Sheriff Steven Tompkins, State Reps Liz Malia, State Sen. Linda Dorcena Forry, State Rep. Marty Walsh
In particular, when the top law enforcement officers -- the Attorney General, District Attorney, and Sheriff -- show up and publicly support the radical homosexual movement, we know we're in trouble!
[MassResistance photos]
Justin Holmes, the Mayor's director of constituent engagement:

"I am so proud to be a member of the gay community here in Boston."

Boston City Council President Stephen Murphy:

"Earlier today we had the honor of hosting a breakfast with the Boston Pride Committee. It's a proud tradition. It's gone on for several years and it is the official start of a week's worth of invigorating activities which really bring to life the entire city of Boston."

Congressman (and US Senate candidate) Edward Markey:

"LGBT Rights are human rights. It's about basic human freedoms . . . I opposed 'Don't Ask Don't Tell.' I was proud to vote in favor of the legislation that finally repealed the ban on openly gay service members."

Attorney General Martha Coakley:

"I was proud as a District Attorney to be with you on needle exchanges . . . We know we still have work to do with the LGBT community, know that our laws and our opinions and our culture may not go far enough, we'll be with you to make sure that they do."

Gay Boston Public School teacher:

"As a teacher I get to mentor and be a face for them to respect and to mentor some students . . . And I'm also lucky to be an artist because when I need to reach more than just my small corner of Boston I get to use art and show visibility and make our LGBT community more visible and make our students feel safer at school."
Interestingly, the two "gay" issues that were recurring themes in the speeches were "gay marriage" and legalizing needle exchanges.

Boston Mayor Thomas Menino wasn't there, but he certainly wasn't left out. Menino is the Grand Marshal of Saturday's Gay Pride Parade. Holmes lavishly described Menino as:
". . . a man who has spent the last twenty years -- and even more as a City Councilor -- in support of our [LGBT] community at every turn -- marriage equality, and the earliest days of needle exchange. Our mayor has been with us every step of the way and has easily earned the moniker of 'the most pro-gay rights mayor in our nation.'"
VIDEO - Watch excerpts from the ceremony & speeches:
Part 1 of 2: Featured - Markey bragging about his opposition to DOMA and DADT, support for ENDA, etc.
Part 2 of 2: Featured - A.G. Coakley on how she'll keep fighting for LGBT rights.
| | |
| --- | --- |
| And here's the "gay flag" proudly flying at Boston City Hall. | |