Republican US Senate candidate Gabriel Gomez campaigns at raunchy Gay Pride Week event.
Claims to be a "new kind of Republican." A new trend?
POSTED: June 13, 2013
Is this a preview of the Republican Party's direction? If so, then we'd better start recruiting new candidates now.
Gabriel Gomez is the GOP candidate for the US Senate in the June 25 special election to replace John Kerry. In the primary, he was the big favorite of the national GOP establishment. They said Gomez represents the future of the Party. Gomez's slogan is that he's going to be "a new kind of Republican."
Well, he certainly is. No Republican candidate for US Senate has ever (to our knowledge) campaigned for office by having a booth at a Gay Pride festival. If this is the future, it ain't too pretty.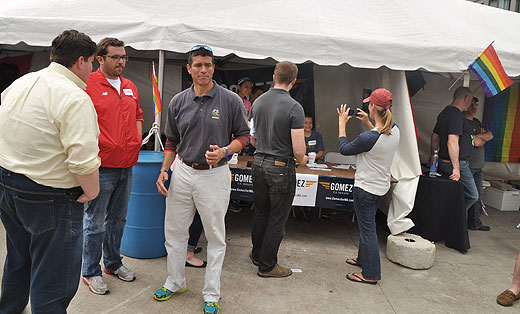 Republican US Senate Candidate Gabriel Gomez (third from left) stands outside of his booth at the "Gay Pride" Festival. Seated at the booth getting his photo taken by woman is Gomez's 8-year-old son. [MassResistance photo]
This past weekend's Gay Pride Parade went through downtown Boston and ended at City Hall Plaza, where, as in past years, a huge "Gay Festival" was held with numerous booths.
To be sure, not many politicians of any party buy a booth at that fairly raunchy event. But Gabriel Gomez not only had a booth, but he was there to greet people personally. And he brought his eight-year-old son to help run the booth, along with at least one very pro-GLBT campaign worker.
Diversity? No problem. Not too far away was the booth for the Bisexual Resource Center.
[Mass-
Resistance photo]
This "Celebration" has very "diverse" atmosphere, to say the least. Gomez's booth was not far from a booth featuring vulgar gay sex toys, a sado-masochism booth, and several booths giving out condoms and anal lubricant. We're not sure why he considers this an important constituency, but clearly he does.
Condoms, anal lubricant, and similar stuff was being given out at several booths.
[MassResistance photo]
Running to the left: "I'll be a pain in the butt to the GOP"
Earlier in the week, Gomez released a statement saying that he if elected he intended to be considered "a pain in the butt" to the Republican Party, and that he "will go to work on them" to "support allowing two people to get married, whether they are gay or straight."
This is not surprising given that Gomez had supported Obama in 2008 and had donated $500 to the Obama campaign, and said he supported Obama's positions on immigration and gun control. Gomez also gave $1,000 to ultra-liberal U.S. Senate candidate Alan Khazei. (Yes, that's the same Alan Khazei who hired infamous gay activist Kevin Jennings to run his non-profit group.)
On the abortion issue, Gomez claims to be "personally pro-life" but says that Roe v Wade is "settled law" and he would do nothing to take away a woman's right to an abortion.
| | |
| --- | --- |
| | Stating the obvious. The front page of last Wednesday's Boston Globe. |
Not surprisingly, Gomez's campaign is being run by a bunch of former top Romney people, who (in our experience) have always been more comfortable with this kind of message.
On April 30, Gomez won the GOP primary with 53% of the vote against two other candidates, but with the lowest voter turnout in recent memory. Gomez, a millionaire businessman, had a huge funding advantage, both from his own money and help from the Washington GOP establishment.
This past Wednesday, Gomez was formally endorsed by the predictably RINO Boston Herald, which said he is "a social moderate . . . that even what we used to call Regan Democrats could love." Good grief!
Hiring the right people. Staffer at the Gomez booth (right) sports sticker (closeup below) for radical homosexual group Human Rights Campaign. (NOTE: It was that group which illegally obtained IRS records of the conservative National Organization for Marriage.)
[MassResistance photos]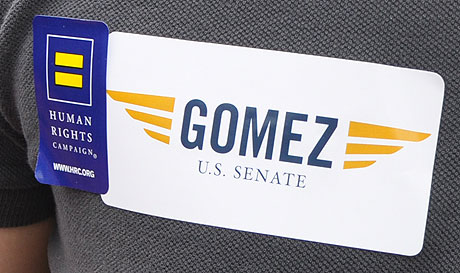 Should anyone vote for this guy?
Republican politicians in Massachusetts think they have the routine down pat: that they can be as left-wing as they want, and conservatives will vote for them because the Democrat is always "worse."
In this case an argument can be made that as bad as the Democrat is -- and Congressman Edward Markey is really bad -- the differences between him and Gomez are largely in degrees. They both basically support a lot of the same policies. But Gomez has already said he intends to work hard to change the Republican Party. That's a big danger.
Personally, we're going to blank out the ballot on June 25.