Boston Gay Pride - Part 2: Attacking traditional religion and the Catholic Church
Part 2 in our series: What Boston "Gay Pride" reveals about the LGBT movement in America. See Part 1 here

On June 8, 2013 the largest "gay pride" parade and (accompanying festival) in the city's history took over downtown Boston. In many ways, it was an unabashed public statement to the rest of society about itself and its goals for America.
[NOTE: Photos by MassResistance]
POSTED: June 29, 2013
To put it bluntly, the homosexual movement has a visceral hatred of Judeo-Christian religious values. We see it in their frequent angry and venomous outbursts against churches and religious people. It's far worse than most people realize.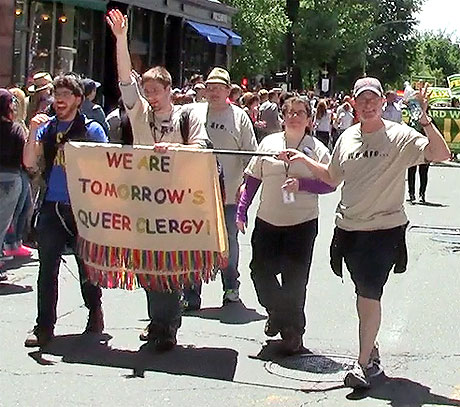 Traditional religion and the Bible have been society's spiritual barrier against the whole range of "gay" sexual practices and the modern LGBT political movement. Religion instructs us as to why we cannot accept their behaviors as normal or natural (meaning, of nature -- a creation of God). In particular, these radicals despise the Catholic Church because of its unyielding doctrine on moral issues.
This anger and animus was certainly on display at the Boston "gay pride" events. They don't try to hide it, but make it very public -- an "in your face" to any religious believers who might happen to be nearby. This is how the homosexual movement wants to change the face of religion in America (as they're already changing America's schools, corporations, and the military), as they continue to gain power.
Attack on God, the Bible, and religious followers
God and the Bible, as understood by traditional Christians and Orthodox Jews, is anathema to the homosexual movement. They can't hold their feelings back. The "Gay Pride" marchers wanted everyone to know they consider you to be backward and ignorant.
| | |
| --- | --- |
| | "Homophobia is an abomination" |
Hatred of the Catholic Church
The homosexual movement has a particular hatred of the Catholic Church. They go out of their way to attack the Church whenever possible.
BELOW: The "Sisters of Perpetual Indulgence" are a group of men who dress as hideous caricatures of nuns and come to homosexual events to insult the Catholic Church as much as possible, to the cheering and applause of the homosexual community and its allies. (They were even present at the last several Mass. LGBT Youth Pride events.)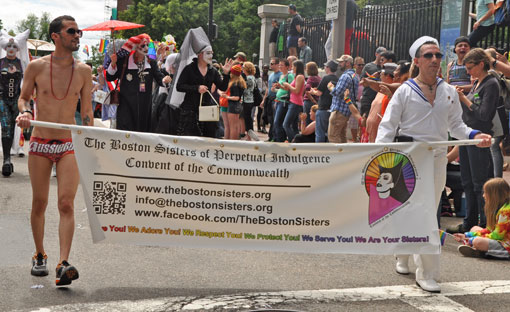 "The Boston Sisters of Perpetual Indulgence, Convent of the Commonwealth"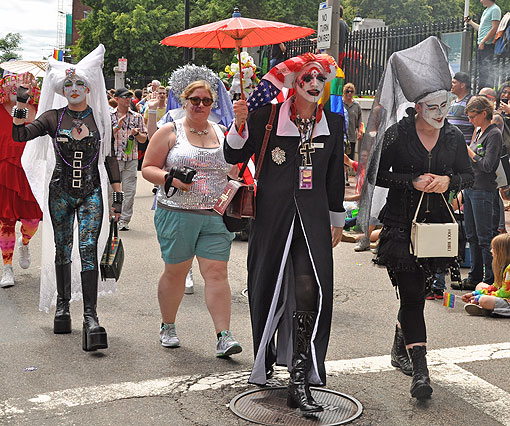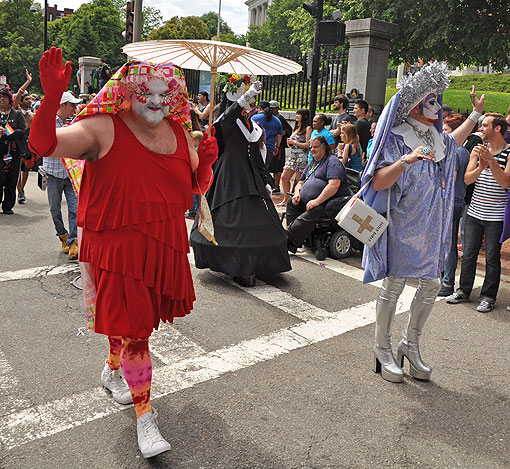 Pseudo-Catholic "religious" group
Also at the event was "Dignity" -- a "gay" pseudo-Catholic group that helps homosexual activists work to subvert the Catholic Church. Note the banner in the background, "Praise God with Pride."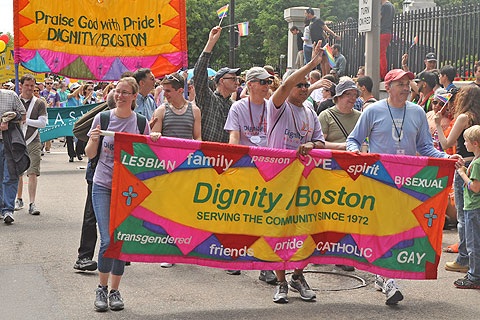 Here are a few of the "Dignity" handouts.
Proud of subverting churches across America
A major goal of the homosexual movement is to transform all religion in America into "gay affirming" religion. For many years they have expended enormous effort working from within churches, slowly subverting entire denominations. In some "mainline" Protestant churches (and non-Orthodox Jewish congregations) they've made headway, and their pro-LGBT church contingents were proudly marching.
The pro-LGBT people in churches are very determined and goal-oriented in their efforts, and intolerant of traditional views.
Here are a few of the major groups that marched this year: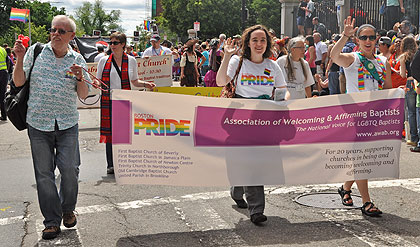 "Association of Welcoming and Affirming Baptists"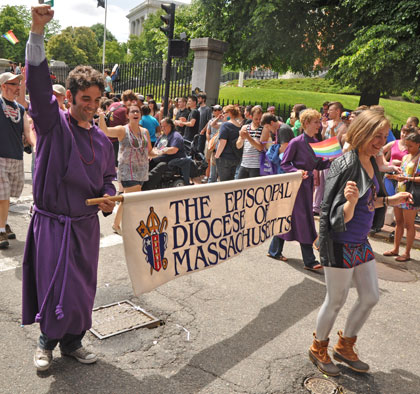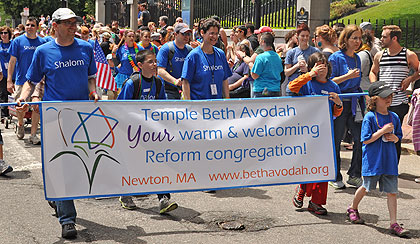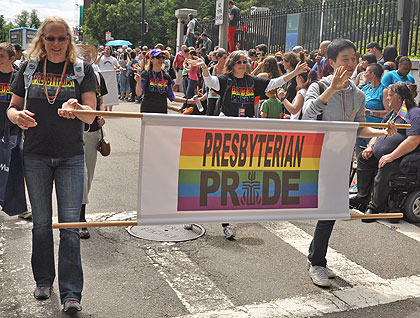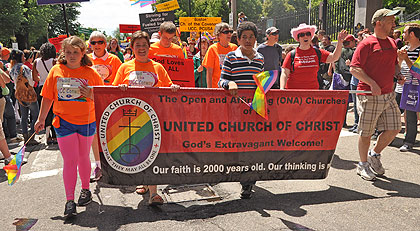 "Queer" Christianity
Some homosexual activists have don't want to wait for the mainline Christian churches to transform themselves. They have created their own "queer" versions of Christianity, with churches across the country. Among other things, they re-interpret Scripture and teach that Jesus and the Bible actually encourage homosexual relationships, which they say are natural. This also extends to transgenderism and the various related homosexual behaviors.
In Boston, the Metropolitan Community Church (MCC) is the major "gay" Christian congregation. The MCC is also involved with the annual "Youth Pride" activities in Boston, and passes out special "gay" Christian literature targeting middle school and high school children.
The Metropolitan Community Church of Boston had a booth at the Gay Pride festival, and has a presence at many "gay" events in Boston.

BELOW: Some of MCC's "queer Christianity" literature.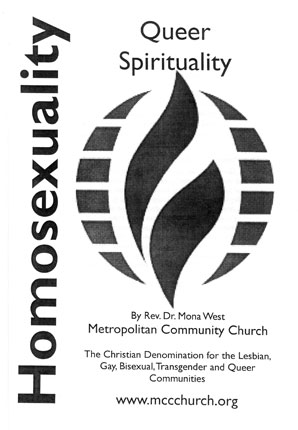 This is the homosexual movement's vision of the future of religion in America.
More local "welcoming" churches and religious groups
Several local churches that have been subverted by the LGBT movement, including a few historic ones, made it a point to participate and be seen.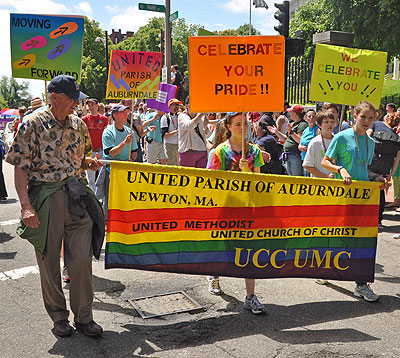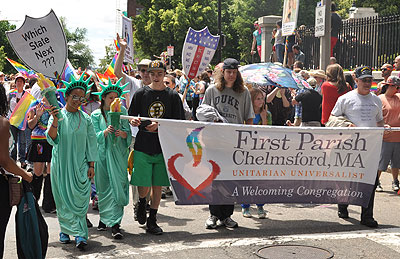 Note the girl on left dressed as Statue of Liberty with sign:
"Which state is next?"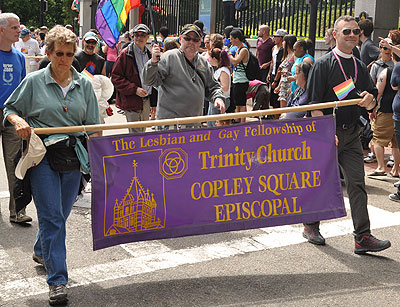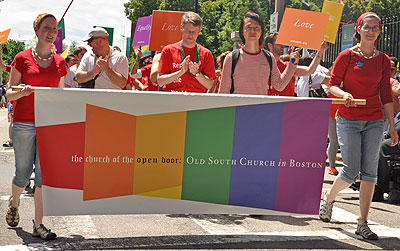 The historic Old South Church was a famous Revolutionary
War meeting house.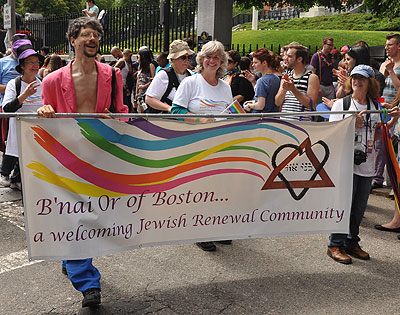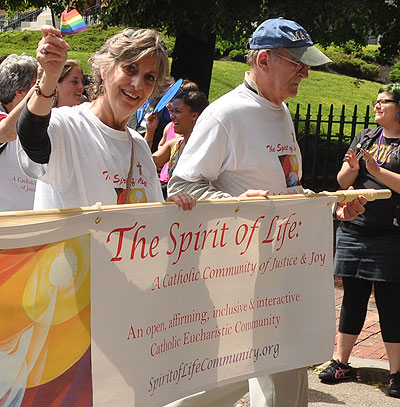 This is a far-left pseudo Catholic worship "community of justice
and joy" with a female pastor.